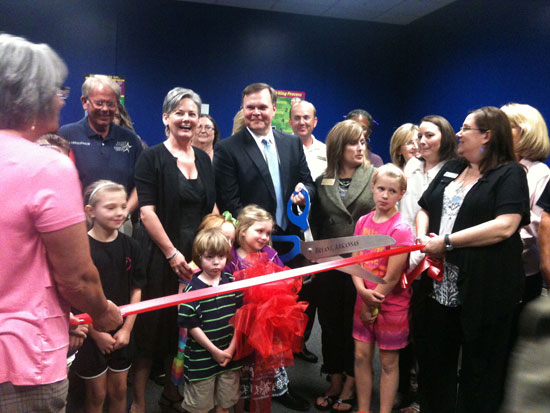 By Jennifer Joyner
Some of city's most prominent community leaders dined next to a[more] skeeball table, a Ms. Pacman game and pool tables Friday, at the dedication of the new Chris Holmes Technology Center at the Boys and Girls Club of Bryant.
Mayor Jill Dabbs, ex-officio of the Boys and Girls Club board of trustees, was in attendance, along with the rest of the board of directors and staff. The event was open to the public.
After enjoying the large spread of finger foods, salad, dips and desserts, the group met on the second floor to unveil the new technology center, which contains 15 new computers.
Board member Rebecca Jones, president of Saline Memorial Hospital, spoke of her appreciation for Holmes' contribution, acknowledging that Holmes had been working on the project since 2005.
Also, Blake Welch, program director for the Boys and Girls Club, expressed his gratitude. "This contribution opens so many doors, giving these kids access to technology they might not otherwise have," he said.
Welch informed the group of several national programs the children will now be able to take part in. "We are also going to start using photography. We have purchased flip cameras and are going to have a filmmakers class."
Holmes and his family attended the ceremony, and several elementary school students were present. When Suzanne Passmore, executive director of the Boys and Girls Club, introduced some of the children, who were excited and impressed by the room, she pointed out that they are missing school for this.
Elementary school student, Ethan Harris, said, "Yes, I'm kind of pretty excited about that."