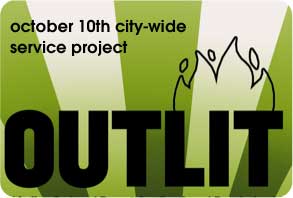 By Kirk Stewart
Six area churches will join forces to collect canned food for the Arkansas Food Bank. Donations will be accepted at Brand New Church on Reynolds Road all day Saturday, Oct. 10. Geyer Springs Baptist, Indian Springs Baptist, Brand New Church, First Southern Baptist of Bryant, The Revolution Church, and MidTowne Church are sponsoring the food drive.
The food drive is just a part of what these churches hope to be a great community service event that will be called "Outlit." It lasts two days (Friday and Saturday) and is for Middle School and High School students 6-12 grade.[more]
The event will begin Friday night with a free Fifth Quarter party that will include massive inflatables, pizza, cash giveaways, a skate park and a live band. Guest speaker Robbie Robison will be on hand as well. The event will be at Brand New Church (2203 N Reynolds Rd) from 9 to 11:15 p.m.
The food drive portion of the weekend will begin Saturday morning where students will collect canned food door to door and perform various community service activities like cleaning lawns, painting and mending fences. Saturday evening will cap off the weekend with visits from Unhindered and Mike's Chair.
Kevin Anthony, student pastor of First Southern Baptist Bryant, said, "We want to see our community come and unite, serve and worship as one community. All our churches have seen the need in our community, and we want to come together and do more as one united front."
Currently there is a foundation of 300 students, adults and volunteers prepared to attend and serve. More are expected as Bryant comes together to give back to the community.