Editor's note: Tonight's game will be streamed live at https://mmproductions.net/bryantlive/. There is a $20 fee.
File photo by Andrew Schroeder
The Bryant Hornets' 44-40 win over the Trinity Christian Tigers of Cedar Hill, Texas, last week wasn't the most important game they've ever played in. But it was one of the most eagerly anticipated regular-season game they've had.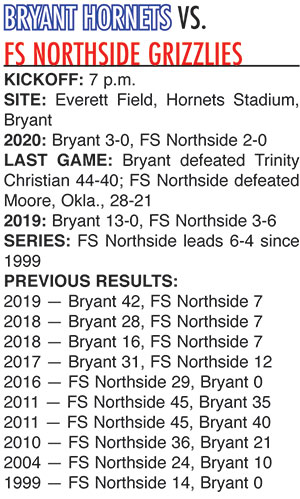 And the Hornets answered the challenge after leading 28-6, falling behind 40-38 then scoring to take the lead and holding it on defense in the late stages. It was the 20th consecutive victory for the two-time defending 7A champions.
It could, however, have ramifications the rest of this season, and beyond, decided Hornets head coach Buck James.
"Our kids could have quit," he said. "They could've shut down. They could've felt sorry for themselves. They could've said, 'Hey, it was a good run, and could've rested on their laurels, on what they've done in the past, and just said this is too much, too big a mountain to conquer.
"I'm proud of them for finding a way to muster through it," the coach stated. "You know I don't think we played our best game by any means. I think we played great at times, but it wasn't one of our best efforts. I don't want to take away from (Trinity) at all because they were a big, strong, fast, athletic football team. But for our kids to persevere and fight through that says a lot for our kids and I'm proud of the way they competed.
"I hope it shows that we can compete with anybody," he related, although few outsiders doubted that.
But James was looking beyond this season.
"I hope that, for years to come, this is something that we can say: 'Hey, we're here; we can compete with the best of the best. We're still going to have to go out and play. We're still going to have to go out and prepare to play. But I think that it has to give us a boost of confidence, a builder going into the rest of our season this year and really into the future. I think that if we can build off of what we've done the last 20 weeks, it gives us a chance to improve and be better than what we thought we ever could be.
But, he acknowledged, "There's really not a measuring test except your next game. So, we have to go back and redo and get ourselves ready to play again and do the things it takes to be successful in our next game. I don't think we can rest on what we've done, and I sure don't think we can look forward to what we got to do. We've just got to look at it from week to week."
Indeed, tonight when the Hornets' host the Fort Smith Northside Grizzlies, it's a more important game than last week's was. It's the 7A-Central Conference opener.
No letdown — that's something that the Hornets have become pretty good at avoiding in the last couple of seasons.
Last season, when they battled to a 35-21 win in a first-place showdown with North Little Rock, they followed up with a 42-7 thumping of Conway the next week. In 2018, after a 28-25 win over Fayetteville in the first round of the playoffs, they followed up with a 28-7 win over Northside. Before that, they lost to North Little Rock in the regular season but took it out on Conway, 40-10.
"I think it's the way we practice," he explained, "our expectation level on the practice field. We treat Monday as just as important we do Thursdays and Tuesdays and Wednesdays. It's the routine that we have Monday through Friday and the build-up that we have to Friday.
"A lot of it's got to be a complement to our coaches and to our kids," the coach added. "I think they have more to do with it than I do for sure. But I think it's a mentality. It's a mindset, a belief system.
"It's like having a bad play. You're only as good as your next play. You can't worry about the one that you just had. And I think, in life, it teaches you if you worry about everything that goes wrong then you can't enjoy your successes and if you spend too much time enjoying your successes then your past catches up with you. It's something that hopefully our kids learn life lessons from. I know that's what athletics did for me.
"Every kid wants to be successful," James said. "Every kid wants to have a chance to be successful and they have the avenue through hard work and perseverance to do that."
With all of that in mind, the Hornets face the Grizzlies tonight. Northside comes in 2-0. They opened the season with a 35-7 win over rival Southside then had to forfeit their next two games due to covid-19. Last week, to get back on track, they used their bye week to play Moore, Okla., coming away with a 28-21 victory.
James gave a scouting report, saying, "They're athletic. They've got size on offense. They're big up front. Their quarterback is probably, on paper, is the best athlete in the state of Arkansas. It's at the d-back position but, regardless, he's an athlete and he's got the ability to throw and score from anywhere on the field. He's extremely fast. He's quick. He has no boundaries as far as what he wants to do. He can run right, left, turn around in circles and go back the other way. He's sort of dynamic."
Drey Norwood is the Grizzlies' quarterback. Last year, he passed for over 500 yards and rushed for nearly 500.
"We've got a big chore keeping him hemmed up and making him throw the ball," said James. "You know, just let him throw it from the pocket. Don't allow him to sprint out and run around. That's when he gets dangerous.
"They've got some good receivers who have some speed and they can run the football with the size of their offensive line but that it all starts with their quarterback," he added. "He's the head of their offense and the head of the monster that we've got to be able to conquer.
"Defensively, their big up front again. They're athletic up front. Their defensive front is probably the strength of their football team," the coach reported. "They're a team that when they put the right guys in the secondary, they can play man and press your and cover you all over the field. They've given up some points because they rotate so many people from offense to defense back there and stuff like that.
But they're a typical Northside team. I would say they're very similar to what we've been seeing the last few years. They have a new offensive coordinator and they're a lot more creative on offense and they pose a tough contest."
The Griz return 12 starters from last year, seven of them on offense.
"That's probably as many returning starters as anybody we're going to play this year in conference," James noted. "They've got high expectations. They think that they can be pretty good."