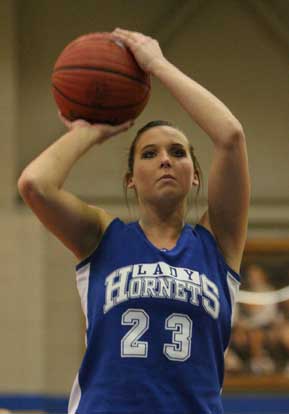 By Rob Patrick
CONWAY — Good things happen when you can attack the basket. You can score or you can get fouled and shoot free throws, or both. Or, if you get cut off, you can kick it outside for a jump shot — often a 3 — by a teammate left open by the converging defense helping out inside or collapsing to try to get a rebound.
It's an offensive approach that a lot of good teams take including the Bryant Lady Hornets.
On Tuesday, Jan. 19, however, the Conway Lady Wampus Cats were playing a sagging man-to-man defense against the Lady Hornets, cutting off those driving lanes. Bryant's drivers got cut off and the open shots were coming from outside. But only Kenzee Calley was connecting from the outside which, later, allowed her to get to the rim when the defense came out on her. But the rest of the Lady Hornets went cold from outside, limiting their opportunities on the drive.
The result was a frustrating night. Bryant never led as Conway pulled into a second-place tie with the Lady Hornets in the 7A-Central Conference with a 56-46 win at Wampus Cat Arena.[more]
Conway improved to 11-5 overall and 3-1 in conference going into a trip to Van Buren on Friday. Bryant fell to 15-2 and 3-1 going into a home contest with Cabot.
The game started a stretch of games against some of the toughest competition the Lady Hornets figure to see. After Cabot, they travel to North Little Rock to play the No.1 ranked and undefeated Lady Charging Wildcats then host Little Rock Central before starting the second round of the league round-robin.
The Lady Hornets' struggles on offense were a rare sight this season. The tell-tale stretch came early. They went the final 4:19 of the first quarter and the first 3:06 of the second without a field goal, only a pair of free throws by Alana Morris interrupted a 12-2 run by Conway.
The Lady Cats eventually built a lead of as much as 18 points at the end of the third quarter. Bryant rallied but could get no closer than 7, which didn't happen until the final minute.
"I thought a lot of shots that we usually make weren't going in," stated Lady Hornets head coach Blake Condley. "In all honesty, if we hit some of those shots that we usually hit, we're able to get into our press and we're able to do some things we're used to doing and I think it's a different ballgame. I just didn't feel like we started the game the way we need to. We let them jump out on us. They got up 10 and then it just kind of stayed there. We weren't able to eliminate the deficit we got ourselves into."
Through three quarters, Bryant shot just 23 percent from the field while Conway was hitting at 54 percent clip.
"On the defensive side of it, I thought there were a few shots where we had closed out and we were there but there were a few blown assignments where we just kind of let girls get away from us," Condley said.
The Lady Hornets also got a scare along the way when point guard Haley Montgomery collided with Conway's Meghan Lewis. Both went down and had to be helped to the bench. Neither would return to the game but Montgomery, after going to the locker room, was back on the bench asking to return to the game despite a limp.
Already down by 10 when the collision occurred, the Lady Hornets, no doubt shaken by their teammate's injury, fell victim to an 8-0 run after that produced Conway's largest lead.
Calley finished with a game-high 17 points. Hannah Goshien added 11 with 8 of that coming during the fourth-quarter comeback. Alana Morris and Abbi Stearns finished with 6 each.
Conway was paced by Tamara Heard's 14. Taylor Gault and Krista Robinson added 13 each.
The game was tied at 4 after Calley connected on consecutive jumpers from the wing. But Bryant didn't score the rest of the quarter and Conway built a 12-4 lead.
Morris connected on the two free throws early in the second quarter but Robinson scored inside and Lewis hit a short jumper to bump the lead to 16-6.
Conway had a chance to increase the margin further but Montgomery made a steal and Morris fed Stearns for a basket that ended Bryant's field-goal drought.
Going into the final two minutes of the half, Conway was up 24-14 with the ball but Shanika Johnson made a steal and Goshien connected on Bryant's first 3-pointer (on the Lady Hornets' 10th attempt) to cut the lead to 7. Heard and Johnson traded baskets before Gault beat the buzzer with a running jumper to put Conway up 28-19 at the half.
Gault and Heard added the first two baskets of the third quarter to increase the margin to 13 but Calley canned a 15-footer and, after a Conway turnover, drove to the rack for a three-point play that had the lead down to 8.
Lewis answered moments before Montgomery and Lewis went down, starting a 10-0 run to end the quarter.
Bryant's comeback attempt in the fourth quarter began with an 8-0 run. Stearns scored inside and, after Gault missed the front end of a bonus opportunity at the line, Brooke Parish connected for Bryant. Morris muscled and juked her way to the hoop to score as she was fouled. Though she missed the free throw, Calley came up with a steal. Morris and Stearns missed shots but Stearns gave the Lady Hornets another chance with a steal. This time, Calley capitalized with a baseline drive that completed the run that pulled the Lady Hornets back within 10, 42-32, with 5:19 still to play.
But the Lady Hornets just couldn't get any closer until, with 1:10 left, Goshien knocked down a 3 to make it 49-41.
The Lady Wampus Cats, however, were 10 of 14 from the line in the final quarter. Heard converted twice with 1:02 to go and, after Morris hit a jumper in the lane, Lauren McNeaill knocked down a pair ahead of Goshien's final 3 with :30 left, which trimmed the lead to 53-46.
Free throws by Gault and Robinson after that enabled the Lady Cats to preserve the 10-point margin, the maximum for tiebreaking purposes at the end of the season.
The loss marked the third year in a row, the Lady Hornets have been frustrated at the new Conway arena.
LADY WAMPUS CATS 56, LADY HORNETS 46
Score by quarters
BRYANT 4 15 5 22 — 46
Conway 12 16 14 14 — 56
LADY HORNETS (15-2, 3-1) 46
Player fg-fga ft-fta reb fls pts
o-d-t
Montgomery 0-2 0-0 1-1 2 1 0
Goshien 3-10 2-2 1-2 3 2 11
Calley 8-14 1-1 2-3 5 4 17
Stearns 3-10 0-2 0-6 6 3 6
Morris 2-12 2-3 1-4 5 3 6
Johnson 2-11 0-0 2-0 2 4 4
Parish 1-2 0-0 3-1 4 3 2
Team 2-1 3
Total 19-61 5-8 12-18 30 20 46
LADY WAMPUS CATS (11-5, 3-1) 56
Player fg-fga ft-fta reb fls pts
o-d-t
McNeaill 1-2 4-5 0-1 1 2 6
Heard 6-9 2-2 2-8 10 1 14
Lewis 2-4 0-0 0-3 3 2 4
Gault 5-12 3-5 1-2 3 3 13
Robinson 5-7 3-4 1-10 11 1 13
Wilkins 1-5 0-0 1-3 4 2 2
Allen-Smith 1-2 2-2 1-2 3 1 4
Clardy 0-1 0-0 0-0 0 0 0
Team 1-3 4
Total 21-42 14-18 7-32 39 12 56
Three-point field goals: Bryant 3-19 (Goshien 3-9, Johnson 0-7, Morris 0-2, Stearns 0-1), Conway 0-1 (McNeaill 0-1). Turnovers: Bryant 9, Conway 18.