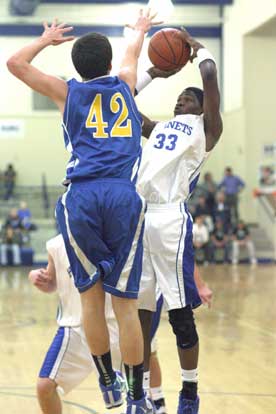 By Rob Patrick
BRYANT, AR — In a rugged game that included a whopping 52 fouls — and could've had more — the Conway White Wampus Kittens broke out to a 12-0 start and held off an emotional Bryant Hornets freshman effort for a 60-52 win at the Bryant Middle School gym on Monday night.
Conway's Tim Boyd drained four 3-pointers and led the slash and dash Kittens with 27 points. Boyd was one of a group of four guards that accounted for 55 of their team's points. DeSean Turner had 11 and Brandon Cox 10 with Dominic Taylor hitting a pair of 3's on his way to 7 points. They were also a major reason the Hornets suffered 20 turnovers.
Nine of the 10 players for the Hornets contributed to the scoring with Aaron Bell leading with 12 and Leon Neale adding 11. Zach Cambron had 8, Riley Hall 7 and Luke Rayburn and Marcus Wilson 5 each.
Though, incredibly, neither team had a player foul out, each was assessed 26 fouls, resulting in 66 free throw attempts between them. The Kittens were 21 of 34, the Hornets 19 of 32.[more]
The quick-on-quick Conway team set the tone during their 12-0 run, with physical play up and down the court in a press that had the Hornets and head coach Steve Wilson frustrated not only because it was effective but because they felt they were being fouled.
The Hornets responded in kind and started whittling on the lead after Rayburn's running jumper broke the ice with 2:13 left in the first quarter. Jalen Hewitt knocked down a high-arcing jumper from 12 feet out before Cambron hit two free throws and Strodney Davis another to make it 12-7.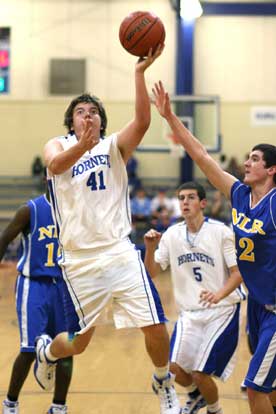 But Boyd's two free throws in the final seconds gave Conway a 7-point lead going into the second period.
That proved to be the formula for the evening. Bryant would make a run and Conway would answer. The Hornets were never able to gain the lead.
And because the game kept getting more and more frantic and physical, the officials started clamping down in the second half leading to the parade to the free-throw line in the second half.
Taylor hit a 3 to start the second quarter, giving the Kittens a 10-point lead again. Hall hit a free throw then, a minute later, canned a driving jumper to make it a 7-point game.
But that was as close as the Hornets could get. Conway went on a 13-4 run to end the second quarter and start the fourth, building a 30-14 lead that was punctuated by a pair of triples by Boyd to start the second half.
The lead was 37-21 when, with 3:03 left in the period, Wilson went to the line and hit a free throw. He missed the second shot but Neale rebounded, scored and was fouled. He completed the three-point play and when Hall followed up with a pair of free throws with 2:29 left, the Hornets were within 10.
Cox and Rayburn traded baskets and it was 39-29 going into the fourth quarter.
The point trading would've continued but the Hornets missed the front end of consecutive bonus opportunities to start the fourth quarter. Meanwhile, Boyd drove for a layup, Turner hit two from the line then Boyd drained his third 3 to push the lead back to 46-29.
Neale's offensive-rebound bucket with 4:22 left sparked Bryant's final charge. After a Conway free throw, Aaron Bell came through with a three-point play. Josh Davis made a steal and the Hornets crashed the glass for three offensive rebounds before Bell was fouled with 3:11 left. His free throws trimmed the margin to 47-36. Moments later, Rayburn hit a free throw and Bryant had it down to 10 again.
But Boyd nailed another 3 in response and the Hornets were unable to get the lead under double digits until there were just 37 seconds left. Cambron's drive made it 56-47 at that point. Turner and Boyd hit free throws around a bucket by Neale then Bell hit a 3 at the buzzer to get the Hornets as close as they'd been since the second quarter.
The loss dropped the Hornets to 7-3 overall going into the Christmas break. They'll return to action in the Kameron Hale Invitational Tournament at Lake Hamilton on Wednesday, Dec. 30, against Hot Springs Lakeside.
Bryant remains 3-1 in the South Division of the Central Arkansas Junior High Conference. Their next league outing will be Jan. 4 against division-leading North Little Rock.
WAMPUS KITTENS 60, HORNETS 52
Score by quarter
Conway White 14 11 14 21 — 60
BRYANT 7 7 15 23 — 52
WAMPUS KITTENS 60
Cox 4-7 2-5 10, Boyd 7-18 9-11 27, Turner 2-7 6-6 11, Taylor 2-6 1-2 7, Lattimore 0-0 1-5 1, Starr 0-0 0-0 0, Williams 0-1 2-4 2, Mitchell 1-1 0-0 2, Booker 0-1 0-1 0. Totals 16-41 21-34 60.
HORNETS 52
Bell 3-6 5-12 12, Wilson 1-3 3-5 5, Hall 1-3 5-6 7, Neale 5-9 1-1 11, Workman 0-2 1-2 1, Cambron 3-6 2-2 8, Rayburn 2-4 1-2 5, S.Davis 0-1 1-2 1, J.Davis 0-2 0-0 0, Hewitt 1-3 0-0 2. Totals 16-39 19-32 52.
Three-point field goals: Conway White 7-15 (Boyd 4-7, Taylor 2-4, Turner 1-2, Cox 0-1, Williams 0-1), Bryant 1-7 (Bell 1-1, Hall 0-2, Wilson 0-1, Rayburn 0-1, J.Davis 0-1, Hewitt 0-1). Rebounds: Conway White 25 (Boyd 6), Bryant 35 (Neale 8, Hall 7). Turnovers: Conway White 13, Bryant 20. Team fouls: Conway White 26, Bryant 26.