Photos by Kevin Nagle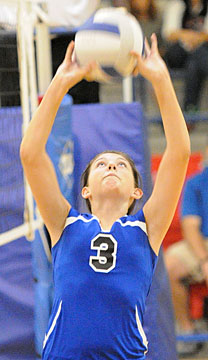 The Bryant Lady Hornets freshman team closed out their season on Monday night but did so with style.
In their final regular-season match, they made the league-leading Conway White Lady Cats sweat out a 2-1 win at the Bryant Middle School gym. After the Lady Cats won the first set, 25-14, the Lady Hornets surged to win the second one 25-22. That forced a third set to 15 that Conway White managed to win just 15-10.
Bryant teams up for 24 kills and nine service aces. Kristin Boyle and Meagan Chism each finished with six kills. Imani Jones had five and Faith Stone four. Faith New added two, Emily Hall and Cassie Ray one each.
The Lady Hornets were good on 41 of 47 serves. Lindsey Maxwell had three aces. Madi Draper and Chism had two each. Hall and Shannon Stewart each contributed one, while Ray was good on all 10 of her serves.
Defensively, the Lady Hornets had 35 digs. Ray had 10, Chism eight and Hall six. Boyle and Stone each had two blocks.
"The girls played very good," said Bryant coach Julie Long. "I was proud of how the evening played out."