For more photos of this event by Kevin Nagle, go here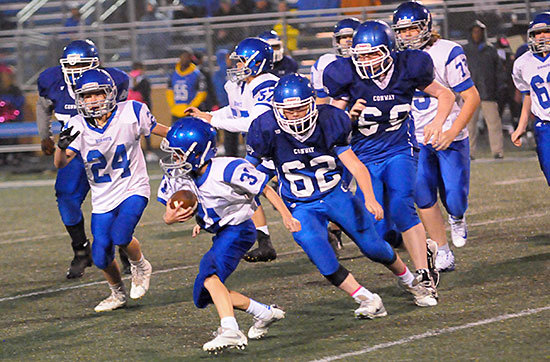 CONWAY — The struggles of the Bryant Blue Hornets eighth-grade team of Bethel Middle School continued on Thursday night in a cold drizzle at John McConnell Stadium. Conway White's Wampus Cats scored on six of their seven possessions, taking advantage of four Hornet turnovers and a blocked punt on the way to a 48-0 win.
The only time the Cats were denied the end zone, Bethel's Aiden Shaw intercepted a pass in the end zone.
Brody Troyer was the Hornets' leading rusher with 5 yards as the Hornets were unable to pick up a first down in the contest.
Now 2-5 this season, Bethel closes out the 2018 campaign at North Little Rock on Tuesday, Oct. 30.