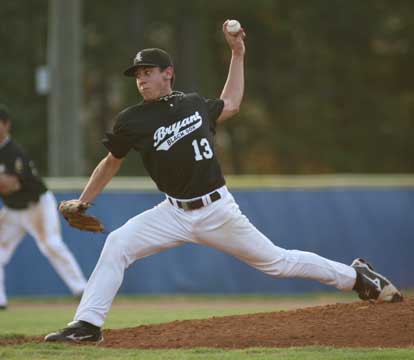 By Rob Patrick
Bryant left-hander Trent Daniel had caught the eye of the Arkansas Razorbacks coaching staff late last summer. By that time, he had already reconsidered a commitment to Arkansas State University in favor of the University of Arkansas-Fort Smith (formerly Westark).
On a staff of mostly sophomores at UAFS, Daniel posted a 6-2 record with an ERA of 5.69. In 61 2/3 innings, he allowed 74 hits, walked 34 and struck out 80.
It was good enough for the Razorbacks to extend him an offer after the season. Daniel accepted before beginning play this summer for the Bryant Black Sox Senior American Legion team.[more]
"It's pretty much a dream come true," Daniel said. "I've always wanted to play for the Razorbacks. I'm really excited. I can't wait to get up there and see what I can do. I know it's going to be hard work but I'm ready for it. I know I can do it."
Daniel will follow another former Bryant pitcher, Justin Wells, to Fayetteville. Wells just completed his senior season with the Hogs' trip to the College World Series where he got to pitch in a couple of games.
"I talked to Justin quite a bit," Daniel said. "He told me how complicated signals are just from the catcher to the mound. I went up to Fayetteville a lot, Fort Smith is pretty close and I kept up with them this spring."
Asked what advice Wells had offered, he added, "Pretty much, just work hard, and pretty much just do what I do because if I'm good enough to get a scholarship, I can play there. He said just keep working hard and getting better and, hopefully, things will work out for me."
This summer, Daniel has worked through some nagging injuries but, after Friday night's no-hitter against Benton McClendon's, he's 5-1 with 65 strikeouts in 38 innings with 24 walks and 26 hits. His earned run average dropped to 1.11.
"When T throws and he's around the zone — he doesn't have to be constantly in the zone but around it — we watch hitters and he gets them out sometimes because of their aggressiveness and then when he has a chance to put a guy away, he does it," Black Sox manager Craig Harrison said. "A year of college helped. He's a good pitcher. There's no doubt about it. And you haven't seen the last of him. And it won't be here either."
Harrison reflected on a long line of excellent pitchers he's coached, starting with right-hander Ben Hickman in 1995 through current Minor League pitchers Travis Wood and Aaron Davidson to Wells to Daniel.
"What a long tradition of really fine pitchers Bryant's had," he said. "I step back in awe sometimes and go, 'I'm just glad to be a part of it.' It's really fun."
Daniel's improvement after a year in college baseball is as much mental and emotional as physical. There was a time when a little adversity like a teammate's error would knock him out of his rhythm, disrupt his concentration.
No more.
"I had a really good pitching coach," he noted, adding that he learned from him that, "after a walk or maybe a few hits, I step off the mound, grab the rosin bag and just kind of take a deep breath and focus back up on the next batter because you can't really affect what's already happened. I just try to step off the mound and relax.
"It was definitely a new experience," he said of UAFS. "Every batter I faced was really good. Coming from high school where maybe I could slack off a few batters and get away with a few pitches missed — you have to focus in on every pitch to every batter in college or else you get beat around. That happened a few times. It definitely made me better.
"I was a little bit nervous in that first college start," he allowed, "the first couple of games. The sophomore starters were the starters for the weekend (conference games). I tried to do about what they did and I pitched well so I knew I could do it. That helped with my confidence."
Daniel will lead the Sox into next weekend's Zone 4 tournament where they hope to earn a return trip to State and, perhaps, another run beyond that before he reports to Fayetteville this fall.