Photos by Rick Nation and Devin Sherrill
By Devin Sherrill, Bryant School District Communications Director
The 2013 Dash for a Difference was held Saturday, April 20 at Bryant Middle School. This is the[more] fourth year for the annual school and community event.
Over 350 parents, students, faculty, staff, and community members registered to run, walk, or donate. Thanks to Arkansas Bone & Joint and the financial and inkind donations of several other generous sponsors, 100 percent of each participant's entry fee will be donated directly to the Boys and Girls Club of Bryant.
Finish line timing was provided by Gary Ballard of ArkansasRunner.com.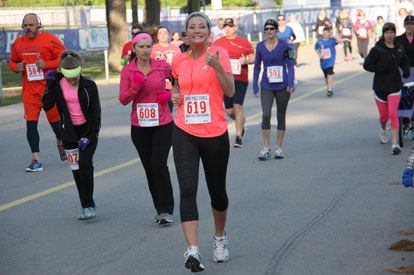 Congratulations to the Overall Male winner Charles Terry with a time of 17:48.38 and Overall Female winner Carissa Coldasure with a time of 24:03.16. Awards were also presented for the first, second and third place finishes in age groups.
Springhill Elementary won the coveted Golden Shoe Trophy for the largest number of participants in the race. This is Springhill's 4th year to win the trophy.
Category
Overall Male
Placc, Name Age Time
1, Terry, Charles 15 17:48.38
2, Cockmon, Stephen 14 19:54.56
3, Wolf, Dylan 16 20:35.30

Overall Female

1, Coldasure, Carissa 13 24:03.16
2, Rogers, Samantha 29 24:13.56
3, Fason, Alyssa 11 25:49.02

1-9 Male

1, Waddle, Caleb 9 29:57.25
2, Apel, Cameron 8 30:20.63
3, Schrader, Hayden 9 30:41.78

1-9 Female

1, Turner, Karis 8 28:59.97
2, Gaither, Jillian 5 50:40.66
3, Currey, Karsyn 5 50:41.83

10-14 Male
1, Cato, Carson 13 20:53.50
2, Juarez, Edgar 14 21:49.44
3, Shields, Cory 12 22:49.64

10-14 Female

1, Studdard, Rachel 12 25:51.70
2, Cockmon, Anne 13 26:56.06
3, Li, Anne 10 28:06.00

15-19 Male

1, Hunt, Alexander 17 20:47.04
2, Herrera, Wilson 17 20:51.63
3, Davis, Dalton 16 22:43.93

15-19 Female

1, Combs, Skylar 17 26:17.38
2, Smith, Erica 16 29:57.55
3, Morehead, Madison 15 32:26.00

20-29 Male

1, Knight, Chad 22 25:31.93
2, Sellers, Shawn 28 26:00.85
3, Ashley, Steve 27 26:59.60

20-29 Female

1, Beard, Ashley 24 26:46.06
2, Nation, Sarah 23 32:46.11
3, Stephens, Lauren 26 33:16.55

30-39 Male

1, Herrera, Cirilo 38 21:02.04
2, Robinson, Tyrone 36 22:22.70
3, Clay, Damon 35 24:01.97

30-39 Female

1, Eubanks, Carla 38 26:08.85
2, Slate, Christina 39 26:32.44
3, Johnston, Brandi 34 27:28.34

40-49 Male

1, Harrison, Donald 48 21:57.76
2, Phillips, Steven 42 22:19.50
3, Woerner, Emil 49 24:27.55

40-49 Female

1, Kohler, Nancy 47 27:25.59
2, Winters, Tammy 43 27:29.13
3, Morehead, Lisa 42 28:57.89

50-59 Male

1, Vos, Roger 50 21:36.07
2, Collins, Randy 51 23:06.08
3, Shaw, Chris 50 24:55.03

50-59 Female

1, Stonesifer, Mary 50 26:21.99
2, Comet, Becky 52 34:21.88
3, Brewer, Susan 54 42:51.36
60+ Male

1, Thompson, Roger 65 40:22.36
2, Parish, Gary 61 52:58.00
60+ Female

1, Ballard, Joy 61 28:16.28
2, Wheeler, Vickie 61 42:58.63