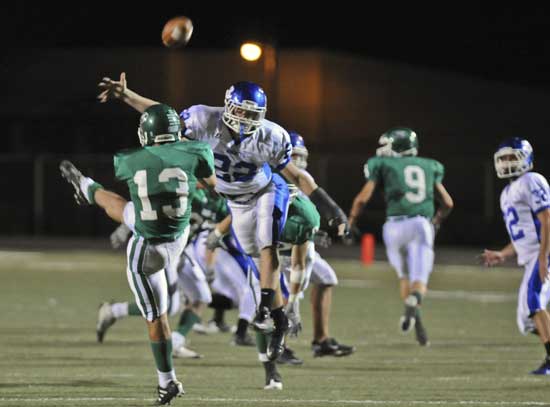 Denker, special teams spark Hornets to victory at Van Buren
EDITOR'S NOTE: Because the look back at each day in Bryant athletic history has been so favorably received during the time when there was no sports during the COVID-19 shutdown, BryantDaily.com will continueposting past stories of Bryant athletics either posted on BryantDaily.com (from 2009 to the present) or published in the Bryant Times (from 1998 to 2008).
By Rob Patrick
Photos by Ron Boyd
VAN BUREN — It's great to have Jace Denker on your[more] side.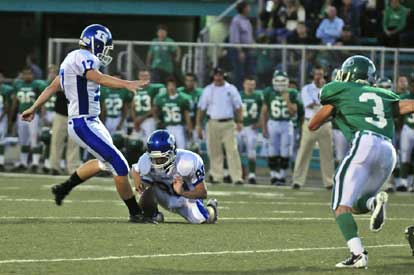 The senior kicker for the Bryant Hornets accounted for 19 points on Friday night including a career-best 47-yard field goal to supply the cushion his team enjoyed in a 33-13 win over the Van Buren Pointers.
Denker's work highlighted a big night for the Bryant special teams. The Hornets' Jacob Powell blocked a punt and Travis Royal recovered a muffed punt return. In his first stint as punter this season, tackle Ian Shuttleworth was effective as well. The only miscue was the Hornets' own muffed punt return.
Denker was perfect on three extra points and, along with 47-yarder, connected on field goals of 28, 24 and 30 yards after going one for two over the first four games of the season. He also kicked off seven times, putting it in the end zone for touchbacks on six of those occasions.
That performance proved vital on a frustrating night for Bryant head coach Paul Calley. The Bryant offense, though accumulating 361 yards of offense, was feast or famine much of the night.
"We're glad to escape with a victory," Calley stated. "As well as we played last week (in a 45-35 win over Little Rock Catholic), we played that poorly this week."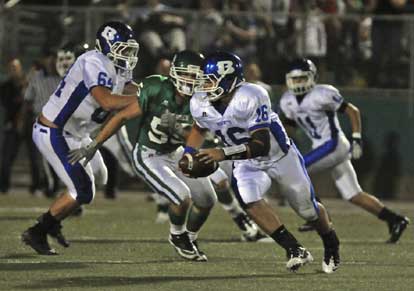 The coach was vexed by his team's continued trouble with penalties, particularly on offense. Eight offensive penalties not only cost the Hornets the 68 yards in mark-offs but erased 100 yards of gains including a pair of touchdowns runs. Denker bailed the Hornets out in both of those instances by knocking through two of his field goals.
Overall the Hornets were flagged 11 times for 91 yards.
"It's stuff that the offensive coaches knew was going to happen because that's the way we practiced all week," Calley stated. "We were lackadaisical, no focus, no purpose."
Did his team have a lack of respect for the Pointers?
"I don't think it has anything to our opponent," the coach answered. "It's a lack of maturity on our part. You can tell them and tell them and tell them. Hopefully, the experience tonight will get them refocused but it's something we've been fighting all year."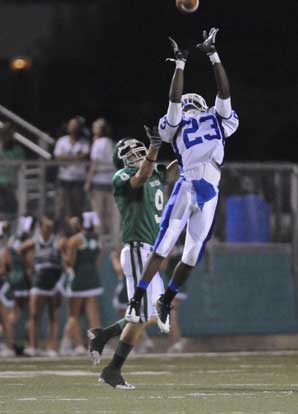 Part of the Hornets' struggles to get any consistent going on offense was Van Buren's stunting, risk-taking defense. Though the Pointers gave up all that yardage and those 33 points, they forced Bryant into 11 lost-yardage plays worth another 49 yards.
"We never really got into a rhythm," Calley said. "We missed some throws I thought we should've had. It's hard to get into a rhythm and it's hard to call plays when you're in negative yardage situations; second-and-25, third-and-forever. It's virtually impossible."
The Hornets did get into the end zone three times, twice on runs by Ben Clark. And quarterback Hayden Lessenberry tossed a 10-yard TD pass to Sawyer Nichols.
Defensively, the Hornets bent but only broke once, on a 62-yard touchdown run by Pointers quarterback Jacob Eason who accounted for 247 of his team's 264 yards in the game including 144 rushing.Royal, a Bryant safety, wound up leading the team in tackles with eight to go with two pass break-ups and the fumble recovery. He also had an interception on another play only to have the ball slip through his hands and into those of Van Buren's Gunner Miller, a play that set up the second of Houston Ray's two first-half field goals.
Defensive lineman Tim Kelly contributed six stops including three for losses and linebacker Walter Dunn was in on five. Tyree Reese recovered a Van Buren fumble and Aaron Bell fell on the blocked punt. Twice, Hornets' offensive linemen Blaine Jackson and Shuttleworth recovered when the Hornets put the ball on the ground.
To start the game, the two teams traded gifts. Van Buren muffed a Bryant punt and Royall recovered at the Pointers' 19. The Van Buren defense held at the 11 and Denker came on to drill his first 3-pointer.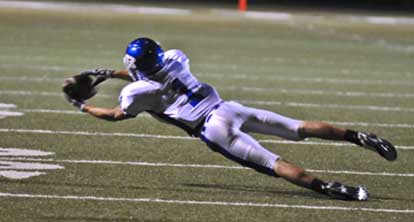 Soon thereafter, Bryant muffed a Van Buren punt and the Pointers' Deverick Fimple recovered at the Hornets' 19. The Bryant defense took its turn at preventing a touchdown and Ray matched Denker's 28-yard boot to tie the game.
Ray also took his turn at putting the kickoff in the end zone. Bryant responded with an 80-yard touchdown drive to take the lead for good. Lessenberry, who was 22 of 32 for 231 yards in the game, was 6 of 7 on the drive including a 29-yarder to Hayden Daniel that set up his 10-yard toss to Nichols for the points.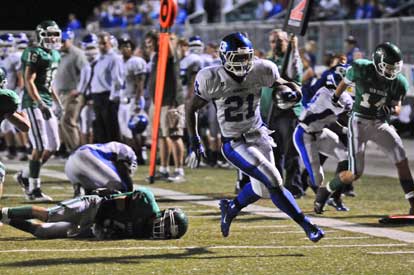 Denker added the point-after and it was 10-3.
The Hornets defense forced Van Buren to punt and Ray pinned them back at their own 25. And, on the first play, Karon Dismuke was brought down with an 11-yard loss. A play later, however, Lessenberry dumped a pass off to his running back and Dismuke turned it into a 55-yard play, reaching the 28.
Van Buren head coach Brooks Coatney, a former Bryant assistant, protested, claiming that the Hornets had ineligible receivers downfield. Though he didn't get the call on that play, Thee Hornets were cited for that infraction three times after that, though they hadn't been flagged for that infraction in any of their first four games.
Coatney and his assistants continued to protest and, eventually, got flagged for unsportsmanlike conduct which moved the Hornets to the Pointers' 8. After Lessenberry kept for 5 yards, Clark shot up the middle on a 3-yard touchdown run.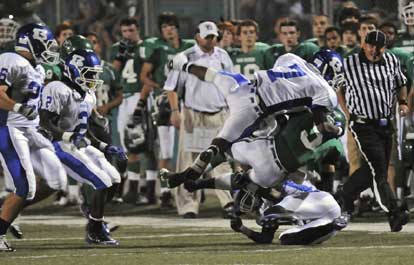 Denker kicked it to 17-3 with 10:33 left in the first half and it looked like the Hornets might roll from there.
But the Pointers put together a solid drive from their own 40. The big play was the 40-yard connection from Eason to Miller that Royal nearly intercepted. But the drive stalled at the 21 and Ray came on to kick a 39-yard field goal.
The halftime score was set at 17-6. Just before the break, Ray got a chance to kick a 49-yard field goal and had enough leg. But he pulled it left of the crossbar.
The teams exchanged punts in the second half but, on Ray's second kick of the third quarter, Powell nearly knocked the ball away right off of Ray's foot. Aaron Bell recovered at the 19. A play later, the Hornets appeared to have a touchdown on a bubble screen to Daniel but a blocking penalty negated the play. Eventually, they got to the 7 where, on fourth down, Denker delivered from 24 yards out to make it 20-6.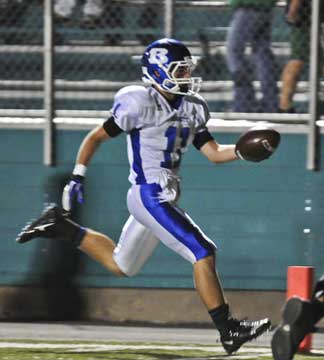 Things got a little tighter just a few moments later when Eason broke his 62-yard run. Ray's extra point had the Pointers within a touchdown, 20-13 with 2:40 left to play.
That's when the Bryant defense stepped up. The Pointers were unable to manage a first down the rest of the game.
Denker's 47-yard field goal came with 11:43 left in the game and extended the lead to 10. The drive to set that up included a pair of penalties that negated big gains.
Again Denker kicked it 9-yards deep into the end zone on the kickoff. Van Buren took over on the 20 and went backwards as sophomore Davis Nossaman dropped Eason for loss then cornerback Caleb Thomas did the same. A third-down pass netted just a yard and Ray punted.
With Lessenberry completing passes to Winfrey and Austin Powell — the latter after an impressive scramble that resulted in a throw with Pointers draped on his legs — the Hornets reached the 18 where Jalen Bell broke a run to the end zone only to have a holding penalty negate the play.
Three snaps later, Denker drilled a 30-yard to make it 26-13.
The final score was set up by Winfrey's interception. He returned it to the 8 but an illegal block pushed it back to the 18 with 1:32 left. Reese, in at fullback, picked up 5 yards then Clark took a handoff, cut outside and broke two tackles on the way to the end zone for a touchdown that stood.
Fittingly, Denker finished off the scoring with the extra point.
With the win, the Hornets improved to 4-1 on the season and 2-0 in 7A/6A-Central Conference play heading into their Homecoming game against Russellville. Van Buren drops to 2-3 and 0-2. The Pointers, who will compete at the 6A level in the post-season (and thus already have a bid to State since everyone in 6A goes), host Little Rock Catholic next Friday.
BRYANT 33, VAN BUREN 13
Score by quarters
BRYANT 10 7 3 13 — 33
Van Buren 3 3 7 0 — 13
Scoring summary
First quarter
BRYANT — Denker 28 field goal, 7:32
VAN BUREN — Ray 28 field goal, 4:16
BRYANT — Nichols 10 pass from Lessenberry (Denker kick), 2:08
Second quarter
BRYANT — Clark 3 run (Denker kick), 10:33
VAN BUREN — Ray 39 field goal, 8:50
Third quarter
BRYANT — Denker 24 field goal, 4:38
VAN BUREN — Eason 62 run (Ray kick), 2:40
Fourth quarter
BRYANT — Denker 47 field goal, 11:43
BRYANT — Denker 30 field goal, 7:15
BRYANT — Clark 13 run (Denker kick), 0:41
Team stats
BRYANT VB
First downs 22 10
Rushes-yds 40-130 28-161
Passing yds 231 103
Passing 22-32-0 10-21-1
Punts-avg. 4-34.0 5-31.8
Fumbles-lost 3-1 3-2
Penalties-yds 11-91 10-71
INDIVIDUAL STATS
Rushing: BRYANT, Dismuke 14-71, Clark 8-36, J.Bell 7-34, Reese 2-8, Winfrey 1-3, Lessenberry 8-(-22); VAN BUREN, Eason 18-144, Jenkins 3-11, Fimple 6-5, Newby 1-1.
Passing (C-A-I-Y): BRYANT, Lessenberry 22-32-0-231; VAN BUREN, Eason 10-21-1-103.
Receiving: BRYANT, Daniel 5-59, Winfrey 5-43, Nichols 5-24, Henson 2-26, A.Powell 2-14, J.Bell 2-10, Dismuke 1-55; VAN BUREN, Connor 3-31, Walton 3-21, Miller 2-46, Jenkins 2-5.