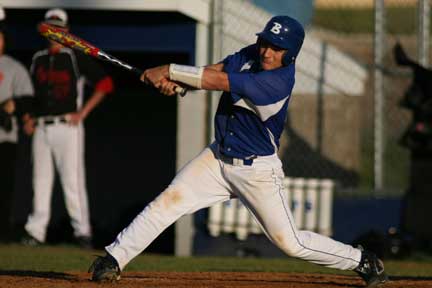 By Rob Patrick
Saying that his team is further along at this point than it was last year, Bryant head baseball coach Kirk Bock sends his defending 7A-Central Conference champion Hornets to the field for a benefit game against the Pine Bluff Zebras on Thursday, Feb. 25, at 5 p.m.
The Hornets, coming off a 22-8 season that surprised some, welcome back all but three starters from last year's team. Of course, those three starters — Tyler Sawyer, Kaleb Jobe and Justin Blankenship — all signed to play college ball. They were the team's top three in runs batted in and included the team leader in wins on the mound (Sawyer) and saves (Jobe).
"Those were three key people," Bock allowed, "but we've got more depth on the mound and, this year, we actually have people competing for positions in the infield. And they're competing hard and that's good. So, we're going to have some choices where last year, we were limited a little bit. It's going to be fun."[more]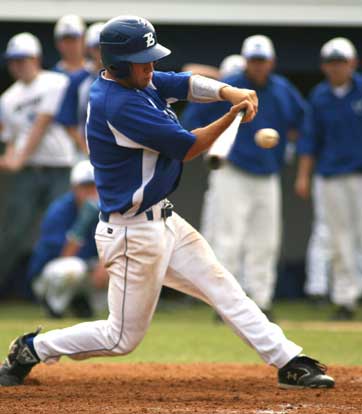 Choices means quality depth once Bock and assistants Mark Jelks, Frank Fisher and Travis Queck get things sorted out.
"We're in a situation right now where we've got a group of kids that swing it pretty good and then a group of kids that play defense pretty good," Bock stated. "But they're not the same kids. So, we've got to do something. We just need to kind of merge them together somehow.
"And that's where it's going to be interesting," he added. "You may see 10 different guys (on the infield) in the game if we can pick the right spots to put them in."
Working that out will start in earnest when the team opens the season officially at Watson Chapel on Tuesday, March 2. And it's something the coaches will be looking at in the scrimmage.
"We're scrimmaging ourselves about every day so we're seeing a lot of live pitching," Bock mentioned. "Our pitchers are doing a good job but we just need to get out and play somebody else."
The coach said the advancement of the players to this point is, in part, a product of being in his system for a second year.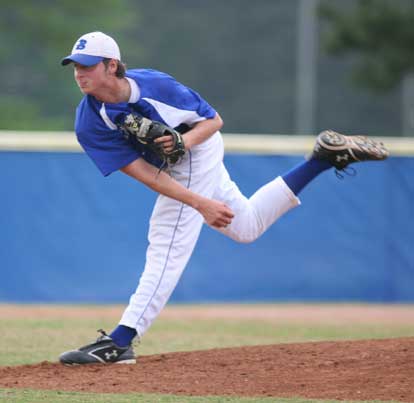 "We're further along just because kids know what to do," he related. "We put them in situations and they already know what to do. We don't have to go over it as much. And these kids know how to play baseball. It's just learning a new system as far as the way we like to teach it and we like to run it. They're doing good.
"We're still a little ways off," allowed the coach regarding his system. "We are getting it in. It's not the quality that we want right now. Throughout the year, obviously it's going to get better. We just need to work on it some more."
Bock feels pitching depth is the team's cornerstone along with the return of the team's top hitter, Hunter Mayall.
The starting third baseman last year, Mayall is recovering from an injury that will keep him in the designated hitter role to start this season. As a sophomore, he hit a phenomenal .429 while striking out just five times in 91 at bats. He had a team-high 39 hits, led the team in doubles with 7 and runs scored with 24. Fourth on the team in runs batted in, he's the top returning run producer for the Hornets.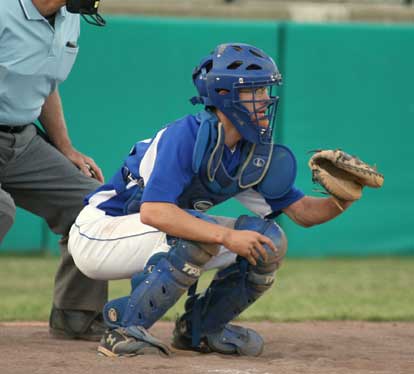 "He can't throw right now," Bock reported. "He's losing a lot of practice time at third but, as far as swinging the bat, it's not hurting him at all. At the end of the year last year, I said he's probably going to be one of the best hitters I've ever had in 20 years and I still feel that way. He just has an innate ability to barrel-up the ball. He's getting better all the time. He's getting better mechanically at the dish and once he gets there, he's going to hit a lot more doubles for us."
Regarding the pitching, Bock said, "This year we've gone to where everything revolves around our pitching staff, the bunting does, the hitting does, everything. And I think that's going to help us a lot.
"The guys right now that are doing a great job for us are Blake Davidson, Caleb Milam, Jordan Taylor and Ben Wells," he said. "Ben has the most experience coming back and when Ben's on, I mean he's on.
"Dylan Cross, also, once he starts to locate pitches, he's going to be a varsity guy for us," Bock added. "We feel like those guys are really going to do the majority of the varsity work for us on the mound.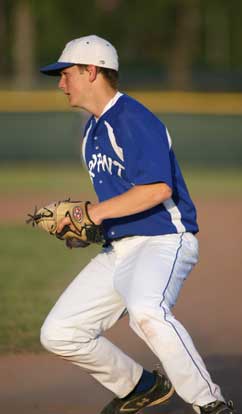 "Landon Pickett is a pitcher, first baseman and can play third," he continued. "Landon can do a lot of things but he's had some shoulder injuries so he's kind of on the shelf right now and he's just now working his way back in. Once Landon is healthy, he'll be another varsity guy for us on the mound and possibly see a lot of time at first base and pinch-hitting."
Wells, a senior, was 4-2 last season with a 2.77 earned run average. He struck out 48 in 43 innings of work. Taylor, as a freshman spot starter, went 3-1 with an 0.75 ERA. He fanned 29 and walked just six in 18 2/3 innings. Milam was also 3-1 for the varsity as a sophomore. He posted a 3.23 ERA. Davidson, a junior, was 2-0 with a 3.41 ERA while Pickett, also a junior, won a game for the varsity last year and posting a 2.21 ERA.
Cross is a sophomore that also figures in at catcher along with senior B.J. Ellis.
"B.J. does an excellent job defensively," Bock commented. "Dylan is still feeling his way a little bit but he's doing a great job for us."
Ellis caught quite a bit last season when Kaleb Jobe was pitching or playing in the infield.
"We've got three young catchers, one I don't know a whole lot about yet because he just got out of basketball, Josh Davis. Hayden Lessenberry and Blain Jackson are both doing a great job as far as young catchers. They're going to do the majority of our B game work but, right now, Lessenberry's going to come up with us. It'd be nice for him to take some pressure off of Cross so he can go to the mound. That's what we're looking for right now."
Davis, Lessenberry and Jackson are all freshmen.
Senior Brady Butler returns as the starter at first base. After a hot start last year, he finished batting .306. He's second among returning players in RBIs with 17 and tied for the team lead in walks (including hit batsmen) with 21.
"Butler does a good job," Bock commented. "Right now, defensively, he's our best one over there.
"Caleb Milam's coming in and working and doing a good job and we've got a slew of guys we can put there," added the coach. "But those two guys are the ones that are doing the best job."
Second base, Bock mentioned, is probably the position that's most up in the air.
"Chris Joiner is our guy right now," he said. "Chris does a good job at swinging it. Defensively, he's still kind of feeling his way but he's getting better all the time.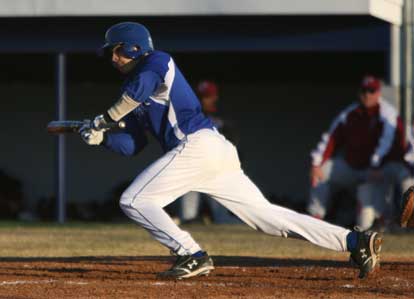 "Probably the best hands we have right there is Ozzie Hurt," Bock continued. "We feel like Ozzie's going to see some time there. Hayden Daniel is another one who's going to see some time at second and at shortstop for us. Hayden's a great athlete. He's not ready to go yet but when he gets ready he's going to be a guy that's going to be a mainstay in the lineup. I feel for sure next year he will be and hopefully we can get some time in there for him this year."
Taylor will start at short, Bock said. "Right now, he's done better than anybody. He swings it well but he's also one of our pitchers. Jordan's a guy that's going to come in on the mound and throw strikes, so he's going to see a lot of innings probably in the middle of games where we're going to have to do some maneuvering. It'll probably be Lucas Castleberry that will go in there. He's our third baseman and probably the best one we have at this point. He does a really, really good job. He's smart, knows what to do and when to do it. Lucas is a guy that could go from short to third to second so we've got some combinations in there that we can work with."
When Castleberry's at short, Tyler Brown will play third. "Tyler saw a lot of time for us last year at second base. He's really more of a third baseman because he's not as rangy as some of the other guys but Tyler's going to have to play."
In an overview of the infield, Bock said, "It's going to take us a week or two to figure out who's doing a good job."
Brown got the most at-bats among the infield group last year, hitting .228 in 57 chances. Joiner served as a DH late in the season and hit .429 in 21 at bats. Castleberry, Taylor and Milam also got to the plate a few times.
The outfield, the coach mentioned, is a major asset. "It's probably the strength of our defense right now. All those guys are coming back from last year."
In left, Brennan Bullock returns after hitting .333 as a junior. He walked 18 times and stole six bases. Garrett Bock is back for his senior season after his junior campaign was cut short by injury. He will patrol center field after hitting .294 in 51 at bats. Caleb Garrett, who subbed for Bock in center last spring, will be in right. As a junior, he hit .365 and led the team with 12 stolen bases. He also scored 23 runs, second only to Mayall.
Junior Evan Jobe will be the Hornets' fourth outfielder. Sophomore Cameron Price is working behind Bullock in left with sophomore Josh Pultro backing up in center.
"Brennan started every game for us last year and did a tremendous job," Coach Bock commented. "He's even doing a better job this year. Garrett Bock is coming back and doing a good job. He's still hurting some. We're thinking it's scar tissue that's giving him problems. We're just going to have to wait and see. But, as far as not being able to do something, he doesn't have those problems.
"Caleb does a good job," he continued. "He runs extremely well, is good defensively, throws the ball well and he's getting better hitting all the time. At times last year, he hit the ball real well. Then, like everybody, he struggled at times. But he's a lot more consistent right now.
"Evan Jobe is probably the strongest arm we have on the team," Bock said. "If somebody goes down in the outfield right now, Evan will be the one to take their place. So we have four good ones out there that we can play around with.
"Cameron's coming along," he added. "He's improved tremendously from last year. Josh Pultro does a good job. He's not as rangy as the other guys. He doesn't run quite as well but he's getting better all the time."
Bock also mentioned that junior Dylan Pritchett, who's recovering from injury, and senior Jimi Easterling, who missed last season with a foot injury, will contribute.
"Dylan can barrel-up the ball," he noted. "And Jimi's just behind but, boy, he's a hard-working kid. Hopefully, we can give him some opportunities to do some things. He's a pitcher and a middle infielder. He's going to be a role player for us."
The varsity also includes senior pitcher Matt Neal and sophomore infielder Tyler Nelson.
The B team includes Pultro, Nelson and Price along with sophomores Trent Rivers, Tryce Schalchlin and Seth Alkire along with Hurt, Daniel, Lessenberry, Davis, Jackson and freshmen Tyler Green, Cade Howard, Ashton Green, Evan Castleberry, Daniel Richards, Joe Murdock, Riley Hall, Devon Sears, Marcus Wilson, Cody Gogus and Zach Cambron.
The B team will play a doubleheader at Pine Bluff starting at 4:30 p.m., on Monday, March 1.