Dillon's triples, McEntire's hurling leads to Junior Sox romp to secure a bid to State
EDITOR'S NOTE: Because the look back at each day in Bryant athletic history has been so favorably received during the time when there was no sports during the COVID-19 shutdown, BryantDaily.com will continueposting past stories of Bryant athletics either posted on BryantDaily.com (from 2009 to the present) or published in the Bryant Times (from 1998 to 2008).
Photos by Kevin Nagle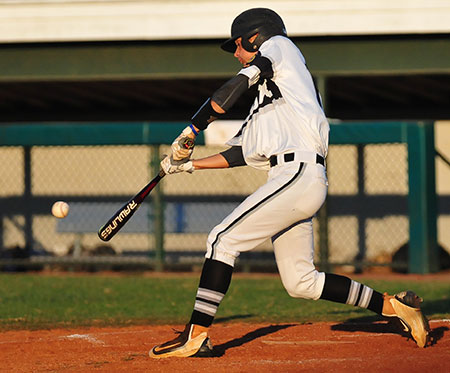 In a game that almost everyone figured would be as close as any in the Junior Area Tournament at Bryant High School Field, the Bryant Black Sox started scoring and didn't stop on the way to a 13-1 victory over a tough Sheridan Taylor & Lunsford Yellowjackets team in the winners' bracket final on Monday night.
In each of the first two innings, Peyton Dillon mashed triples, the first with the bases loaded and the second with two aboard to highlight the hitting while right-hander Will McEntire stopped the Jackets on five hits in the five-inning game, along with the one run in the top of the first.
The win not only sends Bryant to the championship round of the tourney on Wednesday as the lone remaining unbeaten team but it clinches one of the two bids from the Area to the Junior Legion State Tournament this weekend at UALR.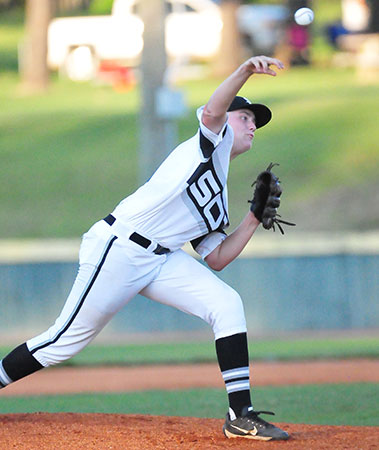 There was a time, before this tournament, that this Sox team might've scored four runs in the first and kind of let up on the opponent. Manager Tyler Brown was happy to see that trend reverse as the Sox scored four in the first, four in the second and four more in the third.
"They stayed on it," Brown noted. "It's like we've been talking about all year, you've got to have that energy and you've got to have that focus from the first pitch on. Tonight, we had it. That's the best energy we've had all year.
"We were talking out there the whole game and, most important, we hit a fastball hard," he continued. "You know when you get up there and hit a fastball hard you know you're going to do a lot of good things. That's so important because we always play good defense. It all comes down to executing and manufacturing runs. Tonight, we did it."
Of course, the importance of the game wasn't lost on the Sox players but their relentless play seemed to add to their enjoyment of the playing.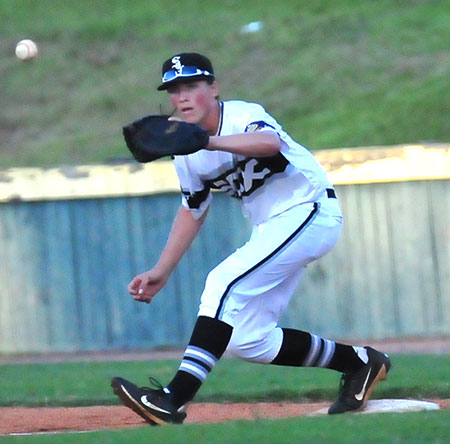 "I heard a couple of guys in the dugout after the game saying, 'That was the most fun we've had all year'," Brown related. "Well, yeah, it's always fun to win 13-1. You want to take that feeling in, you want to soak it in and you want to continue that. These guys are all a bunch of winners and they're becoming more and more winners each and every day.
"The most important thing from day one, like I've been saying, 'You've got to get better. And if you're getting better and the guy next to you is getting better, we're winning a lot of games. I can see that starting to happen. You know, we've had our struggles, where we'd have trouble scoring more than 1, 2, 3 runs. Tonight, we put it all together. When you do all the little things right, you're going to be in a lot of games and give yourself an opportunity to win."
Figuring it would be a tight contest, Sheridan used some small ball to get on the board in the first inning. Montana Korte ripped a double to left-center, was sacrificed to third by Nathan Kirkpatrick then scored on a two-out single by Hadyn Finley.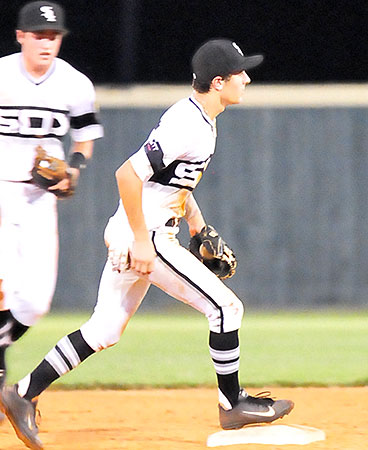 In the bottom of the inning, the Sox jumped on Sheridan starter Dalton Domrase. Logan Catton, who was on base four times and scored three of them, singled up the middle on the second pitch he saw from the Jackets' right-hander.
Indications that good things were in store came when Coby Greiner got a sacrifice bunt down, which was misplayed resulting in a first-and-second situation that turned into a second and third situation after a wild pitch.
Jake Wright walked to load the bases and, with one down, Dillon laced a liner down the right-field line for his first triple, making it 3-0. Cade Drennan's RBI single made it 4-0.
In the second, McEntire surrendered singles to Domrase and Kamryn Alkire to start the inning. But a tap back to McEntire resulted in a force at third. Though the runners moved up on a groundout by Ruston Johnson, McEntire grabbed a liner back to the box off Korte's bat to end the inning.
Sheridan would have just one more hit after that, an infield knock to lead off the fourth.
Bryant's second was put into gear when Catton drew a one-out walk. Greiner singled then consecutive wild pitches allowed Catton to score. Wright, with the ball at the backstop, just kept on running after he reached first. He drew a throw and Greiner, who never let up, scored all the way from second to make it 6-1.
Wright went to third on a shot off Harp's bat that struck Domrase' foot and ricocheted all the way out to short right. With runners at second and third, Dillon came to the plate and smacked a 2-0 pitch for a two-run triple to make it 8-1.
McEntire pitched around a lead-off walk in the third. In the home half, the Sox took up where they left off in the second. Konner Clontz drew a one-out walk then Catton was hit by a pitch. That set up Greiner's drive to right for an RBI double.
Wright followed with a bunt on the squeeze that plated Catton. Harp and Dillon each reached on an error before Drennan singled in a run to make it 12-1.
Domrase had an infield hit to start the top of the fourth but the next three batters were unable to capitalize as McEntire and the Sox defense stifled the Jackets. Wright made a fine catch of a foul pop, ranging far afield from the catchers' box. A grounder to Catton at second accounted for the second out then McEntire fanned pitcher Alex Callaway, who had relieved after Dillon's two-run triple in the second.
In the home fourth, with two down, Clontz reached on an error, stole second and scored when Catton singled to right on the third pitch from Ruston Johnson.
In Sheridan's fifth, a dropped flyball — Bryant's lone error in the game — gave the Jackets some life. A wild pitch had the runner at second before McEntire retired the next two batters.
A two-out walk to Finley was, however, wiped out when Callaway grounded to Clontz at short, resulting in a force out to end the game.