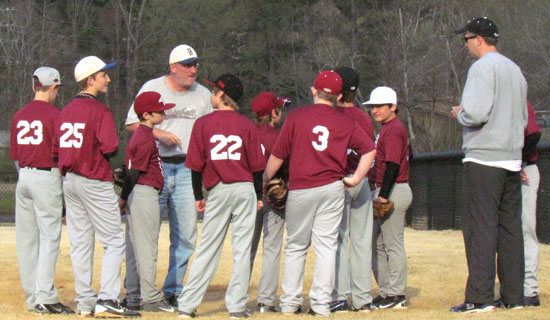 Photos courtesy of Lara James
Zack Wells, Rhett James and Logan Chambers combined on a three-hit shutout for the Lee[more] James Agency Dodgers against State Farm in Bryant Athletic Association baseball action at Bishop Park Thursday night. The Dodgers won 3-0 in the 11-12 year old Cal Ripken Blue League.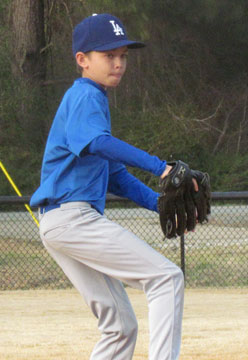 State Farm pitchers Will McEntire and Jayden Foster combined on a one-hitter but a bout of wildness and a pair of key errors allowed the Dodgers to score their runs.
The game was scoreless through two frames. In the top of the first, Wells surrendered a lead-off single to Hunter Mullins. With one out, Mullins was forced at second on Coby Greiner's bouncer to second. Greiner stole second but was stranded when Wells ended the inning with a strikeout.
McEntire worked around a two-out walk and a wild pitch in the bottom of the inning.
State Farm threatened in the second when, with one out, Jacob Shepard singled to left, stole second and took third on a wild pitch only to be stranded as Wells worked out of the jam.
After McEntire eased through a 1-2-3 inning, walks to Chandler Taylor and Josh Prather had State Farm threatening to score again. Mullins got the runners to second and third with a sacrifice bunt but James induced a foul out to his catcher Hunter Ulmer and a fly to Hunter Stallman in right to escape again.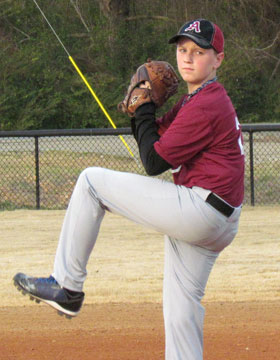 The James Agency third appeared to be going nowhere when Foster struck out the first two batters. He was a strike away from fanning the side but a 3-2 pitch was out of the zone and Logan Catton took a walk. Another pass to James and a wild pitch put runners at second and third for Chambers, who hit a bouncer to short. A wild throw to first allowed Chambers to reach second safely and both runs to score.
Ulmer was hit by a 2-2 pitch and he and Chambers worked a double steal but Foster got out of the inning with no further damage on his third strikeout of the inning.
For the fourth inning in a row, State Farm put runners on base. McEntire cracked a single to center. He advanced to second on a one-out grounder to third. Moments later, he reached third on a wild pitch before Austin Trimble walked. But the runners were stranded on the corners when James ended the inning with a strikeout.
In the home fourth, Ryan Taylor lashed a single to center for the Dodgers' first hit of the game. Austin Cook sacrificed him to second and Stallman got down a sacrifice bunt to get him to third. Wells walked and when he took off to steal second, drew an errant throw which allowed Taylor to score, making it 3-0.
Catton and James drew walks to load the bases before Foster induced a pop back to the mound to send it to the fifth.
Chambers took over on the mound for the Dodgers and retired the side in order to pick up the save.