By Rob Patrick
Photos by Kevin Nagle
In their season-opening win over the Hot Springs Lakeside Rams, the Bryant Blue Hornets eighth[more] grade team of Bethel Middle School powered their way to 170 yards rushing.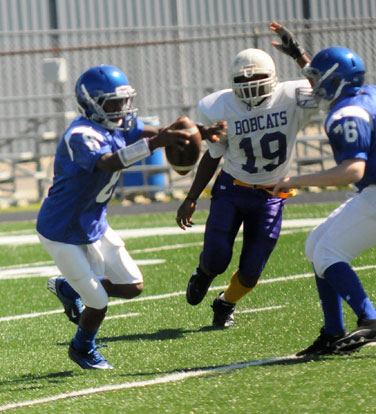 But in game two on Saturday morning at Bryant Stadium, the Hornets found themselves facing a bigger, stronger opponent in the Little Rock Dunbar Bobcats who piled up 207 yards of offense including 169 on the ground on the way to a 20-6 win.
This time, the Hornets could only muster a net of 22 yards rushing, though quarterback Desmond Duckworth completed 9 of 15 passes for 92 yards.
The Bryant Blue touchdown came with 1:31 left in the game on a 21-yard pass from Duckworth to Jeffery Hastings, capping off a four-play, 70-yard march on the heels of Dunbar's third score. Hastings caught four passes for 55 yards.
Now 1-1, the Hornets are scheduled to play at Benton on Thursday, Sept. 13.
Bryant Blue had the first best chance to get on the board Saturday. On its first possession, Dunbar had made it to the Bryant 35. Alex Day, who rushed fir 86 yards on eight carries, broke a 21-yard run but it was called back due to an illegal block in the back. A third-down play couldn't make up the difference and, on fourth down, a high snap got past the punter. Bryant Blue's Caylin Allen made the tackle at the Dunbar 32.
Duckworth and Hastings hooked up for 9 yards and, after an offsides penalty produced a first down, the Hornets quarterback completed short passes to Phillip Isom Green and Hastings to set up a third-and-4 at the Bobcats' 12. But a pair of incomplete passes followed and Dunbar took over on downs.
Three big plays turned the field over. Day galloped for 14 yards then, on a trap play, wingback Kivi Murray broke a 32-yard run. And when quarterback Delivion Childs hit Tavoris Akins on a 35-yard pass, it set up a 6-yard TD run by Day with just :12 left in the half.
The Hornets had to kick to start the second half and tried to onside it. But the Bobcats covered it at the Bryant 49 and, after Day picked up 9 yards, Michael Gay raced 40 yards for a second score.
Collin Welch made a nice stop on the two-point conversion attempt so it was 12-0.
Bryant's subsequent series ended with the first interception at midfield. John Word got the pick on a fourth-down throw.
Aided by a couple of penalties, the Hornets' defense forced a punt. Bryant Blue regained possession at its 27. A 9-yard pass from Duckworth to Allen helped pick up a first down but two plays later, the Hornets faced a third-and-5 at the 43 and Murray stepped in for an interception.
Though Sam Harrison broke through for the Hornets' defense and dropped Clinton Wilburd for 9-yard loss on first down, Day made up for it on the next play with a 25-yard run. Gay followed with a 38-yard dash to set up Childs' quarterback sneak for a touchdown to make it 18-0. A pass from Childs to Robert Stovall made it 20-0 with 3:00 left in the game.
Bryant Blue's scoring drive began with a 21-yard strike from Duckworth to Hastings. The quarterback then kept for 5 yards. A screen pass to Isom Green broke for 23 yards to set up the touchdown pass on the next play.
An errant snap on the extra point attempt forced Hastings, the holder for kicker Chase Kincaid, to try to throw for the point-after but it fell incomplete.
Dunbar then ran out the final 1:28 to finish off the win.