Photos by Kevin Nagle
LITTLE ROCK — The E-Stem Charter School Lady Mets of Little Rock held the Bryant Blue Lady[more] Hornets of Bethel Middle School to just 4 points in the first half and held off a late rally for a 29-21 win in pool play at Episcopal Collegiate's Wildcat Shootout Thursday.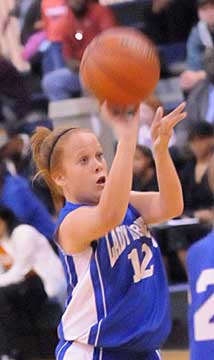 The Lady Mets built an 8-2 lead in the first quarter and held a 17-4 advantage at the half. It was 27-11 going into the fourth quarter.
Ashlyn Taylor paced the Lady Hornets with 12 points and six rebounds. Peyton Ramsey added 3 points and five boards. Britney Sahlmann, Anna Lowery and Jordan McKnight scored 2 points each. Sahlmann had four rebounds, four steals and three assists. Lowery hauled in four caroms as well.
Bryant Blue wraps up pool play in the tournament today at 4 p.m., against Lighthouse Charter Academy. Semifinals and finals for the Shootout are Saturday.