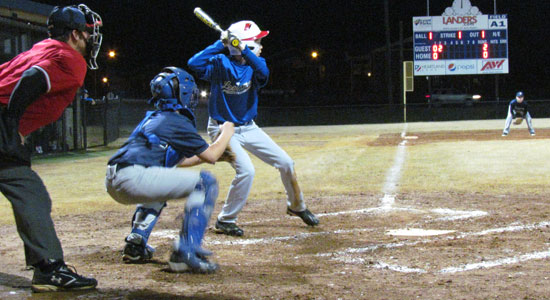 Photos courtesy of Lara James
Logan Grant, Tyler Jordan and Cade Dupree of Eat My Catfish out-dueled Logan Catton, Rhett James, Logan Chambers and Tristan Hammonds of[more] the Lee James Agency Dodgers Monday night at Bishop Park as EMC came away with a 3-1 win in Cal Ripken (11-12) Blue League action.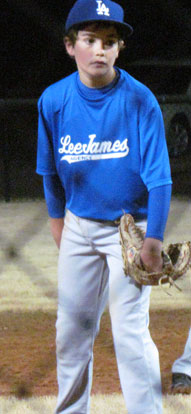 Earlier in the evening the Dodgers had overcome a deficit with a rally in the last inning to defeat State Farm Insurance. And they made a bid to come from behind against Eat My Catfish. The game ended with the tying runs in scoring position.
Walks to James and Chambers opened the home fifth. Ryan Taylor sacrificed them into scoring position but Dupree struck out the next two batters to escape with the victory. In two hitless innings, Dupree struck out four.
EMC had grabbed a 2-0 lead in the top of the second after Catton had retired the side in order in the first. Jonathan Hall was hit by a pitch and, an out later, Jesse Windemaker and Braydon Lester waited out walks, both on 3-2 counts. Jordan lined out to Catton on the mound but when he tried to double off Hall at third, an errant throw allowed him to score. Moments later, Windemaker came home on a passed ball before a strikeout ended the inning.
Grant, meanwhile, retired six of the seven batters he faced with the lone base-runner coming on a two-out walk to Chambers in the first. In the second the EMC hurler struck out the side.
James relieved for the Dodgers in the third and worked around a two-out single to Dupree and an error that allowed Grant to reach. Jordan took over for Grant on the mound in the home third and retired the side around a two-out walk to Catton.
In the top of the fourth, Sawyer Holt reached on an error. Windemaker sacrificed him to second then Lester drew a walk as did Jordan, filling the sacks. Though Holt was picked off third for the second out, Bryce Wilkerson came through with an RBI single to make it 3-0.
The Lee James Agency team got that run back on the bottom of the inning when Taylor cracked a one-out double, took third on a wild pitch and, after Hunter Ulmer walked, a balk allowed the run to score.
But Jordan came back to retire the next two to keep it 3-1, handing the pitching chores over to Dupree in the fifth.
Chambers retired Eat My Catfish in order in the fifth then Hammonds worked a 1-2-3 sixth to keep it close.