For more photos of this event by Rick Nation, go here; by Kevin Nagle, go here
Everyone knew that the 2020 Bryant Hornets had plenty of weapons on offense working behind an offensive line that had experience including a trio of guys that started as sophomores on the 13-0 State championship team in 2019.
Almost all the question marks coming into the season were on defense. Now, because the Hornets played something like 10 games that ended with the mercy rule in effect last season, the guys on defense got quite a bit of experience. But that wasn't at crunch time, wasn't always against the opponents' first team (though often it was).
And, with the coronavirus restrictions gutting spring and summer work, there was very little full-on tackling going on, even when the teams were cleared to practice.
Four games in, defensive coordinator Quad Sanders says that, only now, are the Hornets about where they would be to start a season in that regard.
Admittedly, the Hornets' D gave up 40 points in week three to Shadeur Sanders and the Trinity Christian Tigers of Cedar Hill, Texas. But, if you recall, when Bryant's guys absolutely needed a stop as the Hornets protected a 44-40 lead, they came through.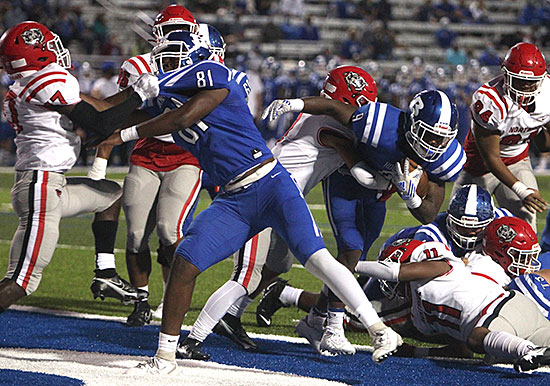 On Friday, in their first 7A-Central Conference game against the Fort Smith Northside Grizzlies, the development of the Bryant defense continued apace as they held the visitors to just 80 yards of total offense in the first half, helping create a field-position advantage that the offense used to build a 42-0 lead by halftime on the way to a 48-7 victory.
It was the 21st win in a row for the Hornets, the third mercy-rule game of the four this year and the 13th in the last 17.
Northside couldn't manage a first down until the final minute of the first half.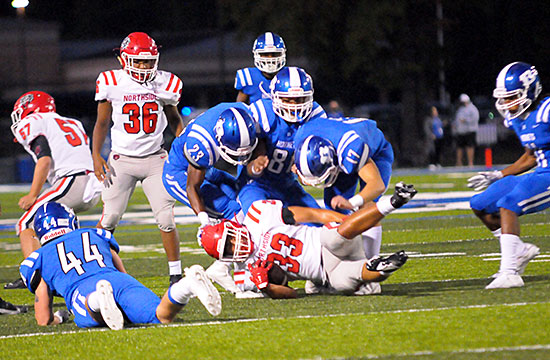 "When our defense plays like that, it gives you a chance," said Hornets head coach Buck James.
And the Bryant offense doesn't need much of a chance, normally. But, thanks to the defense, which forced four turnovers as well, the offense had short fields to work with time after time.
Senior quarterback Austin Ledbetter only completed five passes but then that's really all he needed. Two of them went for touchdowns. The rest of the damage was done by the ground game with Tanner Anderson, Xavier Foote and Jamarrien Bracy running behind that stout offensive line, senior center Jacob Powell, guard Parker Elswick and that junior trio of Brooks Edmonson, Jason Shifflet and Will Diggins.
Anderson picked up 88 yards on just 11 carries and scored three touchdowns without playing a down in the second half. Foote picked up 49 yards on seven carries and Bracey added 39 yards on just three totes. All told, that's averaging over 8 yards per carry.
Northside was backed up in its own end all night.
"I punted twice," James noted. "I don't do that very often. But our defense was playing so good that, I thought, if we can (punt) the ball down there inside the 20 or something then we could get the ball right back where we were. And I thought it would keep them stymied a little bit. I trusted our defense, which is good to do."
The Hornets' opening drive covered 69 yards in five plays. A 29-yard completion from Ledbetter to Hayden Schrader set up Anderson's 16-yard rumble for the points.
Brock Funk, who was good on all six of his extra-point attempts, booted it to 7-0.
Northside went three-and-out and punted it back to Bryant. The Hornets reached midfield then Noah Davis punted the Grizzlies back to their own 8.
Brayden Godwin made a tackle for a loss then Rodricho Martin made a tackle for no gain so Northside punted again, this time out of its own end zone, leaving the Hornets 51 yards away from another score.
They got it in one play. On a play-action pass, River Gregory got wide open and Ledbetter floated a throw to him perfectly for a 51-yard touchdown pass.
"I liked the way we came out and played the first four minutes," James declared. "I thought, offensively and defensively, we took it to them, and we set the presence, a tone. I thought our kids really played well."
The onslaught continued with the first turnover. Running back Ty Massey appeared to have the Grizzlies' initial first down but he fumbled, and Kaleb Knox recovered for the Hornets at the Northside 32.
Ledbetter hit Schrader and Daizure Hale on consecutive 13-yard plays. Anderson carried twice and scored from the 4. It was 21-0 with 4:03 still to play in the first quarter.
"We hadn't punted twice all year long," James said. "So, that shows you what kind of team they've got. They've got athletes and some big, strong kids and they had a good scheme.
"But our kids were efficient," he acknowledged. "I thought they were very, very methodical in what they did.
"When you get into a game like that, the crowd's not even into it. They're just sitting there watching and witnessing. We've got to be a little bit more enthusiastic about ourselves, have a little bit more fun. We work too hard not to go out there and have fun."
"We have to create a culture where selfishness or me — it's got to be about team and us and things like that," he explained when asked about avoiding a letdown after the big win over Trinity Christian the week before. "We've got to have guys that hold onto the rope and go out there and play for each other and get excited about each other.
James, despite the lopsided nature of the game, talked to his team a while afterwards about just that.
"I would like for them to be a little more enthusiastic about it, play with a little more zest," the coach mentioned. "But I'm proud of the way the kids went out there and played."
Up 21-0, the Hornets forced another three-and-out. Hart Penfield dropped Northside's senior quarterback Drey Norwood for a loss on third down and the Grizzlies punted again.
Bryant got the ball back at the Northside 41. On the way to their fourth touchdown, the Hornets faced a fourth-and-3 at the 24. Bracey broke a 15-yard run to the 9. A holding penalty pushed the Hornets back but, a play later, Ledbetter found Schrader for a 17-yard touchdown pass.
Another fumble cost Northside. Austin Schroeder, the Hornets' safety, recovered at Northside's 46. Though Bryant was unable to pick up a first down, Davis punted the Grizzlies back to their own 2 with Gavin Burton hustling down on coverage to keep the ball from going into the end zone for a touchback.
In three plays, Northside advanced the ball two yards.
Another punt out of the end zone was fielded by Noah Davis at the Grizzlies' 41 and returned it 22 yards to the 19. Anderson scored from there.
Another empty possession and punt resulted in Bryant starting again on offense from the Northside 39. In a drive featuring Foote, the Hornets found paydirt again. Foote's 13-yard run converted a third-down. He nearly scored from the 11 then plunged in from the 1.
With 3:08 still to play in the first half, the Hornets led 42-0 just as they did at halftime of the 2019 game in Fort Smith.
Northside's last possession of the half produced a pair of first downs. Initially on a scramble by Norwood. They reached the Bryant 49 but, with time and downs running out, Norwood heaved one deep only to have Schroeder intercept. The half ended as he nearly broke the return.
With reserves taking over for Bryant, Northside drove 57 yards for its lone score to start the second half. Norwood covered the final four yards.
In turn, sophomore Cory Nichols and the second team offensive line of Justin Orender, Gage Alexander, Hayden Walsh, Octavio Resendiz and Grayson Freel, put together its own touchdown drive.
Key plays included a third-down pass from Nichols to Hale for 19 yards; a 10-yard run by Foote; a 5-yard scramble by Nichols; and the 21-yard touchdown run by Bracey.
Early in the fourth quarter, Bryant sophomore Malachi Graham intercepted a pass. It was his second oskie of the season. The first he returned for a touchdown. And he nearly did the same on the second one, bringing it back from the Bryant 33 to the Northside 20.
Junior Carsen Burnett completed a 12-yard pass to Chris Gannaway but the threat stalled there with 8:12 left to play. Northside took over on downs and ate up the rest of the clock driving to the Bryant 15 where, on a fourth-and-2, Joseph Flores made a tackle for a loss as time ran out.
Bryant is set to return to War Memorial Stadium next week to take on the Catholic Rockets.