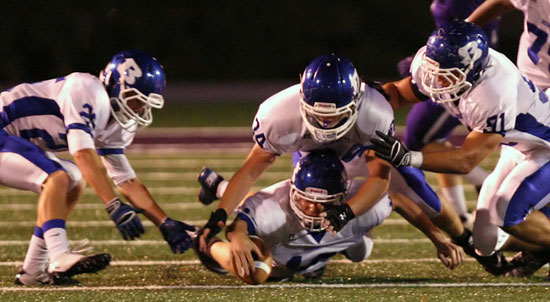 Photos by Rick Nation and Kevin Nagle
By Rob Patrick
EL DORADO — In a football game that winds up 42-35, it's not always easy to discern at what[more] point the game turned.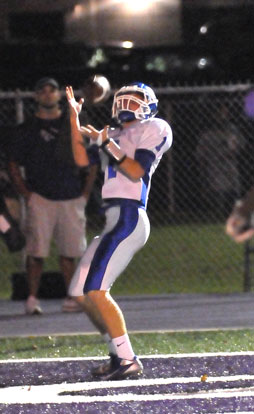 How's this for the game between the Bryant Hornets and El Dorado Wildcats on Friday night to close out the regular season:
The teams had traded salvos. Bryant took a 14-0 lead and El Dorado had come back to tie it — with the help of a couple of interesting penalties that were cited and some that were ignored.
With 3:56 left in the first half, Bryant was driving towards a score that would've snapped the tie. They had marched from their own 29 to the El Dorado 36 where they faced a third-and-1. On a night when the passing game was clicking, the Hornets crossed things up and threw. Senior wide receiver ran a little curl pattern from the left slot and, though quarterback Hayden Lessenberry led him a little too much, he appeared to make a lunging catch that was good enough for the first.
But the official in front of the El Dorado bench ran in, waving his arms, signaling no catch even though Powell had had his back to him.
No one with a better angle stepped in to over-rule it and instead of a first-and-10 near the El Dorado 30, Bryant faced a fourth-and-1. The Wildcats' defensive line got penetration with a run blitz and dropped Hornets senior Jalen Bell for no gain.
Bryant's drive to go ahead was derailed and, with 2:02 left in the half, it turned out to be the Wildcats who snapped the tie but, again, not without controversy.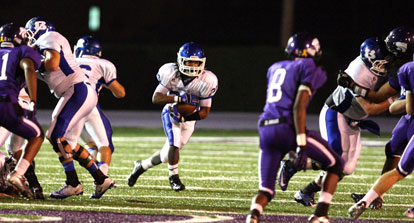 Still, irate over the call on the pass play, Bryant head coach Paul Calley's protests intensified when, on a first down at the Bryant 47, El Dorado quarterback Lucas Reed fired a quick pass outside to Sandy Brown. He was open in large part because the slot receiver was blocking 5 yards downfield with the ball in the air. The play broke for 22 yards and Calley came out onto the field beyond the numbers to try to get a word with the official that had made the call — the same one, working the sideline in front of the El Dorado bench — who had waved off the pass completion and, even before that, had flagged the Hornets in a key moment to derail a drive that had reached the Wildcats' 13.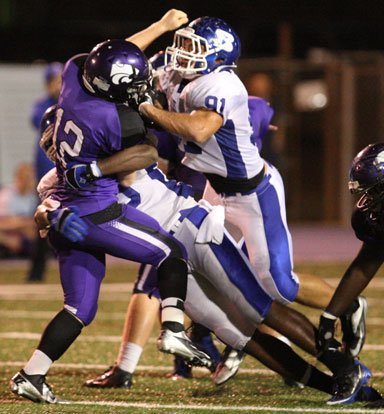 Anyway, a play later, El Dorado's Josh Brock raced 21 yards for a touchdown that had his team ahead for the first time with 1:02 left in the half.
Suddenly, instead of Bryant going to the locker room with the lead, it was El Dorado that was doing so.
And, on top of that, the Wildcats were getting the ball to start the second half.
They would drive for a score to take a two-touchdown lead, which the Hornets could never make up.
They thought they had that third-quarter drive stopped after the Wildcats were cited for holding — for the only time all night and on a running play no less. A third-and-23 play came up short so it figured the Wildcats, with a lead, might punt it away.
They didn't have to make that decision though because the Hornets were hit with an unsportsmanlike conduct penalty as one of the Bryant players protested a no call.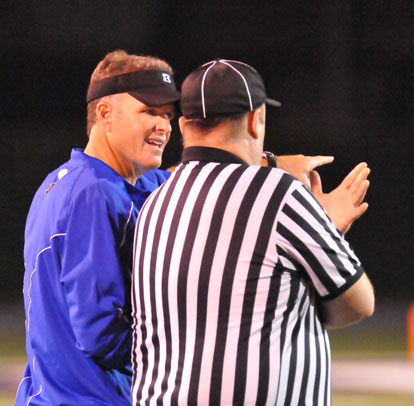 And guess who didn't make the call then flagged the protest?
Given new life, the Wildcats, who were good enough not to need any help, drove to the Bryant 32 where, on a fourth-and-5, Reed found Ty Owens over the middle for a clutch first down.
A play later, the same duo combined on a 21-yard touchdown pass into the left corner of the end zone — a great throw and a fine catch.
Down two scores, the Hornets matched the Wildcats touchdown for touchdown the rest of the way but could not draw even.
After watching the game film early Saturday morning, Calley said, "Too many missed opportunities offensively, costly penalties at the most inopportune times. We had the ball inside the 30 three times in the first half and came away with no points. We had four holding penalties stop drives.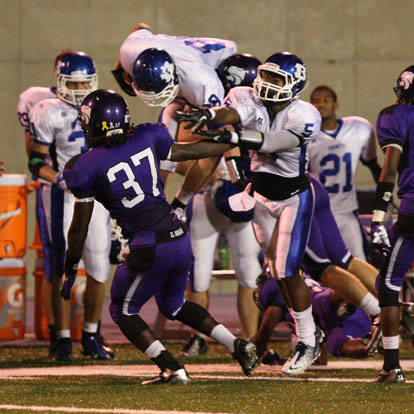 "Then, when we finally did stop them, we got an unsportsmanlike penalty," he added. "Our player got clipped as bad as you can clip somebody when he was set up to make the tackle, and he said something to the official.
"We couldn't stop them," Calley said, "but there's nothing you can do to combat what they were doing. It was frustrating."
The loss drops Bryant into the fourth seed position of the Class 7A playoffs. Thus they'll be hosting the fifth-seeded team from the Central, the Cabot Panthers, on Friday, Nov. 9.
El Dorado will be a number two seed in the Class 6A playoffs as they begin the quest for a fourth consecutive title.
Both teams put up some big numbers Friday. Lessenberry wound up throwing for 399 yards and three touchdowns. He also led the team rushing with 34 yards on 11 tries including a touchdown run. K.J. Hill threw a touchdown pass and caught one. He had eight receptions for 137 yards while Brushawn Hunter caught 11 passes for 158 yards and two touchdowns.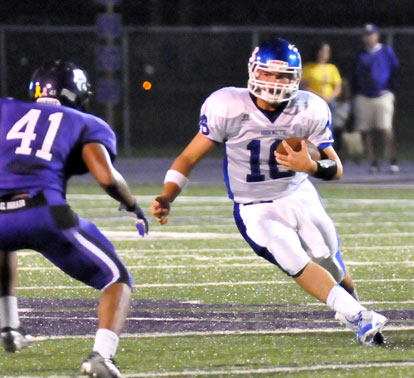 Bryant finished with with 476 yards of total offense with 420 of that passing. El Dorado finished with 471 yards of total offense, 245 through the air. Brock finished with 140 yards rushing on 15 carries. Burris finished with 96 yards on 19 tries. Both Owens and Brown finished above the 100-yard mark receiver.
The two teams traded brief drives that stalled to open the game. They exchanged punts with Bryant gaining good field position at its own 43. After a loss, Lessenberry connected with Hill for 39 yards then Hill, after taking a pitch from Lessenberry on what looked like a sweep, pulled up and lofted a pass to Powell in the back of the end zone.
Up 7-0, the Hornets soon had the ball back. Davis Nossaman who led the team in tackles with 13, forced a fumble that Hunter Fugitt covered for Bryant.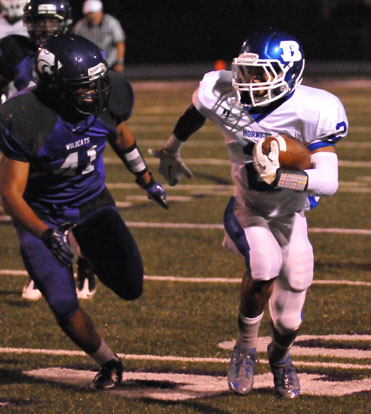 Tim Kelly and Aaron Bell were both in on 11 stops. Jared Koon finished with seven.
A 24-yard pass that converted a third-down situation had the Hornets on their way to a second TD. Lessenberry and Hunter teamed up on that play and, on the next snap, Lessenberry found Hill for 33 yards and a touchdown.
Aided by a chop block (on a defensive play), El Dorado drove for its first touchdown. A 48-yard pass from Reed to Brown reached the 3 and, though it took three plays, the Wildcats got it in for a score.
The Hornets put together an nice long drive in response. They overcame a holding penalty early in the drive. Later, they faced a fourth-and-7 at the El Dorado 35 only to have Lessenberry fire a pass down the middle for Hill that got Bryant to the Wildcats' 13.
On the next play, the Hornets appeared to reach the 5 but the play was negated by a holding penalty which was marked off from seven yards behind the line of scrimmage. Pushed back to the 30, Bryant was unable to cash in, turning the ball over on downs with 4:14 left in the half.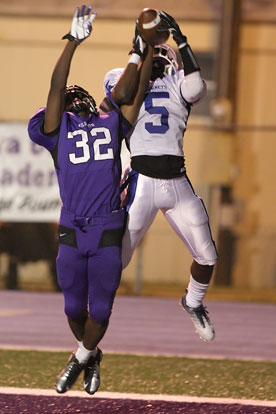 Then, the Wildcats used the play-fake effectively and Reed lofted a pass to Owens that broke for a 70-yard touchdown. With Trent Harter's extra point, the game was tied setting up the final drive of the half for the Hornets.
In the second half, after El Dorado added to its lead, the Hornets responded with almost exclusively an air attack. A bubble screen to Hunter put the points up. The sophomore broke three tackles on his way to a 52-yard touchdown.
The extra point failed, however, so the Hornets trailed 28-20.
El Dorado took its turn with an 11-play, smash-mouth drive that concluded with a 2-yard plunge by Burris that increased the margin to 35-20.
Again, Bryant responded with a scoring drive of its own. An 18-yard pass from Lessenberry to Nate Rutherford got the possession started. Lessenberry scambled for 15 yards on a third-down play and, on the next snap, he completed the touchdown pass to Hunter.
Bryant went for a 2-point conversion. The first effort failed, though it was because of a pass interference penalty. The Hornets got a second chance from just outside the 2 and Lessenberry kept to make it 35-28 with 10:55 still to play.
El Dorado covered an onside kick and, sparked by a 37-yard dart by Brock, drove for another touchdown. This time, Reed snuck it in from the 1 and it was 42-28 with 9:19 left.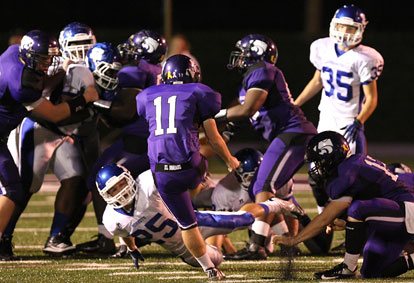 Bryant followed with a drive to midfield where, on a first-down pass, they got the ball into El Dorado territory. But a holding penalty pushed them back to their own 38 and, though the Hornets reached a third-and-2 at the El Dorado 42, they got no further. Lessenberry lost a couple of yards, trying to step out of the collapsing pocket then a fourth-down pass was tipped at the line of scrimmage.
The Wildcats took over on downs and commenced pounding on the lighter Bryant front seven. But when they reached the 27, the defense made a stand, forcing a field goal attempt from 39 yards out.
After a high snap, Reed, the holder, tried to get the ball on the tee for Harter but the timing had been messed up and Bryant's Drew Tipton flew in from the left side to block it.
With time running out, the Hornets proceeded to drive 67 yards for another touchdown. But it took them two full minutes, precious time, to get to the end zone. Jalen Bell contributed a 12-yard run and, after Lessenberry fired to Hill to get it to the 3, Lessenberry kept for the TD.
But there was just 1:50 left in the game and the Hornets were out of timeouts. El Dorado used up the rest of the time to secure its Senior Night victory.

EL DORADO 42, BRYANT 35

Score by quarters

El Dorado 0 21 7 14 — 42
Bryant 14 0 6 15 — 35
SCORING SUMMARY
First quarter

BRYANT — Powell 21 pass from Hill (Lowery kick), 4:53
BRYANT — Hill 33 pass from Lessenberry (Lowery kick), 1:54
Second quarter

EL DORADO — Waldrum 1 run (Harter kick), 11:25
EL DORADO — Owens 70 pass from Reed (Harter kick), 3:58
EL DORADO — Brock 21 run (Harter kick), 1:02
Third quarter

EL DORADO — Owens 21 pass from Reed (Harter kick), 6:09
BRYANT — Hunter 52 pass from Lessenberry (kick failed), 5:39
Fourth quarter

EL DORADO — Burris 2 run (Harter kick), 11:57
BRYANT — Hunter 21 pass from Lessenberry (Lessenberry run), 10:55
EL DORADO — Reed 1 run (Harter kick), 9:19
BRYANT — Lessenberry 3 run (Lowery kick), 1:50
Team stats
Bryant El Dorado
First downs 21 20
Rushes-yds 20-56 42-226
Passing 30-43-0 12-16-0
Passing yds 420 245
Punts-avg. 1-33.0 1-30.0
Fumbles-lost 0-0 1-1
Penalties-yds 10-91 7-59
INDIVIDUAL STATS
Rushing: BRYANT, Lessenberry 11-34, J.Bell 7-15, Irby 1-5, Hunter 1-2; EL DORADO, Brock 15-140, Burris 19-96, Reed 7-1, Waldrum 1-1.
Passing (C-A-I-Y): BRYANT, Lessenberry 29-42-0-399, Hill 1-1-0-21; EL DORADO, Reed 12-16-0-245.
Receiving: BRYANT, Hunter 11-158, Hill 8-137, Powell 4-49, Rutherford 3-43, Howard 2-19, J.Bell 2-13, Irby 1-(-2); EL DORADO, Brown 5-102, Owens 4-110, Murphy 2-15, Burris 1-18.