Photos courtesy of the Bryant Chamber of Commerce
Bryant City Attorney Chris Madison retained his Duct Tape Boat Race title at the 3rd annual Ken Palmquist Duct Tape Boat Race held in conjunction with the 26th annual Bryant Fall Fest Saturday at Bishop Park, Bryant.  His competition was more intense than ever. Fifteen different duct tape boats were built this year. Boats are made of duct tape and PVC pipe only.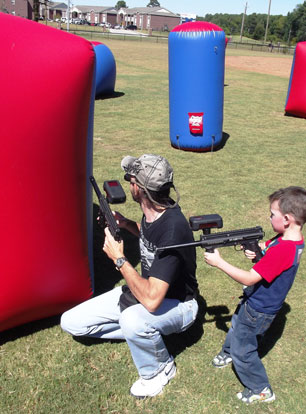 Madison took home a kayak with sail for his win this year. Second in the adult category was Terry Caldwell and third was the father/son team of Jimmy and Tyler Fields.
Winning the Youth Category was Hornet Engineering and Technology Club with their boat "Mamba." Not only did they win the race and $150 for that, they also won the "Most Creative" in both youth and adult categories and took home another $50. The Duct Tape Boat Race was sponsored by Landers Auto of Saline County.
The Heartland Bank Treasures in the Sand Grand Prize winner was Courtney Toldand. She took home a Kindle Fire. Winners of gift certificates throughout the day were Audra Murphy, Rebecca Whitfield, James Sturch, Angela Huff, Chris Koutroumbus, Ryan Gildner, Mandi Foltz, Lisa Spradlin, Courtney Toland, Teresa Ellithorpe, Sandra Banks, Angela Corlett, Patti Statton, Michelle Finney, Tamara 
Reyes, Hope Spradlin, Isaac Devine and Ryan McKenzie.
First Electric Baby Crawl winner was Kaylee Hampton, daughter of Katherine Kordsmeier of Bryant.
The Underground Exchange/Saline County Arts Project Pumpkin Bling youth winners were, first place Brilynn Findley, second place Hunter Addie, and third place Jennifer Adams.  Schools were first Hill Farm, second Hurricane Creek and third Springhill Elementary.  Logo winners were first place Bank of the Ozarks, second place EGP LLC, and third place State Farm Insurance. In the Adult category the winner was Joseph Barnwell, second place Dorothy Barnwell and third place Carla Harris.
First Electric Hula Hoop Contest winners were:
Ages to 6 category: 1st place, Sydney Smith of Bryant; 2nd place, Dakota Beech of Hot Springs; 3rd place Skylar Welch of Benton.
Ages 7 to 12 Category 1st heat: Rylee Rutledge of Benton 1st; 2nd place Lanlea Allison of Bryant; 3rd place Julie Anderay of Benton.
Ages 7 to 12 Category 2nd heat: 1st place, Ella Grace of Bryant; 2nd place Stephanie Anderson of Bryant; 3rd place, Gabriela Peret of Bryant.
Ages 7 to 12 Category 3rd heat: 1st place Madelyn Hamilton of Bryant; 2nd place Bella Harbour of Bryant; and 3rd place, Katelyn Hamilton of Bryant.
Ages 7 to 12 Category 4th heat:  1st place Nia Swann of Bryant; 2nd place Braylee Peel of Bryant; and 3rd place, Kyre Caldwell of Bryant.
Ages 12 and up: 1st place Ellie Mayberry of East End; 2nd place Taylor Houtroumbis of Bryant; and 3rd place, Maddie H. of Bryant.