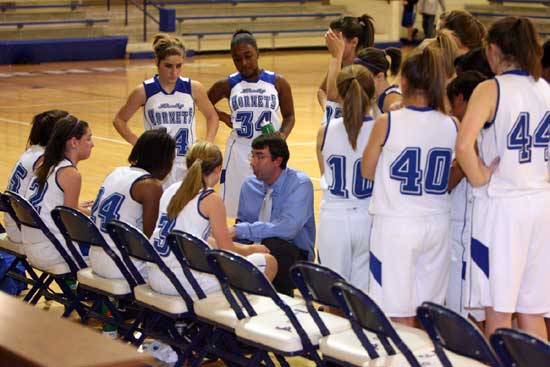 Photos by Rick Nation
A quick start for the Conway White Lady Wampus Kittens proved too much for the Bryant Lady Hornets freshman team to overcome Tuesday night. Conway rushed out to a 10-3 lead[more] in the first quarter on the way to a 41-28 victory that put them in the championship game of the Bryant Invitational Tournament on Thursday at 6:05 p.m., against Pulaski Academy. The game will be played at the Bryant Middle School gym.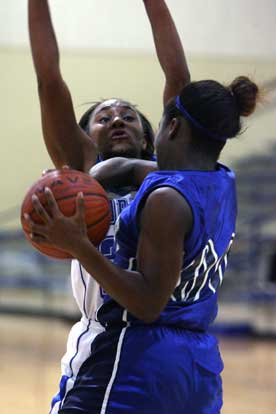 Bryant will take on Lake Hamilton in the third-place game at 5 p.m., at the high school.
The Lady Hornets include Aubree Allen, Jessica Alliston, Andrea Buford, Ashlee Caton, Caylin Choate, Dezarea Duckworth, Kaitlyn Greer, Keedy Harrison, Taylor Matthews, Dee-Dee Mosby, Melinda Murdock, Amber Newman, Destin Nichols, Brittany Privett, Erica Smith, Rori Whittaker and Alex Wright.
"We got down big early and the girls did a great job of battling back," commented Bryant coach Nathan Castaldi. "At times we really struggled against their pressure. We had a few players get in foul trouble, which put us in a bind, but we had some players give us some good minutes off the bench. Those players were Keedy Harrison and Andrea Buford. Dezerea did a great job for us tonight. She handled their pressure and did a good job of getting good looks for herself and her teammates."
Duckworth led the team with 16 points. Buford added 4, Newman, Nichols and Choate each had 2 with Whittaker and Allen adding a point apiece.
Bryant battled back from the early deficit to get within 16-13 at the half but Conway extended the lead throughout the second half, leading 29-21 going into the fourth quarter.