Photos by Rick Nation
By Rob Patrick
Before the Bryant Blue Hornets seventh grade team of Bethel Middle School could settle in, they found themselves trailing the Bryant White Hornets of Bryant Middle School, 16-0. Though the two teams played pretty evenly in the second half, Blue could never dig out of that hole as Bryant White earned a 24-6 win on Thursday night.
Myles Aldridge pounded out 164 yards rushing including two long touchdown runs to lead White. Quarterback Aiden Adams completed 4 of 5 passes for 51 yards.
Blue, which struggled early on offense due to some irratic shotgun snaps trailed 24-0 before picking up its initial first down of the night. Sparked by quarterback Cameron Palmer, however, they drove for a score in the second half and reached the 3 before time ran out. On the two last possession for the Blue Hornets, Palmer rushed four times for 75 yards and a touchdown and completed three passes for 24 yards, all to Ryan Riggs.
The game concluded the season for the Bethel seventh graders. Bryant Middle finishes up on Tuesday, Oct. 20 against Little Rock Henderson.
On the opening series of Thursday's game, Aldridge had most of a 36-yard run negated by a holding penalty on the second play of the contest. But Adams completed 17-yard pass to Austin Ledbetter to convert a second-and-11 then Aldridge got loose again. This time, he rumbled 54 yards to the end zone.
Adams and Ledbetter combined on a completion for the two-point conversion and it was 8-0.
The first series for Bryant Blue included an 11-yard run by River Gregory but errant snaps cost 6 yards on third down and 6 points on fourth down. Conner Coleman scooped and scored. With Aldridge's run for the two-point conversion, Bryant White led 16-0 just six minutes into the game.
Bethel went three and out on its second possession but the defense stepped up. On a third-and-7 at the Blue 41, the White Hornets tried some razzle-dazzle, trying to run a reverse to Caleb Goines. But the Blue Hornets got penetration and blew the play up, led by Hayden Schrader. Though White was able to get back on the fumble, the play lost 13 yards and when a fourth-down pass fell incomplete, Blue took over on downs.
But another bad snap cost them 5 yards and, on a second-down pass, Blaine Sears intercepted.
White threatened to cash that in, driving to the Blue 30. But, on second down, Adams was sacked by Bryce Rankin and Braden Godwin and time ran out on the Hornets.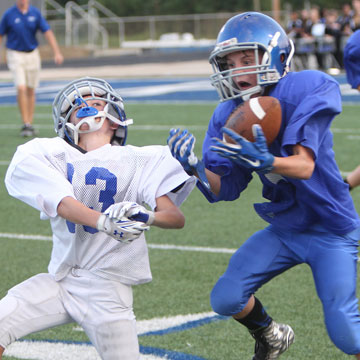 Gregory opened the second half with a 7-yard tote but was stopped for no gain on second down by Adams. On third down, Aldridge sacked Garret Wilson.
White got the ball back at its own 43 and was promptly pushed back due to a holding penalty. But, a play later, Aldridge galloped 64 yards to add to the lead.
Adams tossed to Ledbetter for the conversion and it was 23-14 less than five minutes into the second half.
Palmer entered at quarterback at that point for Bethel and sparked a touchdown drive with a third-down pass completion to Riggs. A pass interference penalty helped but then Palmer raced 45 yards for a touchdown moments later.
The pass for the two-point conversion was intercepted, however.
A 20-yard run by Aldridge appeared to have White on its way to another score but defensive plays by Riggs and Gregory thwarted the threat. Gregory hit Adams as he was trying to make a pitch on a fourth-down option. The ball came loose and Schrader recovered for Bethel.
Palmer lashed for 13 yards then later completed consecutive passes for Riggs. A 10-yard keeper got to the 3 but Palmer was hurt on the tackle when Aldridge lowered the boom on him.
The Blue Hornets got two more snaps but couldn't get it in the end zone as time ran out.