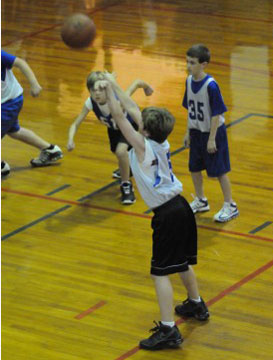 By Kirk Stewart
Thursday night, Feb. 26, was the most exciting night yet of the third through sixth grade city league basketball tournament.
The night got off to a roaring start as Team Sandidge fought from behind to defeat Team Sanders 25-24 in the third/fourth grade boys division. It was Team Sander's second loss, eliminating them from the tournament.
The other third/fourth grade boys game had another comeback bid. Team Pringle fought from behind all night trying to catch up to Team Dupree. But, in the end it fell just short with Team Dupree advancing with a score of 28-22, ending Team Pringle's tournament.[more]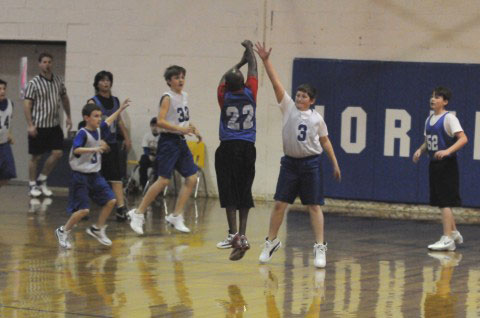 The final game of the night was a toe-to-toe slugfest between the No. 1 seed Team Price against the No. 2 seed Team Warner. Team Warner led by as many as 20 in the first half taking a 17-point lead into halftime. At halftime, Coach Les Price convinced his team that the game was far from over. As the third period began so did Team Price's comeback. At the end of the third, the lead had been whittled from 17 to 4 with the period ending on an incredible full-court bank shot by Team Price's Jason Hastings.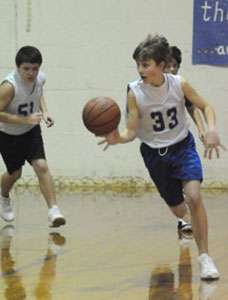 The two teams then traded punches for the remainder of the game. And with 1.7 seconds left, the game tied 48-48, Jordan Gentry sank two free throws that put Team Price on top.
Team Warner's Brandon Warner led all scores with 28 in a losing effort.
Team Price will face the winner of Saturday's 12 p.m. game between Team Hurt and Team Warner in the tournament finale at 6 p.m.
Games will continue Friday night and Saturday with the finals being held at 2:30 p.m. for the third/fourth grade girls, 3:30 for the fifth/sixth grade girls, 4:30 for the third/fourth grade boys and 6 for the fifth/sixth grade boys.
Thanks to Ron Boyd for the photographs.