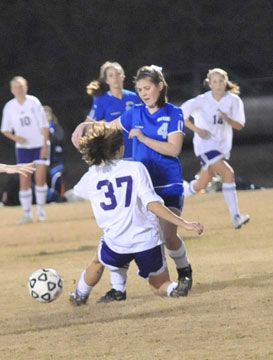 LITTLE ROCK — When soccer was first introduced to high school athletics back in the 1990's, Little Rock Catholic and Mount St. Mary's Academies were among those pushing for its addition and they embraced the sport right away. Ever since, their programs have been among the best in the state. They've been among those that have set the standard for the rest of the pack.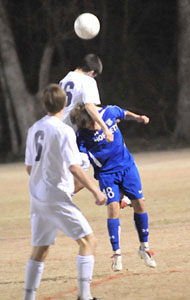 Last year, Mount St. Mary's won a Class 7A State championship. Catholic has titles in 2007 and 2002 and made it to the semifinals in 2008.
Early on, when Bryant's girls played a Mount St. Mary's, it was the Belles' JV team that the Lady Hornets faced. In recent years, the varsity squads have played but Mount has been getting the best of it.
The Bryant boys haven't been playing Catholic's Rockets for many years but it's been a pretty lopsided series. No Hornets team has ever beaten a Rockets team.
But the gaps are closing.
On Thursday, Feb. 26, the Lady Hornets, opening the season without all of their players, just couldn't get a shot in the net though they had opportunities and Mount St. Mary's escaped with a 1-0 win in the 7A-Central Conference opener for both teams.
And the Hornets, coming in 5-0 on the season, played the Rockets about as close as any Bryant team ever has, absorbing a tough 3-0 setback in its league opener.[more]
"We played well," declared Hornets coach Jason Hay. "(Catholic) got two what I'd call cheap goals off of our mistakes and one pretty solid shot. We played tough."
The coach noted that the only other Bryant team to hold a Rockets team to just three goals was the 2005 squad which posted an 11-4-4 record for the season, one of the program's best.
"They're a very good opponent," Hay acknowledged. "They're real good, real technical, one touch to everything. And we played 12 guys. Everybody, with the exception of our wings which I rotated a guy in for about 10 minutes, played a full 80. I was really proud of our effort. We got beat by a good team."
Hay said that most of the match was played in Bryant's end.
"We had a couple of times we had a chance to get some corners in but we just couldn't get it in," he said. "A couple of times we had like a scrum right in front of the goal with the goalie and a couple of our guys but, other than that, they kept it in our defensive end of the field most of the night. It was tough. They had us pinned most of the night but our defense played them tough.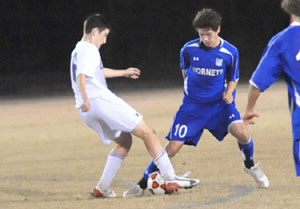 "The kids were upset but I thought we played about as well as we could," he concluded.
In the girls game, Mount St. Mary's got an early goal and made it stand up.
"They got a good shot from about 22 yards out, right corner, wind in our face and it kind of tailed in us," recounted Lady Hornets coach Doug Maxwell. "We were just kind of unlucky on that.
"We had several opportunities the first half," he added. "We hit the upper crossbar twice and it ricocheted out both times. We had three breakaways in the second half and just couldn't find the net. We missed wide twice and hit the keeper once. Just missed opportunities."
Katie Moore hit the crossbar on one of her two shots, Amber Moskow had three shots on goal as did Lindsai Arceneaux. Lauren Reed got a shot off.
"But I was real pleased with the way we played," the coach asserted. "We really held our composure well, really controlled the match for the most part. Time of possession was in our favor. It was probably the most patient I've seen us in quite some time against a very good and very aggressive Mount team."
Maxwell acknowledged that it was a tough way to open the season after their only previously scheduled game was forfeited by Jacksonville.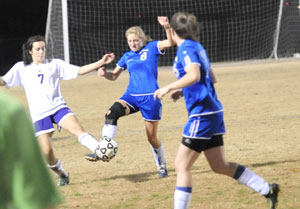 "I wish we'd had maybe one or two games under our belt before we played them," he stated, "but I'm anxious to see what happens the second time around. I was kidding Jason (Hay). I wish the boys tournament was this weekend and the girls tournament had been last weekend (instead of the other way around) up in Paragould, just to have a few more scoring opportunities and more game situations."
The teams will battle again in Bryant on April 7.
"I was pleased with the way we played," Maxwell repeated. "I'm very pleased with the way the girls pushed themselves.
"Our defense was really good," he added. "They had several scoring opportunities but most of them were on breakaway situations, counterattacks. There are things we need to work on. But I was really pleased with the way our defense reorganized themselves, got back and did a good job protecting our goal."
Maxwell lauded the play of keeper Megan Childress. "She had several outstanding saves for us," he mentioned. "Serenity Gomez had six defensive stops on her side, Sarah Manning had five, Emily Smith had four."
The Lady Hornets will be playing in Paragould's girls tournament over the weekend before returning to conference play with the boys at home on Tuesday, March 3, against Van Buren.