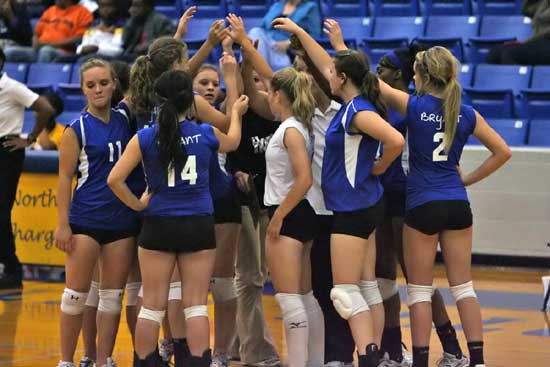 By Rob Patrick
Photos by Rick Nation
NORTH LITTLE ROCK — The Bryant Lady Hornets came into their final 7A-Central Conference match on Tuesday with the[more] league's No. 2 seed and a first-round bye at the Class 7A State Tournament sewed up. Though head coach Beth Solomon and assistant Julie Long didn't make a big deal about it.
"We made sure we didn't tell the girls that we for sure had second," Solomon said.
But it's hard to keep those kinds of things secrets and the Lady Hornets played kind of like a team that had nothing on the line.
Meanwhile, North Little Rock came in still trying to beat out Mount St. Mary Academy for the No. 3 seed from the league. That and the fact the Lady Charging Wildcats were celebrating Senior Night produced much more energy, intensity and focus. Coupled with the Lady Hornets' lack of same, the result was a 3-0 sweep by North Little Rock, 25-10, 25-14, 25-14.
Bryant had dismissed the Lady Cats at the Hornets Nest on Sept. 22, 3-1.
"They had a good game tonight," Solomon said of North Little Rock. "The last time we played them, I didn't feel like they played as well as they've been playing all season. And I don't know if the girls were ready for that or if they were just going off the last time we played them. They've got some power hitters and some smart players and they stayed together tonight, which they didn't do when we played them at our gym. They stayed together and we didn't. We broke up into six different groups.
"We just weren't getting it done tonight," she continued. "Our passes were off. I don't know how many netballs we had tonight and under the net. Our block was there but it wasn't getting it done like it was last time."
The Lady Hornets trailed almost the entire evening starting when the Lady Cats rolled out to an 11-1 lead in the opening game.
In fact, Bryant's lone lead was brief. In the third game, they pushed ahead 3-4 on a pair of kills by Brooke Howell and an ace by Hannah Rice.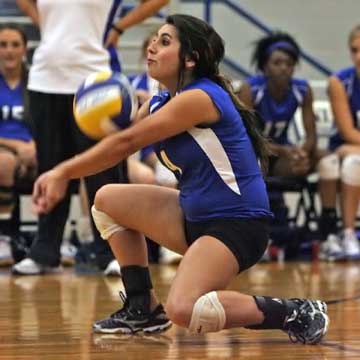 They had spurts where the competitive juices were flowing but they weren't able to sustain it.
It didn't help that junior outside hitter McKenzie Rice was held out of the game due to an injury. Solomon said the malady wasn't too serious.
"We wanted to go ahead and sit her tonight so we have her for next week," she said, referring to the start of the State tourney, which will be held in Conway. "We didn't want to risk it. With McKenzie out, we were having to mix up some stuff and it just wasn't working. We just couldn't get anything going."
After not mentioning the secured second-place finish before the game, the coach said she brought it up during the match.
"I think I told them during that second game to try to motivate them," she related. "It was like, okay, let's try something different. But it didn't work."
Howell led the Lady Hornets with seven kills. Alyssa Anderson had six but the Lady Hornets were only 70 percent on attacks (54 of 77). Brianna White had three solo blocks, Anderson two.
Hannah Rice contributed 17 assists. She also had 11 good serves in 12 attempts with two aces. Anderson also served up a pair of aces, going 8 of 9 on her serves.
Lauren Reed paced the team with nine digs. Rochelle Aguilar had eight and Howell six.
Bryant was coming off one of its finest performances of the season, a 3-0 sweep at Van Buren in which, to promote team unity, the coach had the players swap jerseys and credited stats by jersey number.
"It was totally different against Van Buren and maybe tonight we should've gone ahead and had them switch up jerseys again so they knew they were playing for somebody else other than themselves," she allowed.
Or, it was suggested facetiously; they could've left school early and driven around in the bus for three hours.
"Maybe that's the problem," Solomon played along, "they say that's why they played so well Thursday night because they got to sleep first."
The team has one more outing before heading to State. They visit Central Arkansas Christian Academy on Thursday. They'll debut at the State Tournament on Wednesday, Oct. 26, at 2 p.m., taking on the survivor of the first-round match between the No. 3 seed from the West, Fort Smith Southside, and the No. 6 seed from the Central, Little Rock Hall.
Looking ahead to Thursday, Solomon said, "They can either lay down and die right now and we can call our season over, or we can step up and play, be ready to go next week. Because whoever we play next week is going to be real similar to North Little Rock. We're better than what we did tonight."