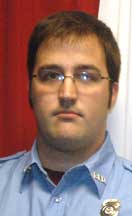 By Martin Couch
David Slack graduated from Bryant High School in 2002 and wanted to give back to his community.
Being raised in Bryant all of his life, he'd seen it grow and when he turned 19, he became a volunteer firefighter for the city.
"I was friends with a guy that was on the fire department and then I got on as a volunteer," Slack said. "When I turned 21, I applied for a fulltime job and got it. I've been here for five years now."
Slack remembers when he first started, the Bryant Fire Department wasn't much more than an office, a day room and two bays for trucks.[more]
"They had a couple of other stations where there were trucks, but nobody was stationed there," Slack said. "When the service roads went to one way, we went to two other stations and some years back we built this station. Now we've got close to 50 firefighters on our staff."
Slack recalled only having six firefighters on duty at one time, but has seen that number increase to 13 to 15 firefighters on duty 24 hours a day.
"I like Bryant," he said. "It's growing, but it's in a weird spot right now between a small town and a big city. It's probably got some more growing to do."
Currently, Slack is a firefighter and EMT. He has future plans to move up the ranks in the Bryant fire department.
"I'll take the tests again and see how it goes," he added.