File photo by Kevin Nagle
Tonight's Bryant-Conway game will be broadcast at 93.7 FM and 690 AM Fox Sports Arkansas with pre-game at 6:30 p.m., and live streamed by Fidelity Local 6 here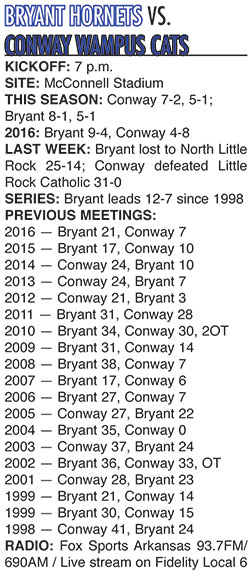 Any team worth its salt, when they have an eight-game winning streak ended by a rival, hopes to get another shot at them. In football, that would have to come in a State playoff game; at best, in War Memorial Stadium with all the marbles on the line.
If the Bryant Hornets, who last week had their unbeaten string spoiled by the North Little Rock Charging Wildcats, want that scenario to unfold, the first step would be a road victory over the Conway Wampus Cats in the regular-season finale for both teams tonight.
With a victory, the Hornets would get a bye week that would leave them just two wins away from the championship game instead of being third and three wins away like last year when Bryant won two playoff games but came up a win short of the title game as North Little Rock knocked them out of contention.
The loss would leave the Hornets in the same position they were in last year with a trip to North Little Rock awaiting them in the semifinals once again, if they can get that far.
Bryant is 17-3 over their last 20 games. All three losses were at the hands of the Charging Wildcats.
A bye would also give Bryant players a chance to heal up.
It won't be easy. Conway can also grab that No. 2 seed with a victory. The Cats have won four in a row since they lost to North Little Rock, 24-14, on Sept. 29.
Bryant head coach Buck James said he hopes his team learns for the setback.
"Sometimes a loss at this time of year, if you take it with the right perspective, can be a good thing," he said. "And our team came back this week and had really good practices, probably the best practices we've had since two-a-days.
"I'm really proud of the way these guys have worked to try to overcome what happened last Friday and try to fix it for this Friday," the coach asserted.
"This game is huge," he acknowledged. "This has been a black-and-blue league. It has been a physical football season. I've never been in a season where every game is this important to the other team. We have had some battles. It's been a tough season.
"But our guys have endured well. They've trained their bodies for this. We've just got to go out and play football the best that we can, play mistake-free and play with a lot of enthusiasm, a lot of discipline, and take care of business."
Conway wasn't really on the map to start the season. They were picked fourth in the 7A-Central Conference preseason predictions. But, just as Bryant made its mark with a big win over a 7A-West power in Fayetteville in week 2, the Wampus Cats went to Bentonville in week 3 and triumphed 35-16; the same Tigers team that will be playing for a 7A-West conference championship tonight against crosstown rival Bentonville West.
The Cats feature a stout running game behind senior tailback Michael George, who has rushed for over 1,500 yards this season behind a strong offensive line.
"Coach (Clint) Ashcraft is probably one of the best coaches in the state without a doubt," James said. "They're very disciplined, very sound."
The Wampus Cats on offense like to run George then pass off play-action.
Defensively, Conway is multiple but, according to James, it's nothing his team hasn't seen.
"They're a lot like what we've been seeing the last few weeks," he noted. "A 50 front, they'll be multiple on the back end. They're going to give you a different look every time. They'll shift and they'll stunt. They give a seven-, eight-man box then they can easily give you a five-, six-man box.
"We'll have to be well-schooled at what we're doing up front, make sure we pick up their blitz combinations, do a good job of reading it and be able to throw the ball to the right part of the field" the coach added. "It's very similar to what we do."
The Hornets will welcome back big-play receiver Brandon Murray who left the game before the half against North Little Rock with a mild concussion. The offense will try to get back to scoring more after back-to-back games with 17 points. Before that, they were over 30 in every game, over 40 in three contests.
Bryant has its own 1,000-yard rusher in Latavion Scott (1,092 on 205 carries). In three starts-plus, sophomore quarterback Jake Meaders has completed 58 of 100 passes for 761 yards and four touchdowns.
Defensively, the Hornets will be without senior inside linebacker Nick Smith who suffered a knee injury against North Little Rock. He was third on the team in tackles behind fellow inside 'backer Jakob Neel, who had 16 stops last Friday to put him over 100 tackles for the season, and defensive end Johnny Wallace who has made great strides since the start of the campaign.
The Hornets forced three North Little Rock turnovers last week to give the team a plus-2 turnover ratio, 13-11. Continuing that trend could be a decisive factor tonight.