On Sunday, May 5, First Southern Baptist Church in Bryant will be hosting C.Edward Spann, PhD,[more] co-author of Presidential Praise: Our Presidents and Their Hymns.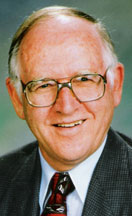 The presentation is free and open to the public and begins at 6 p.m. in the temporary worship center at the main campus of the church located at 604 South Reynolds Road. For more information contact the church office at 501.847.3014.
The presentation is a unique multimedia presentation in the format of a visual-audio power point. It contains much information that cannot be found elsewhere, is extremely informative and interesting to musicians and historians as well as to common folk. The program is very inspiring and even somewhat entertaining since so many of our nation's presidents were real "characters." There is no doubt that this presentation proves that there is no stereotype person for the office of presidency.
Each president had his strengths and weaknesses but this program deals with an aspect that is quite unique. It deals almost exclusively with the influence of hymns on their lives. A favorite hymn may have influenced or been a reflection of their spiritual development; it may have been an influence on the president in making a decision in his administration. The hymn may have been a summary of their lives, either their personality or personal character. It also may have been related to their inaugural scripture, or even a joint decision between the President and his First Lady. In addition this hymn may have been a prediction of what was to happen in their lives and/or in the development and history of the country.
This presentation is non-political, non-judgmental and does not discuss many instances other than what may be related to a favorite hymn of the president. It is certainly true that some presidents had many favorite hymns while others hardly mention them in their lives. Some loved hymns while others could have cared less. However, there is an extensive discussion of music, especially about hymns, heard in the White House or in any place which the president may have heard or even sung hymns. This presentation thus covers any musical talent of each president not only while they were president but from childhood, as teen-agers, continuing to their service as our country's chief executive. Several presidents were talented musicians while others had virtually no musical talent. Some treated music as an important part of their lives and in the nation's life while others considered it almost a handicap.
One president wrote lyrics that became excellent hymns and even versified all the Psalms by putting them in rhyme and meter. Others knew so little about music that they had to have help in knowing when to clap following a section in a musical performance. Some presidents never even thought of having hymn-sings in the White House while others gladly planned these regularly often with the First Lady as the accompanist. Several presidents and their families were very fine instrumentalists and often played in the White House or even rehearsed with the Marine Band –"the Presidents own." Some presidents banned all popular music in the White House while others encouraged it in many genres.
There were numerous kinds of performances in the musical programs in the White House and many of these included hymns, sometimes bringing the president to tears. The programs included vocalists, pianists, solo instrumentalists of all kinds, bands (of all sorts), ensembles, orchestras, operatic and Broadway musical scenes. Several presidents either were singing hymns or requested a hymn be sung on their deathbeds. One quite popular gospel songwriter was a friend of most of the presidents during her lifetime even mentoring one future president. Musical performances in the White House were as varied as the nation itself. This gives you an idea of the many aspects of the presidents and their hymns covered in this very unique and unusual presentation.