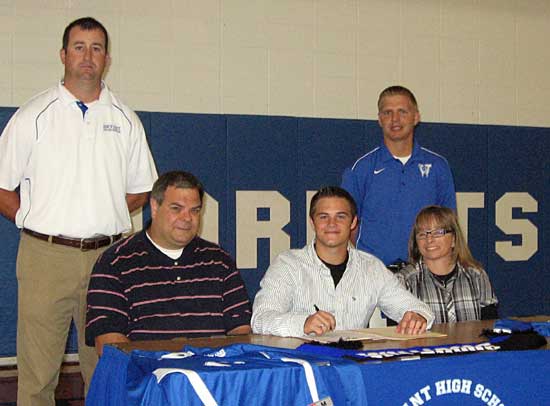 By Rob Patrick
Bryant defender Forrest Fowler has been catching the attention of plenty of high school coaches[more] over the last four years as a starter for the Hornets soccer team. And, recently, at a tryout, he caught the eye of a couple of college coaches.
"The first thing we noticed was his heart," said Williams Baptist College men's soccer coach Shane Stolz. "He worked harder than everyone out there.
"Most people you get to come out for a tryout and you can tell they're in high school," he added, "but, with him, he just fit right in with the team. He wasn't afraid to take an extra touch. He wasn't afraid to look up. He had that composure on the ball. My assistant and I really noticed that. It kind of stood out to us. That's the type of player we want, the heart and the composure on top of that."
On Wednesday, Stolz got his man as Forrest, the son of Paul and Diana Fowler, signed to attend Williams Baptist at Walnut Ridge to continue his soccer career and his education under scholarship.
Fowler said he got information about the Williams Baptist tryout on Facebook.
"I decided to go with my dad," he recalled. "I went out there and (Stolz) was talking to us about me playing up there. I really liked the college, just the atmosphere, and all the people were so friendly. I had other offers but I actually like this college a lot."
Bryant head coach Jason Hay commented, "I think he could play as a freshman. He's played since he was a freshman here. He's as tough as a boot. He's like a bulldog. He wants to compete. I think they're getting a really good player. He's got great foot skills, speed, soccer-smarts and a good work ethic. I think if you combine all that, you've got a kid that can walk in and play right off the bat."
Stolz left that possibility open, saying, "He can earn a starting spot next year. I have high hopes for him. It's a matter of how hard he works in the off-season and how he comes in. We're excited about him. You usually don't get players out of the state of Arkansas that are ready to play right away but we feel with Forrest, we've found that."
Fowler has been playing soccer since he was 4 years old, playing on the fields adjacent to Collegeville Elementary School.
"All my friends and I started playing back when we were really young and we've all been playing ever since then," he said. "So, I've just been sticking with friends. It's just a great sport."
He's been a part of a rejuvenation of the Bryant soccer program. He was among many younger players to gain experience as freshmen in 2009. That paid off in 2010 with a 15-win season and a bid to the Class 7A State Tournament. Last year, the team won 14 games including a State Tournament contest against Rogers Heritage.
"He started out playing a little wing and mid for me in ninth grade," Hay recalled. "Out of need, I put him in the back at defender. He's been a starter as an outside defender in the 10th grade and he's been the center since he was in 11th grade.
"But he could play forward, he could play mid, he could play wing," the coach added. "He's one of those guys that could truly play anywhere on the field. I think he could probably play keeper if I told him to."
Regarding the team's development, Fowler said, "Everyone just has the heart to play. Nobody argues. Everyone plays to win the game."
In the classroom, Fowler plans to major in History and become a coach.