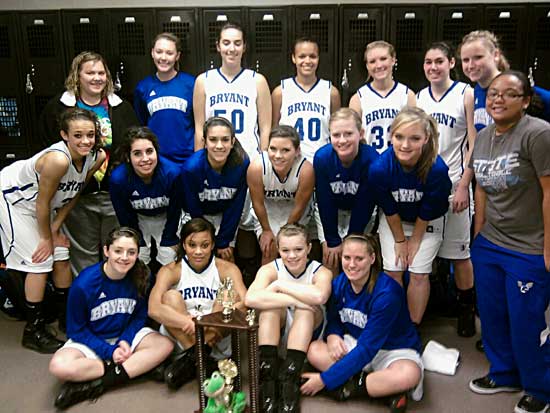 The Bryant Lady Hornets improved to 5-0 on the season with a 45-34 win over the Huntsville Lady Eagles, a tradition-rich Class 5A program, for the championship of the annual Crabtree Invitational girls tournament in Bentonville.
To get to the final, the Lady Hornets defeated a team from[more] Branson, Mo., with imposing size, 47-32, on Thursday then edged host Bentonville on Friday, 56-51.
Bryant begins play in another tournament, the 65th Joe T. Robinson Invitational on Wednesday, Dec. 8, at 4:30 p.m., against the host Lady Senators.
Head coach Blake Condley credited his team's defense for the success in Bentonville.
"Our team defense was really good," he said. "Our guards put really good pressure on the ball. We try to be as close as we can to the girl with the ball without getting beat off the dribble.
"That's the thing that we work on in practice," he noted. "We're not wanting to rely on help, we want to guard our own girl. We want to be close enough that she has no chance of getting a shot off and then we're there also not letting her get by us, knowing help-side's there, but not wanting to rely on that help. We want each girl to take responsibility for when their girl has the ball, (saying) 'I'm going to lock this girl up and guard her.'
"And, if (the guards) weren't guarding the ball, they were giving good help-side to our posts, who were making sure we were fronting," Condley continued. "We were trying to not let these teams get the ball inside because it's easy for a 6-1, 6-2 girl to shoot over 5-9, 5-10 in the post. So we just tried to totally keep her from getting it and, for the most part, I thought we did a really good job of doing that."
As early as it is in the season, the coach continues to look for signs of improvement and he saw some.
"We had some girls, I felt like, matured as far as not picking up silly fouls," he explained. "If there were times where we didn't keep the posts from getting the ball, we didn't hammer them and bail them out. We just put our hands up and, we call it 'walling up'. We tried to get close to them and make them shoot a tough shot over us then turn and block out. If they hit a tough shot with good defense, well that's just a good shot by them. But all the teams we played this weekend, that seemed to bother them, that we just got close with hands up without fouling and making them shoot that tough shot. And they missed them, we had them blocked out well and got the rebound."
Though not of the teams the Lady Hornets took on were as athletic as some they'll see in the rugged 7A-Central Conference, Condley noted that the team did have to adjust to different approaches from each opponent.
"That's what I was talking to the girls about before we went into that game (against Huntsville)," he related. "We went from Bentonville on Friday night who had lots of sets and lots of things that we had to prepare for and look at. The girls did a great job of getting familiar with the scouting report and making sure they knew what we wanted to do. And they took away everything from Bentonville.
"Then we go to play Huntsville Saturday and they're very simple," Condley continued. "They don't run any sets, they run a high-low with their two really good post players and then their guards just do a good job of getting the ball into them. They're very fundamentally sound. Coach (Charlie) Berry, he's in his 50th year of coaching, 43rd at Huntsville."
Condley and assistant Monica Parish have gone from coaching a large group of talented seniors with younger players serving complementary roles to a large group of talented sophomores that his older players are learning to mesh with. Last year's group rolled to a 24-5 season including a State Tournament win over Fort Smith Northside before losing to eventual runner-up Fayetteville. This year's group appears to be picking up right where that one left off. But Condley says there are still plenty of things to work on.
"We're showing progress," he acknowledged. "We're getting to the point where we're starting to know each other a little bit better and that's a lot of it. Just knowing, is she going to shoot that or is she going to pass that? Is she going to drive? Is she going to kick that out or is she going to dump it down? All those things, just learning the little nuances of what each player's going to do. That's so important.
"We talked about, last year, all the seniors that had played together for so long, they knew each other so well," he mentioned. "Well, that's just a process this year for these girls to get to know each other, spend time together and that's what this next couple of weeks is about.
"We're going to play 11 games in three or four weeks here with two tournaments and some match games. So I think we really need to grow a lot in these next few weeks."
A key to that meshing has been Abbi Stearns, the lone senior on the team. A forward with great leaping ability, Stearns plays tough defense, blocks shots and rebounds well.
"She's cleaning the boards up for us," Condley noted. "I think she's averaging about 11 a game. That's just crazy."
Offensively, Stearns is letting the game come to her and not forcing a lot of things, a tack that made her invaluable to the 2009-10 team and is serving the team well this year too with the spot-up shooting of junior London Abernathy and the post play of junior Breanna Blundell. By playing outside-in, it helps keep the lane open for the slashing drives of sophomores McKenzie Adams and Kiara Moore.
Sophomores Logan Davis and Whitney Meyer, and junior Callie Hogancamp have been effective support off the bench.
Against Huntsville, the Lady Hornets pushed out to an 8-0 lead and held a 13-11 edge at the end of the quarter. They finished the half on a 13-2 run to make it 26-13 at the half. Going into the final period, Bryant led 39-25.
Adams finished with 24 points and four steals. Moore had 9 points and three thefts. Stearns pitched in with 6 points to go with 10 rebounds. Abernathy had 4 points and Blundell 2.
Here are the brackets for the Joe T. tourney:
ROBINSON INVITATIONAL
At Pulaski Robinson High School, Little Rock
Wednesday, Dec. 8
Game 1 — Bryant vs. Pulaski Robinson, 4:30 p.m.
Game 2 — Arkadelphia vs. North Pulaski, 6 p.m.
Game 3 — Lake Hamilton vs. White Hall, 7:30 p.m.
Thursday, Dec. 9
Game 4 — Game 1 loser vs. game 2 loser, 4:30 p.m.
Game 5 — Camden Fairview vs. game 3 winner, 6 p.m.
Game 6 — Game 1 winner vs. game 2 winner, 7:30 p.m.
Friday, Dec. 10
Game 7 — Game 3 loser vs. game 4 loser, 4:30 p.m.
Game 8 — Game 5 loser vs. game 6 loser, 6 p.m. (third place)
Game 9 — Game 5 winner vs. game 6 winner, 7:30 p.m. (championship game)