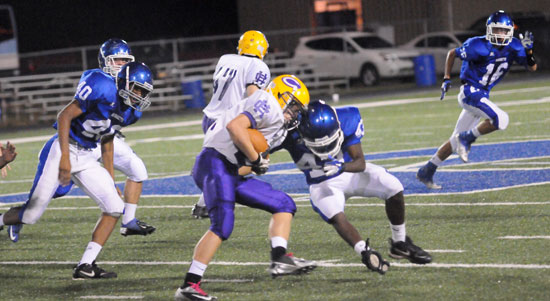 By Rob Patrick
Photos by Rick Nation and Kevin Nagle
The Bryant Hornets freshman team had the lead and was going for more Thursday night at[more] Bryant Stadium.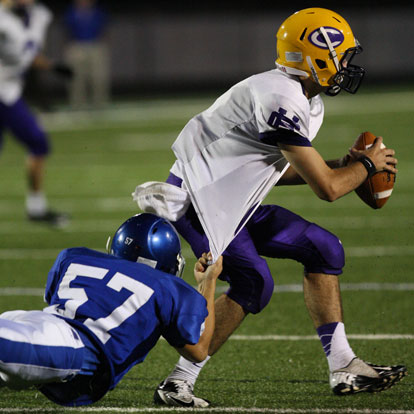 With time running out in the first half, the Hornets used their timeouts while thwarting a drive by the Catholic Junior Rockets of Little Rock. The Rockets had to punt and Bryant got the ball back at its own 27 with :41 still showing in the half.
On first down there, however, Catholic's Lance Harville-Thomas intercepted a pass and ran it in for a touchdown that, with Ethan Southard's extra point gave the Junior Rockets at 14-8 lead.
All of a sudden, the momentum had done a 180.
In the final 25 seconds, the Hornets were unable to score but they came close enough to make the Rockets' sweat and that response, no doubt, proved to spark the Hornets to 24 unanswered points in the second half and a 32-14 victory in Central Arkansas Junior High Conference play.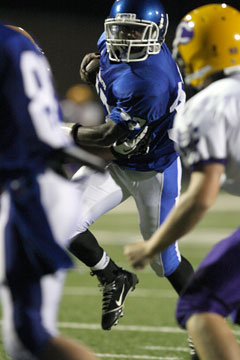 Now 3-1 overall, the Hornets are 2-1 against the league. The game served as a bounce-back for Bryant, after a sobering 14-0 loss at Cabot South last week. They visit Conway White next Thursday to continue conference action.
Running behind tackles Cameron Murray and Demaja Price, center Zach Jackson and, particularly, active guards Peyton Robertson and Jacob Hall, Savonte Turner slashed for 137 yards on 16 carries for the Hornets. Quarterback Gunnar Burks passed for 87 yards and ran for 65.
Meanwhile, the Bryant defense held Catholic to 137 yards total, 76 of which came on one play.
That pass, on a third-and-12 from the Rockets' own 4, went from quarterback Andre Sale to slot receiver Evan Sowell. Khaliq Slater saved a touchdown by running Sowell down at the Hornets' 20. But it only delayed the score. The Hornets forced the Rockets into another third and long from the 19 and Sale tossed to Chad Wharton to 18.
It took two plays from the 1, but Harville-Thomas crashed into the end zone with 3:25 left in the first half, breaking the scoreless tie. Southard added the extra point to make it 7-0.
"If we can cut out a big play and maybe just cut out one or two mistakes here or there, I think we can be okay," stated Hornets coach Kenny Horn. "But we've got to eliminate that big play. Last week (against Cabot South), you know, a big play got us in a hole. This week a big play got us in a hole."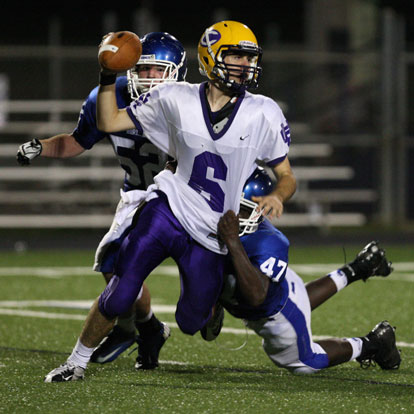 The defense, however, stood up after that. In fact, the Rockets were only able to pick up two first downs the rest of the game and those came on the final drive of the contest with both teams substituting after the lead had grown to 18 points.
Horn had expressed disappointment in his defense's performance against Cabot South right after that game.
"After I went back and looked at it, we were probably a little more physical than I thought we were," he allowed, when asked about it following the win over Catholic. "That's a credit to Cabot South, probably a little bit more than I gave them credit for. However, we played better tonight. I thought we tackled a little bit better. We arrived at the ball better. I thought we read our keys a lot better. Obviously, that one blown coverage cost us but we made an adjustment there and we played good football from there on out."
The Hornets responded after falling behind. Liam Miller made a sparkling return of the kickoff to give his team field position at its own 44. Turner and the offensive line took over from there. He ripped runs of 9 and 11 yards then Burks tossed a pass to Pierce Finney for 13 yards to the 23. From there, it took two Turner totes to find the end zone. He covered the last 11 yards for the touchdown.
Bryant used the old swinging gate alignment to added two-point conversions after three of their four scores. This time, Burns passed to Price to make it 8-7 with 1:21 still to go in the half.
Hall, Walker Brown and Kameron Guillory stuffed the Rockets' first run from its 35. The next play was foiled by Darrel Dieu, Jaelyn Jones and Kris Croom. With the Hornets calling timeouts after every play, they forced a punt with :48 showing.
Harville-Thomas' pick-six undercut the Hornets' efforts to score before the half.
"We had them down and we were fixing to go," Horn said. "If we could've scored again, we would've gotten the ball back (to start the second half). When that big play cut our time in half, we tried to press there at the end and made a mistake. It cost us.
"Our kids could've laid down at halftime," he noted. "But they came out good. We told them we were going to run the football. We made a couple of adjustments and it worked out for us."
Indeed, after another nice return by Miller, Burks broke a 46-yard run on the first snap of the second half, keyed by a splendid fake to Turner. The quarterback kept for the touchdown on the next play and, with the two-point conversion, the Hornets were up to stay, 16-14.
On the conversion, Burks pitched to Jones who started around right end. When the defense came towards him, he flipped the ball over their heads and into the arms of teammate Jordan Gentry.
The defense forced a three-and-out on the ensuing series. A third-down pass was stopped short of a first by cornerback Evan Lee.
The Hornets scored again on another keeper by Burks but the play was called back by an illegal block and they were unable to get back into the end zone. Catholic took over on downs at the 20 only to have a first-down run stopped for a loss by Jones and linebacker Drew Alpe. Cody Tazelaar pressured Sale and forced an incomplete pass on second down then Robertson stopped a screen pass from Sale to Monroe McKay and the Rockets had to punt it back.
Nick Hardin's strong return had the Hornets within 37 yards of more points and, in five Turner runs, they got there. The score came from 4 yards out.
The same swinging gate play worked for another conversion, Burks to Jones to Gentry, making it 24-14 with 6:12 to play.
A third-down sack by Price and Robertson at the 5 continued the Rockets' frustrations. When they were forced to punt, a high snap evaded punter Seth Hartnedy and sailed through the end zone for a safety.
On the ensuing free kick, Bryant recovered an onside attempt, setting up the offense at the 31. Burks scored from there on the first play to set the final tally.
Simeon Watson put the final touches on the win with an interception on the final play of the game.
BRYANT 32, LITTLE ROCK CATHOLIC 14
Score by quarters
LR Catholic 0 14 0 0 — 14
BRYANT 0 8 8 16 — 32
Scoring summary
Second quarter
LR CATHOLIC — Harville-Thomas 1 run (Southard kick), 3:25
BRYANT — Turner 11 run (Price pass from Burks), 1:21
LR CATHOLIC — Harville-Thomas 35 interception return (Southard kick), :27
Third quarter
BRYANT — Burks 2 run (Gentry pass from Jones), 6:55
Fourth quarter
BRYANT — Turner 4 run (Gentry pass from Jones), 6:12
BRYANT — Punt snap through the end zone for safety, 4:00
BRYANT — Burks 31 run (kick failed), 3:41
Team stats
Catholic Bryant
First downs 5 15
Rushes-yards 19-11 24-208
Passing 9-19-1 8-15-1
Passing yds 126 87
Punts-avg 5-31.4 1-43.0
Fumbles-lost 1-0 2-1
Penalties-yds 4-45 2-16
INDIVIDUAL STATS
Rushing: BRYANT, Turner 16-137, Burks 7-65, Miller 1-6; CATHOLIC, Harville-Thomas 4-12, Berry 3-9, Ward 1-6, Tiner 1-3, McKay 6-2, Troutman 1-(-3), Hartnedy 1-(-5), Sale 2-(-13).
Passing (C-A-I-Y): BRYANT, Burks 8-15-1-87; CATHOLIC, Sale 6-14-106, Basham 3-5-1-20.
Receiving: BRYANT, Miller 3-26, Finney 2-29, Hardin 1-20, Royal 1-6, Lee 1-6; CATHOLIC, Wharton 3-24, McKay 2-6, Elmore 2-11, Sowell 1-76, Haun 1-9.