Freshman Hornets answer Cabot South's early score with a 42-point blitz
EDITOR'S NOTE: Because the look back at each day in Bryant athletic history has been so favorably received during the time when there was no sports during the COVID-19 shutdown, BryantDaily.com will continueposting past stories of Bryant athletics either posted on BryantDaily.com (from 2009 to the present) or published in the Bryant Times (from 1998 to 2008).
Photos by Kevin Nagle and Rick Nation
For the first time all season, the Bryant Hornets freshman team found itself trailing. The Cabot South[more] Panthers' Jake Ferguson had returned the opening kickoff from his own 14 to the Bryant 4 before Mar'Kevius Nelson ran him down from behind.
The Hornets stuffed the first play from there but, on second and goal, Kaylan Pouncy scored for the Panthers and, though the Hornets, led by Hunter Fugitt and Devin Kelly, stopped the try for two, it was 6-0.
So the Panthers, who came into the game tied for first in the Central Arkansas Junior High Conference with the Hornets, North Little Rock and Benton and 3-1 overall, had the Hornets' attention. Bryant proceeded to score on each of its possessions the rest of the way, six in a row, to build a mercy-rule lead. Quarterback Brandan Warner ran for two scores and threw for three others. Cabot South scored late against the Bryant reserves to make the final 42-12.
It was, however, a costly victory for the 5-0 Hornets. Bryant was already without starters Jason Hastings, a receiver out with a concussion, and Austin Fisher, a lineman out with a dislocated finger. Late in Thursday's game, on an onside kick by Cabot South, K.J. Hill, one of the most dynamic of the team's bevy of talented skill people, apparently suffered a broken arm or wrist.
Head coach Kenny Horn said Hill's return this season is doubtful.
The win improved the Hornets to 2-0 in conference play with a home date with Conway White coming up on Thursday, Oct. 6. Bryant has now outscored its five opponents 183-18.
Against Cabot South, the Hornets ran just 26 plays on offense while the Panthers had 50. Yet, Bryant finished with 331 yards of offense compared to 176 for Cabot. At halftime, with the Hornets up 35-6, they had out-gained the Panthers 278 to 53. On 14 running plays, Bryant gathered 138 yards while it took the Panthers 38 tries to get 115. The Hornets only ran four plays in the second half.
Bryant's first scoring drive started with a 10-yard bolt by running back Brushawn Hunter. The Hornets eventually had to convert a four down at the Cabot 44 but quarterback Brandon Warner found Steven Murdock for 13 yards to keep the drive going.
On the next play, Warner and Hill hooked up for 21 yards to the 10. On a confusing sequence of events, Hunter carried to the 5 and was twisted by the face mask near the end of the run. Flags were thrown but somehow, in the confusion, the officials failed to mark off the penalty though they kept it first down. After Cabot was offsides, Warner kept on a pair of sneaks, getting in for certain on the second try after narrowly missing (if at all) on the first try.
Alex Denker's extra point gave Bryant a 7-6 lead and the defense took over, stuffing the Panthers' rugged winged-T power running game and, eventually, forcing them into throwing just as many passes in the game — 12 — at the Hornets did.
The Panthers went three-and-out after Bryant had scored. On a third-and-5, Fugitt, Ryan Hall and Rashaan Jones stopped Pouncy for a 1-yard gain. On fourth down, quarterback Jonathan Gilleylen was stopped short by Ty Harris and Fugitt.The Hornets took over on downs at their own 40 and, on the first play, Nelson slashed through the Panthers' defense on a 60-yard touchdown run.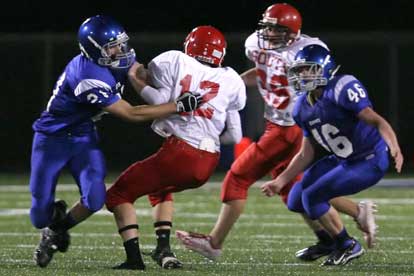 Denker kicked it to 14-6 with 2:53 still to play in the first quarter.
Cabot South picked up its initial first down on its subsequent possession but couldn't manage a second. A short punt gave Bryant the ball back at its 22. On the first play from there, Warner and Jacob Gorham connected for 35 yards. A pass to Hill picked up 14 more and a defensive holding penalty moved the ball to the Cabot 24.
Warner kept to the 16 then Hunter nearly scored but was dragged down at the 3. A play later, Warner found Gorham for the 6. Denker made it 21-6 with 6:31 left in the half.
Cabot's subsequent possession ended when Matt Shiew intercepted a pass and returned it to the Panthers' 20. Though a blocking penalty pushed the Hornets back to the 34, Hill dashed 28 yards to set up another score. Warner's quarterback draw covered the final 5 yards shortly thereafter.
Cabot went to the air to convert a fourth down from the 50. Gilleylen found tight end Brett Frazier but, on the next play, the Panthers' try to set up a screen pass was foiled by Kyle Lovelace who brought down running back Brian Marshall for a loss of 5.
Using their timeouts, the Hornets got key plays by Ben Bruick and Brendan Young to force the Panthers to turn the ball over on downs at the Bryant 43 with :40.5 still on the clock.
After one pass fell incomplete, Warner found Hill who broke clear and raced to the end zone on a 57-yard play with :24.1 on the clock.
Denker's PAT made it 35-6 at the half.
The Hornets got the ball to start the second half and covered 53 yards in four plays. Fifty of that came on a fourth-down shuffle pass from Warner that Hunter turned into 6. And when Denker's kick was good, the mercy rule (a running clock) was put into effect with 6:42 left in the third quarter.
Cabot South used all but 4:58 of the game to march 92 yards on 14 plays for a score. Marshall capped the drive with a 5-yard run. He was stopped on a try for two.
On the ensuing kickoff, the Panthers went for an onside and, on his way to recovering the ball, Ferguson inadvertently kicked Hill's right arm forcing him to the Bryant bench where he got quick attention from Bryant athletic trainer Christa Finney.
The Panthers at up the final 4:58 driving to the Bryant 7 where the Hornets held as both teams worked in reserves.
BRYANT 42, CABOT SOUTH 12
Score by quarters
Cabot South 6 0 0 6 — 12
BRYANT 14 21 7 0 — 42
Scoring summary
First quarter
CABOT SOUTH — Pouncy 4 run (run failed), 6:57
BRYANT — Warner 1 run (Denker kick), 4:49
BRYANT — Nelson 60 run (Denker kick), 2:53
Second quarter
BRYANT — Gorham 3 pass from Warner (Denker kick), 6:31
BRYANT — Warner 5 run (Denker kick), 2:57
BRYANT — Hill 57 pass from Warner (Denker kick), 0:24.1
Third quarter
BRYANT — Hunter 50 pass from Warner (Denker kick), 6:42
Fourth quarter
CABOT SOUTH — Marshall 5 run (run failed), 4:58
Team stats
Cabot South BRYANT
First downs 9 11
Rushes-yds 38-115 14-138
Passing yds 61 193
Passing 5-12-1 7-12-0
Punts-avg. 1-16.0 0-00.0
Fumbles-lost 1-0 2-1
Penalties-yds 7-47 3-28
INDIVIDUAL STATS
Rushing: BRYANT, Nelson 2-61, Hunter 5-29, Hill 2-29, Warner 5-19; CABOT SOUTH, Marshall 10-34, Ferguson 9-32, Gutierrez 4-16, Pouncy 3-13, Pugh 2-5, Gilleylen 5-5, Mills 2-4, Harris 1-3, Rusher 1-2, Cooley 1-1.
Passing (C-A-I-Y): BRYANT, Warner 7-12-0-193; CABOT SOUTH, Gilleylen 5-12-1-61.
Receiving: BRYANT, Hill 3-92, Gorham 2-38, Hunter 1-50, Murdock 1-13; CABOT SOUTH, Ferguson 2-44, Frazier 2-22, Marshall 1-(-5).