Freshman Hornets blast North Little Rock, improve to 9-0
EDITOR'S NOTE: Because the look back at each day in Bryant athletic history has been so favorably received during the time when there was no sports during the COVID-19 shutdown, BryantDaily.com will continueposting past stories of Bryant athletics either posted on BryantDaily.com (from 2009 to the present) or published in the Bryant Times (from 1998 to 2008).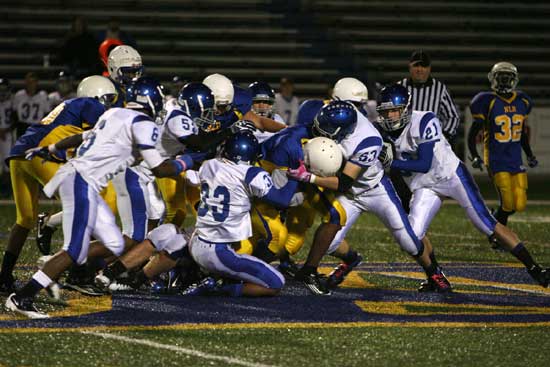 By Rob Patrick
Photos by Rick Nation and Kevin Nagle
NORTH LITTLE ROCK — In the last 20 years — maybe ever — Bryant freshman football teams, as[more] Hornets and before that Mustangs, have posted one-loss seasons four times. Once, in 2007, they tied the first game of the campaign then won the last nine to go 9-0-1.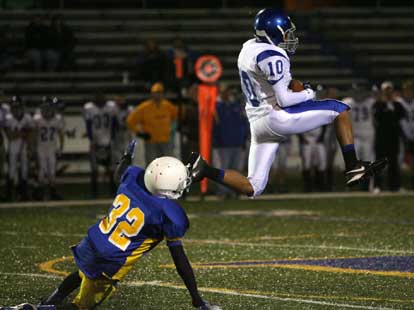 But never has a Bryant freshman football team gone through a season with a completely unblemished mark.
Now, the only thing standing between the 2011 Hornets and a 10-0 overall record, is the rival Benton Panthers.
That's because the Hornets dismissed the North Little Rock Junior Charging Wildcats, 39-6, on Thursday night to not only improve to 9-0 but clinch a Central Arkansas Junior High Conference championship.
They'll host Benton on Tuesday, Nov. 1, in the last game of the season.
A week ago, it looked like the Bryant-North Little Rock game would be a battle of unbeatens but while the Hornets were easing past Cabot North, 42-6, the Charging Wildcats were suffering their first loss to Cabot South. Still, North Little Rock could force a three-way tie for the league lead with a win over Bryant. But the Hornets scored of four of their five first-half possessions to build a 26-6 halftime lead and tacked on in the second half.
Brandan Warner threw four touchdowns passes completing 10 of 16 passes for 185 yards in just the first half. He would throw only one pass in the second half and complete it. With his 192 yards in the game, Warner eclipsed the 1,500 yard mark for the season.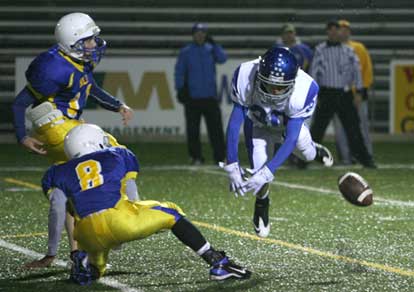 K.J. Hill, back playing with a padded cast on the broken wrist that had sidelined him since Sept. 29, caught a pair of those TD tosses. Jacob Gorhan and Brushawn Hunter each grabbed a scoring strike too.
And, in the second half, Hunter rolled up 139 yards rushing and two scores on just five carries.
The Hornets finished with 362 yards of total offense on just 19 snaps.
Meanwhile, the defense held North Little Rock, which was admittedly missing its quarterback and a running back. The Wildcats had 151 yards but 51 of that came on a run that set up their lone score and another 42 was added on a last-minute drive against the Hornets second team at the end of the game.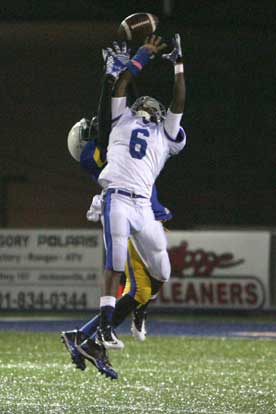 "That was a good win there," declared Bryant head coach Kenny Horn. "They played well. North Little Rock's a very good team. They've got some fast guys. We were fortunate that their quarterback and their other running back were hurt but that's not going to take away from the way we played. We knew what was on the line and we showed up ready to play. We played well."
It didn't take long for the Hornets to get on the board. The first three plays were passes. Warner hit Hill for 7 then Steven Murdock for 8 yards before firing to Hill who turned the play into a 50-yard touchdown.
The Hornets used the 'swinging gate' on the extra point try with quarterback Ty Harris flipping to Hunter whose running lane was choked off. He tried to dump a pass off but it was broken up.
As well as the Hornets started, the Cats did not. Hunter Fugitt made a tackle for a loss then Brendan Young and Harris combined on a lost-yardage play. On third down, quarterback Marquez Hines tried to complete a pass but Bryant's Ben Bruick stepped in front of it for an interception. He returned it to the North Little Rock 11 and, a play later, Warner fired to Hill for another touchdown.
"They put seven in the box and when they do that, we're going to throw it," Horn noted. "That's what we've done all year and, again, we were successful at it."
Trailing 12-0, the Wildcats could not pick up a first down after a nice kickoff return by Tyler Phillips and a personal foul penalty gave them good field postion at the Bryant 44. On fourth-down pass fell incomplete and Bryant took over at its own 45.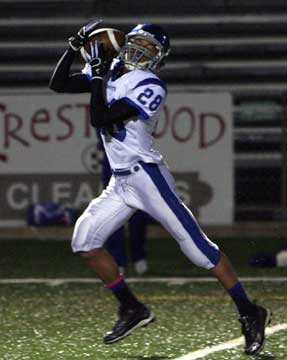 On the Hornets first play there, however, Warner was picked off. The ball was returned to the 44. It was just the fourth interception of the season thrown by Warner, who would be picked again later in the game.
"That's what happens when you throw the ball a lot," Horn said. "He hasn't thrown many. Our defense really rallies around that kind of thing. They're prepped for it. We're going to throw interceptions so we've got to get right back out there sometimes."
The Hornets' D was a play away from forcing the Cats to give the ball back but, on a third-down run, Fabian Lewis broke a 51-yard run out of the 'Wildcat' formation. He was dragged down at the 1 but, on the next play, fullback Justice Austin powered in for the TD.
"We probably could've tackled a little bit better," Horn mentioned.
On the extra point attempt by Alexander Burks, Bryant's Drew Tipton came flying in from the outside to block the kick and it remained 12-6.
It didn't stay that way long. The Hornets drove 81 yards in seven plays to add to the margin. Warner's 26-yard completion to Gorham finished off the march. Hunter and Murdock had receptions during the drive and Mar'Kevious Nelson had an 8-yard run.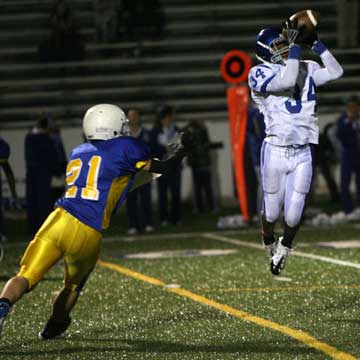 After Alex Denker's extra point made it 19-6, the Hornets forced a three-and-out. In turn, Warner was intercepted by Lewis on a third-down toss. Again, however, the Cats couldn't pick up a first down and Austin dropped back to punt with just over a minute left in the half. But he had to scramble after a high snap and the Hornets took over at North Little Rock's 40.
Consecutive 15-yard completions to Murdock and Gorham reached the 15. A 14-yard completion to Nelson, however, was negated by a holding penalty. Down to :09 left in the half, though, Warner found Hunter who broke a tackle at the goal line, scoring with :02 left. Denker's kick made it 26-6 at the half.
On a drive featuring Lewis to start the second half, the Wildcats drove into Bryant territory but a holding penalty sidetracked the threat and Austin had to come on and punt again. His kick went into the end zone for a touchback so Bryant had the ball at their own 20 with 3:42 left in the third quarter.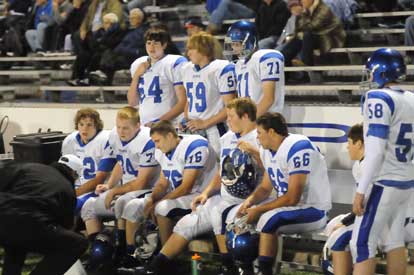 Picking up a key block on the outside by one of the receivers, Hunter took a pitch around left end and sprinted 80 yards for another score. Denker's extra point kick hit the left upright and failed to get through so it was 32-6.
North Little Rock picked up a first down but then stalled again when, on a third-down play, Rashaan Jones and Young dropped Hines for no gain.
Punted back to its own 16 with 5:31 left, the Hornets drove for another score. On the second play of the series, Warner completed his only second-half pass for 7 yards to hill. The rest of the way, Hunter, Nelson and the stout Bryant offensive line did the rest eating up almost five minutes. Hunter got the last 37 yards for the touchdown that, with Denker's kick, set the final score with :54 on the clock.
BRYANT 39, NORTH LITTLE ROCK 6

Score by quarter

BRYANT 12 14 6 7 — 39
North Little Rock 0 6 0 0 — 6
SCORING SUMMARY

First quarter

BRYANT — Hill 50 pass from Warner (pass failed), 6:51
BRYANT — Hill 10 pass from Warner (run failed), 4:43
Second quarter

NORTH LITTLE ROCK — Austin 1 run (kick blocked), 7:56
BRYANT — Gorham 26 pass from Warner (Denker kick), 5:24
BRYANT — Hunter 26 pass from Warner (Denker kick), 0:02
Third quarter

BRYANT — Hunter 80 run (kick failed), 3:19
Fourth quarter

BRYANT — Hunter 37 run (Denker kick), 0:54
TEAM STATS
Bryant NLR
First downs 16 6
Rushes-yds 12-170 32-151
Passing yds 192 0
Passing 11-17-2 0-6-1
Punts-avg. 0-00.0 3-37.7
Fumbles-lost 0-0 2-0
Penalties-yds 3-26 7-54
INDIVIDUAL STATS
Rushing: BRYANT, Hunter 5-139, Nelson 6-27, Warner 1-4; NORTH LITTLE ROCK, Lewis 18-153, Bracely 2-1, Austin 4-(-1), Hines 8-(-2).
Passing (C-A-I-Y): BRYANT, Warner 12-17-2-192; NORTH LITTLE ROCK, Hines 0-6-1-0.
Receiviing: BRYANT, Hill 4-74, Murdock 3-39, Gorham 2-41, Hunter 2-38.