Freshman Hornets cruise past Russellville East
EDITOR'S NOTE: Because the look back at each day in Bryant athletic history has been so favorably received during the time when there was no sports during the COVID-19 shutdown, BryantDaily.com will continueposting past stories of Bryant athletics either posted on BryantDaily.com (from 2009 to the present) or published in the Bryant Times (from 1998 to 2008).
By Rob Patrick
Photos by Rick Nation
If you don't count a couple of possessions in the final seconds of each half, the Bryant Hornets freshman team scored on all seven of its offensive opportunities in a game where everyone played. Add in a score by the defense and you get a 54-13 final over the Russellville East Whirlwinds.
Five different Bryant players scored with Greyson Giles grabbing a pair of TD passes and quarterback Wesley Akers adding a couple of scoring runs along with a pair of touchdown throws.[more]
The game was Bryant's final non-conference affair. The Hornets take a 3-0 mark into their league opener at home against Conway Blue on Thursday, Sept. 23. They have outscored their first three opponents by a combined 111-19.
The team used seven different running back plus Akers and back-up QB Dakota Besancon and still piled up 258 yards rushing. Reserve tailback Aaron Leonard led the team with 118 yards on just five carries including a 24-yard gallop to cap off the scoring binge. Add on the 153 yards of passing and Bryant compiled a whopping 411 yards of offense.
Russellville East managed a net of just 4 yards rushing. Thanks to a pair of long touchdown passes in the second half, the Whirlwinds finished with 146 yards of total offense.
Bryant opened the game by ripping off yardage in chunks. Tailback Madre London slashed for 19 yards then wide receiver Greyson Giles ran a reverse for 17 more. But, a play later, Akers was sacked by Russellville's Nathan Pennington, setting up a third-and-19 from the Whirlwinds' 34.
A penalty negated a pass completion and pushed the Hornets back to the 39 but, after Miller picked up 15 on a reverse and Russellville jumped offside, it was fourth-and-5 at the 20.
Bryant not only got the first down, it scored as Akers tossed to Giles, who broke a tackle on his way into the end zone.
Up 6-0, the Hornets stymied the Whirlwinds' offense and forced a punt after Jacob Irby did a nice job breaking up a third-down pass.
A short kick, coupled with Giles' 16-yard return had the Hornets 29 yards away from more points. They needed just four running plays to get them. Miller's 12-yard run got things started and, after London picked up 15 more stripes in two carries, Akers kept on a busted play and muscled his way into the end zone. He also ran in the two-point conversion to make it 14-0.
The Whirlwinds' subsequent possession went backwards from their own 30. A pass from Cody Jones to Hunter Standridge was swarmed under for a loss of 3. A second-down screen pass to Drew Smith was snuffed out with a big hit from Burton. And, on third down, Bryce Denker and Tanner Rich sacked Jones back to the 15.
After the Whirlwind punt, Bryant was 49 yards away from paydirt. On first down, London covered it in one chunk but an illegal block negated much of the run.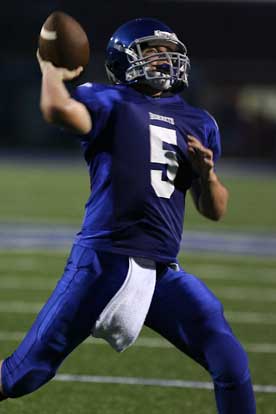 From the Russellville 38, Denker crashed 13 yards to set up a reverse pass from Miller to Giles for a 25-yard touchdown play.
With 5:24 still remaining in the first half, Bryant led 21-0 after Davis Nossaman booted the extra point.
Russellville collected its initial first down moments later when Jones found Banyard for 19 yards on a third-down pass. A 15-yard completion to Standridge had the 'Winds at the Bryant 41 but Jones tried to force a pass from there and it was picked by Jason Browning at the 39.
A 35-yard strike from Akers to Miller put the Hornets in scoring position again. Akers found Howard for 5 yards then connected with Miller again for the touchdown from 24 yards out.
Nossaman's kick made it 28-0 with 1:02 left in the half.
Russellville got the ball to start the second half but a play into it, Irby picked off a Jones aerial.
From its own 30, the Hornets drove for another score. The key play came after Akers was sacked by Pennington and Beau Harris to set up a third-and-17 from the 23. Akers' 35-yard completion to Howard not only converted but got the Hornets into Russellville territory.
London sliced off 15 yards then fullback Colton Burton pinballed his way for 26 yards to the 1. Akers scored from there on a sneak and, with Nossaman's kick, it was 35-0 with 4:20 left in the third quarter.
At that point, the sportsmanship rule went into effect with the clock running continuously except during timeouts and scoring plays.
Russellville got a good return and decent field position on the ensuing kickoff but, on first down, Jones was separated from the football and Denker scooped it up and sprinted to the end zone for yet another score.
With Bryant mixing in reserves, the Whirlwinds finally got on the board with 1:10 left in the third. Jones and Banyard connected on a 47-yard scoring strike to make it 41-6.
Leonard came on at tailback for Bryant and, on his first carry, wove his way 62 yards to the Russellville 5. A play later, on the first snap of the fourth quarter, Grey Orman powered in from the 2. Nossaman converted to make it 48-6.
Again, Russellville had a one-play possession. Jones' pass was intercepted by Dillon Holt. Leonard slashed 17 yards then scored from the 24 to make it 54-6.
On just five carries, Leonard wound up the Hornets' top rusher with 118 yards.
A long return into Bryant territory by Austin Goree on the ensuing kickoff put Russellville in position to score again. Still, the Whirlwinds faced a fourth-and-7 at the Hornets 43 when Jones and Banyard teamed up for the touchdown with 2:28 left to play. Duffield added the extra point to set the final tally.
JUNIOR HORNETS 54, WHIRLWINDS 6
Score by quarters
Russellville East 0 0 6 7 — 13
BRYANT 14 14 13 3 — 54
Scoring summary
First quarter
BRYANT — Giles 20 pass from Akers (pass failed), 4:27
BRYANT — Akers 2 run (Akers run), 0:46.1
Second quarter
BRYANT — Giles 25 pass from Miller (Nossaman kick), 5:24
BRYANT — Miller 24 pass from Akers (Nossaman kick), 1:02
Third quarter
BRYANT — Akers 1 run (Nossaman kick), 4:20
BRYANT — Denker 42 fumble return (kick failed), 3:45
RUSSELLVILLE EAST — Banyard 47 pass from Jones (pass failed), 1:10
Fourth quarter
BRYANT — Orman 2 run (Nossaman kick), 7:53
BRYANT — Leonard 24 run (kick failed), 5:13
RUSSELLVILLE EAST — Banyard 43 pass from Jones (Duffield kick), 2:28
Team stats
Russ Bryant
First downs 5 17
Rushes-yards 8-4 24-258
Passing 9-18-3 7-8-0
Passing yards 142 153
Punts-avg. 3-30.3 0-00.0
Fumbles-lost 3-1 0-0
Penalties-yards 4-25 7-55
INDIVIDUAL STATS:
Rushing: BRYANT, Leonard 5-118, London 7-74, Burton 2-28, Miller 2-27, Giles 1-17, Denker 1-13, Orman 1-2, Besancon 1-(-4), Akers 4-(-17); RUSSELLVILLE EAST, Deal 2-5, Smith 1-0, Jones 5-(-1).
Passing (C-A-I-Y): BRYANT, Akers 6-7-0-128, Miller 1-1-0-25; RUSSELLVILLE EAST, Jones 9-18-3-142.
Receiving: BRYANT, Miller 2-59, Giles 2-45, Howard 2-40, May 1-9; RUSSELLVILLE EAST, Banyard 4-117, Standridge 3-21, Crowder 1-5, Smith 1-(-1).