Photos by Rick Nation
Four is the number; the number is four.[more]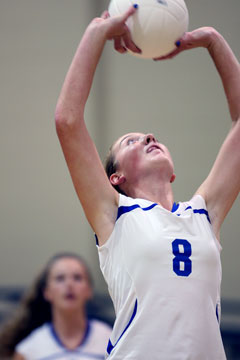 The Bryant Lady Hornets freshman volleyball team had four things that their head coach Julie Long wanted them to concentrate on in practice with designs on snapping a four-match slump in Central Arkansas Junior High Conference action.
The result was a 25-18, 26-24 win on Thursday, Sept. 20, over the Cabot South Junior Lady Panthers at the Bryant Middle School gym.
"We made our focus go towards four things," Long recounted, "serving, consistency, playing smart and communication. Every game the girls are trying to perfect these four things. They are working hard at doing so.
"After the game (Thursday), we discussed how the team felt they did in all four categories and they felt good on serving, and playing smart, but consistency and communication are still lacking.
"I'm proud of how the girls played and they are working hard to come together as a team," she concluded.
The Lady Hornets, now 5-4, will put that work to the test again on Thursday, Sept. 27, at Conway Blue.