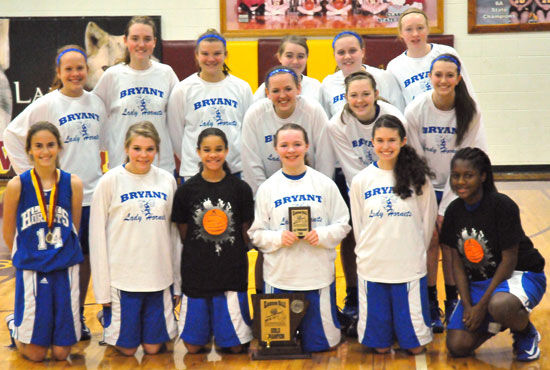 Photos by Kevin Nagle
PEARCY — Playing what head coach Nathan Castaldi called his team's "most complete game of the year,"[more] the Bryant Lady Hornets freshman team captured the championship of the annual Kameron Hale Invitational Tournament with a 25-21 win over the host Lake Hamilton Junior Lady Wolves on Monday.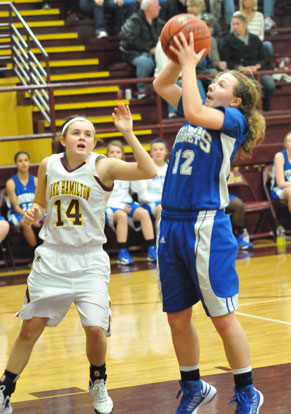 The Lady Hornets built a 20-9 lead by the end of the third quarter and held off a Lake Hamilton rally for the tourney title. The three-game sweep is the longest win streak of the season for Bryant, which will try to make it four straight with a trip to Malvern for a final non-conference game on Monday, Jan. 7.
"We talked before the game that this would be a good chance to see if we have improved on the year and the girls really took that to heart," Castaldi said. "We are hoping that we can build on this as we head into the new year."
Britney Sahlmann was named to the tournament MVP, joining teammate Skylar Davis on the all-tourney team. Davis led the team in scoring in the championship game with 14 points. Sahlmann added 4, Anna Lowery 3 with Rachel Miller and Annie Patton scoring 2 each.
"We did not wait until we were behind to play like we are capable of playing. We played that way all game long," Castaldi noted, referring to his team's propensity for slow starts earlier in the season. "We executed all game long on offense and, while we did not always finish like we should have, we got the shots we wanted."
The Lady Hornets established an 8-5 lead by the end of the first quarter and held a 15-9 lead at the half.
"I think we only had six turnovers, which, compared to the last time we played (Lake Hamilton), was a huge improvement," mentioned the coach whose team suffered a 30-14 loss at Lake Hamilton on Nov. 26. "When we played them the first time, they had four or five steals, which they converted to wide-open layups which really hurt us. Tonight, they did not get any of those.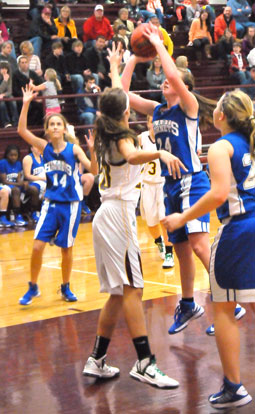 "Skylar did a great job of attacking the basket today," he added. "She scored well for us but also was able to draw defenders to her and get the ball to an open teammate for a shot."
In the third quarter, Bryant took control by holding the Lady Wolves scoreless.
"We played great defense," Castaldi said. "For the tournament, we averaged giving up only 15 points a game and when you do that, there is a good chance you are going to be successful.
"We had three girls that really stood out for us on defense," he continued. "The first is Anna Lowery, who was the player of the game. She held Alex Murray to 8 points and 3 of those came when (Lowery) was not in and 3 more came on the last shot of the game which we let her shoot."
Murray, Lake Hamilton's leading scorer on the season, had 12 in the previous meeting between the teams.
"Anna never let her get in a rhythm and frustrated her all game long," Castaldi noted.
"Britney Sahlmann also played great defense," the coach continued. "She matched Lake Hamilton's physical style of play for us and rebounded really well.
"Finally, there is Anna Turpin," he said. "I joke that I put her on the other team's worst player but it is not because she cannot defend. It is because she is such a good help-side defender. All game long, when a Lake Hamilton player was able to get into the paint, they had Anna waiting on them to double team the ball and it often times ended up in a turnover."
After the game at Malvern, the Lady Hornets open Central Arkansas Junior High Conference play at home against Cabot North on Jan. 10.