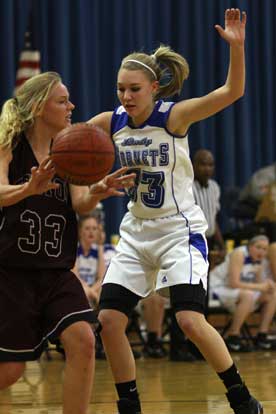 By Rob Patrick
The Benton Lady Panthers freshman basketball team may be in fourth place in the South Division of the Central Arkansas Junior High Conference but they are the only team this season that has kept the undefeated Bryant Lady Hornets freshman team under 35 points this season. And, after Monday night, they've done it twice.
But as good as Benton's defense has been, Bryant's has been better keeping the Lady Panthers under 20 for the second time in a 32-19 victory.
The Lady Hornets improved to 17-0 on the season, 7-0 in the division and they got a little help on Monday when the Cabot South Lady Panthers upended second place North Little Rock, giving the Lady Hornets a two-game edge on NLR in the standings.
Bryant still has seven games to play in the division including trips to North Little Rock and Benton along with a home contest against Cabot South. [more]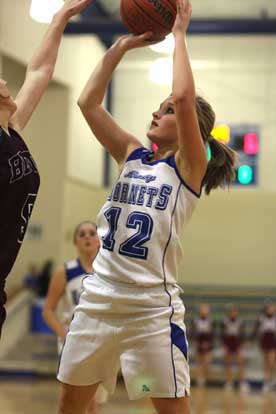 On Monday, Bryant looked like it would treat the Lady Panthers just like they have so many of their foes this season. McKenzie Adams gook a nice feed from Whitney Meyer to score the first bucket of the contest. After Logan Davis forced a turnover in the backcourt, Kiara Moore perfectly placed a lob pass to Adams who had made a back-cut to the basket for an easy deuce. Adams followed up with a steal and a layup to make it 6-0.
Moments later, however, Adams picked up her second foul and went to the bench for the rest of the half.
So, without their leading scorer, the Lady Hornets added their lead but probably didn't build up the margin like they might have.
Shortly after Adams came out, Moore drained a 3-pointer to make it 9-0. Near the end of the first quarter, Benton's Daphne Bono hit a 3 to make it 9-3 going into the second quarter.
And, in fact, that basket provided the Lady Panthers' only points of the first half.
But all that the Lady Hornets could add in the interim was a pair of free throws by Moore and an 18-foot jumper by Davis that made it 13-3 at the half.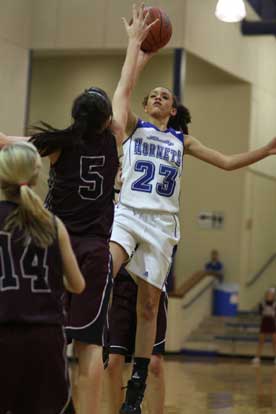 In the first half, Benton attempted just five shots while turning the ball over 13 times.
The second-half scoring picked up a bit. Benton's Madi Brooks broke the ice with a free throw only to have Moore score inside off an assist by Lauren Buck.
Parker, who scored all 7 of her team-high points in the second half, got a shot to go with just under four minutes left in the third quarter. It was just Benton's second field goal of the game.
But it had the Lady Panthers within 15-6.
Moore, however, knocked down another 3 then Adams got back into the act scoring 6 points in the final 2:30 of the period. The lead expanded to 24-8 before a 3 by Benton's Gavin Taylor in the final minute of the third made it 24-11. Adams answered with a free throw with :11.8 showing, then opened the final period with a three-point play that produced Bryant's largest lead of the contest, 17 points.
With Bryant head coach Eric Andrews considering wholesale substitutions, Benton made just enough noise to prevent it. Parker hit the offensive glass for a basket that had the Lady Panthers within 28-13.
Buck canned a baseline jumper and Adams added two free throws to make it 32-13 but when Adams came through with a three-point play, the Lady Hornets' 13-point margin, needed for potential tiebreaking procedures at the end of the season, was threatened. Another three-point play by Brooks with :10 left set the final score with just the right margin as the Lady Hornets ran out the clock.
Adams, despite her bench time in foul trouble, pumped in 18 points to lead all scorers. Moore finished with 10.
The Lady Hornets host Conway Blue on Thursday before traveling to Sheridan next Monday.
LADY HORNETS 32, LADY PANTHERS 19
Score by quarters
Benton 3 0 8 8 — 19
BRYANT 9 4 12 7 — 32
LADY PANTHERS 19
Melton 1-4 0-0 2, Bono 1-1 0-0 3, Reynolds 0-4 0-0 0, Parker 3-6 1-1 7, Brooks 1-2 2-5 4, Taylor 1-4 0-0 3, Lile 0-2 0-0 0, Land 0-1 0-0 0, Britt 0-0 0-0 0. Totals 7-24 3-6 19.
LADY HORNETS 32
Moore 3-8 2-4 10, Adams 7-8 4-5 18, Davis 1-6 0-0 2, Davidson 0-2 0-0 0, Meyer 0-0 0-0 0, Rice 0-2 0-0 0, Buck 1-4 0-0 2, Murphy 0-2 0-0 0. Totals 12-32 6-9 32.
Three-point field goals: Benton 2-4 (Bono 1-1, Taylor 1-1, Reynolds 0-1, Lile 0-1), Bryant 2-3 (Moore 2-3). Rebounds: Benton 23 (Brooks 7), Bryant 14 (Murphy 3). Turnovers: Benton 18, Bryant 7. Team fouls: Benton 7, Bryant 12.