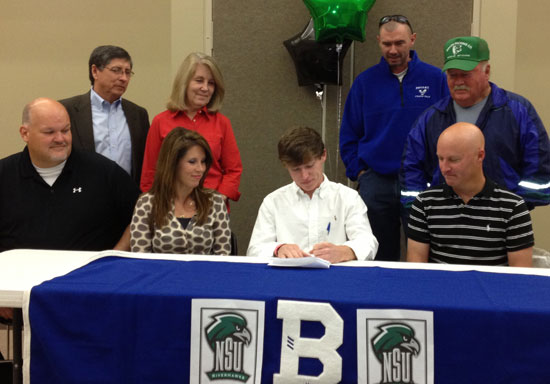 By Rob Patrick
The ties that bind, one generation to another and to another:[more]
Tyler Green didn't hesitate when asked when he began to love golf. You see, golf means family.
"A long time ago, my grandpas and my dad, they all tried to get me started playing," he recounted on Friday. "My dad would cut down a club so it would fit me. I was only about 5 years old.
"Whenever I could go with both my grandparents on both sides of my family and my dad and we could all go play golf together, I loved it," he said.
Loving your family, loving the things that bring you together — it all kind of goes hand-in-hand.
But loving something and being good at it are two different things. Lots of grandpas and dads and kids bond over such things as golf. Though it happens on occasion, it's still a rare thing when it develops into something so much more.
"I figured out I was good when I was probably 9 years old and I won the boys state championship and went to the World in Virginia," Green said. "I figured out maybe I could do this in the future."
He was right.
From those days of playing with cut-down clubs, Tyler, the son of Artie Green and Tina Brotherton, has now come far enough that, on Friday, he signed a national letter of intent to continue his career and his education on a golf scholarship at Northeastern State University in Tahlequah, Okla., the RiverHawks.
After finishing third at the Class 7A State Tournament as a junior with a round of 69 on the second day, he had a tremendous summer. He won the Arkansas State Golf Association Junior Match Play championship and the Bruce Jenkins Memorial Tournament, while placing in several other events.
He was primed for a stellar senior season at Bryant High School.
As it turns out, the signing is a happy ending to what turned into a disappointing fall for Green. Early on, he suffered a broken hand in an incident away from the course.
"They're getting a good, quality golfer," Bryant golf coach Keith Dale said. "Tyler's always been very consistent up until he got injured. Even then, in State, he came back just to play. He wasn't totally ready but you can't deny a kid his senior year going out and playing State. He did really well considering."
On the first day of State when the conference championships were determined, Green shot a 78 to help the Hornets finish second in the 7A-West. He followed up with a 78 on the second day to help the Hornets take third in Class 7A.
"He has a lot of natural ability," Dale stated. "He's a gamer. He loves to play. Really, anything he's a part of, he's just a real competitive athlete."
Indeed, Green was a starting outfielder on Bryant's 2012 Class 7A State championship baseball team, finishing in the top five among Hornets' hitters with a .295 batting average. The previous summer, playing Legion baseball, he hit .409 for the Bryant Black Sox Junior team, leading the team with 36 hits, nine doubles and 12 stolen bases. He was also 3-1 on the mound. Though he took last summer off from baseball to concentrate on golf, it obviously paid off. He plans to be back in the outfield for the Hornets next spring.
Green said he considered Arkansas State University.
"I was actually going to a guy in Dallas, Texas named Kevin Johnson who actually talked to the Northeastern State coach (Scott Varner)," he related. "He got interested in me and started watching all my scores and contacting me about it. It just went from there.
"I did not want to go far away at all," he added. "I didn't want to go any farther than I'm going, that's about as far as I would go.
"The coach seemed like a really good coach and he's paying full tuition," Green noted. "Everything just worked out with him."
Of his visit to the campus, Green said, "I loved it. It's a great place. Not too big, not too small. It had pretty much everything that I wanted. I was just looking for a smaller feel, not as big as Fayetteville but not like a really small college. I want to get the college experiences without it having to be a huge atmosphere."
Green's best rounds were a 67 in tournament play at Rebsamen Park last year. His best ever was a 64 at Hurricane Golf Club in Bryant a couple of years ago.
With those kinds of scores and some consistency, there's no telling how far Tyler Green could take this game he learned to love in that foursome with his dad and his grandpas.
"As far as I can go," he said. "I definitely don't want to cut myself short."