Hayden-to-Hayden helps Hornets get past Rockets, 45-35
EDITOR'S NOTE: Because the look back at each day in Bryant athletic history has been so favorably received during the time when there was no sports during the COVID-19 shutdown, BryantDaily.com will continueposting past stories of Bryant athletics either posted on BryantDaily.com (from 2009 to the present) or published in the Bryant Times (from 1998 to 2008).
By Rob Patrick
Photos by Rick Nation and Kevin Nagle
The Catholic High Rockets got "Hayden-ed" Friday night by the[more] Bryant Hornets.
With the game on the line and the Rockets with all the momentum after erasing a 14-point deficit and forging a 35-35 tie, the Hornets had come up empty on the first two plays of a possession from their own 20. They faced a third-and-10. Bryant head coach Paul Calley called a timeout to make sure his team had the right play in a crucial moment.
"I felt like that was the ballgame," Calley related later. "If we didn't get that conversion then (the Rockets) were going to go score and it was over. Coach (Dale) Jones called a play. I said let's take a timeout, let's be sure, let's get it set up. If it's there, we'll take it."
It was there.
Quarterback Hayden Lessenberry rifled a pass over the middle to Hayden "Petey" Daniel who made the catch for first-down yardage. But he then broke a tackle and made a bee-line for the "magical" north end zone, out-sprinting the Rocket secondary down the middle of the field.
Not only had the Hornets avoided a game-breaking punt situation, they'd turned the tables with a game-breaking 80-yard touchdown play.
The game was hardly over but the defense did its job on a subsequent series and senior Jace Denker added a clinching field goal as Bryant captured a thrilling 45-35 win in front of a packed house at Bryant Stadium.
"I'm as proud of this team as any I've ever had," declared Calley afterwards.
The coach admitted that, up to this point in the season, he wasn't sure how strong this team's will to compete was. He got a little reassurance Friday.
"We competed hard," he asserted. "I challenged them last week, and I told them before the game, 'Sometimes you guys don't look like you're having fun. You don't look like you want to play.' I saw a little more out of them last week but, tonight, they played their guts out. They wanted it really bad."
"We're getting the idea, we've got to play hard and we've got to play with more intensity," mentioned Hornets defensive coordinator Steve Griffith. "That's something we've been working on in practice. We'll continue. We've still got to play a little more physical at certain spots."
Both teams had running backs go over 100 yards. For Bryant, Karon Dismuke rushed for 118 yards on 18 carries including some key runs in the second half. Catholic's Quinta Thomas countered with 133 yards on 18 tries.
"Karon made some excellent runs," Calley noted. "He ran the ball hard.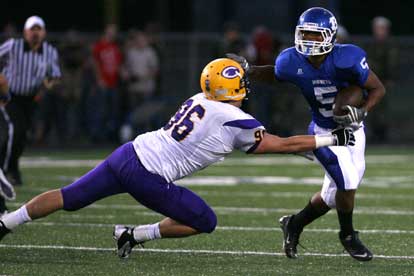 "I thought the offensive line, we didn't play superb but we played as well as I thought we could," he added. "We played hard. We executed our game plan. We did what we were supposed to do.
"We were out-manned," declared the coach. "And when they started bringing pressure, it got us in the second half, when we needed to run the ball and we couldn't. They were run-blitzing us and we got a little tired."
Lessenberry completed 17 of 26 passes for 246 yards and three touchdowns while the Rockets' Zach Conque hit 11 of 23 for 227 yards and three scores.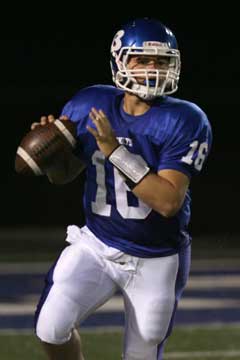 It was a breakout night for Daniel who caught six passes for 116 yards. Dillon Winfrey had five grabs for 81 yards and two TDs while Sawyer Nichols hauled in four passes for 55 yards.
Special teams were key for Bryant as well especially the part where Aaron Bell returned a kickoff for 95 yards and a touchdown just moments before the half, breaking a 21-21 tie.
The Hornets also executed an onside kick that Chris Stevens recovered, setting up their second score.
The game was marred by 24 penalties between the two teams — and those are just the ones that were marked off. Bryant drew 14 flags for 143 yards while the Rockets drew 10 that cost them 118.
In fact, both teams were aided and thwarted by penalties. In fact, the four touchdown drives in the first half were each aided by major penalties. Other drives were hindered or halted by infractions.
Catholic's first possession included 15-yard markoffs both ways. The key play to the march was Conque's 43-yard pass to Jordan Temple. A play later, Conque found tight end Scott Scruggs for the score.
Bryant answered with a scoring drive in which they too had to overcome a penalty but was also aided by one which was huge, negating a Rockets interception. The pass interference called on the play gave the Hornets a new set of downs at the Catholic 29. After an offsides call, Jalen Bell slashed 21 yards on a draw play to the 3. Lessenberry lost a couple of yards to the 5 but, a play later, he hooked up with Winfrey for the touchdown.
The Hornets then surprised the Rockets with the onside kick and gained possession at the Catholic 41. Two plays later, however, the Hornets faced a third-and-13. Trying a little razzle dazzle, Lessenberry threw a lateral outside to Nichols who fired downfield trying to get the ball to Daniel. Catholic safety Jordan Hartnedy picked off the pass but back upfield, the Rockets were flagged for roughing the passer. Bryant retained possession and got a first down out of it. On the next play, Lessenberry hit Winfrey on the deep post for a go-ahead touchdown.
The Bryant defense forced a three-and-out but Hartnedy came through with a 47-yard punt and when the Hornets were flagged for unsportsmanlike conduct, they were 85 yards away from paydirt.
With the help of a 28-yard completion from Lessenberry to Nichols to convert an early third down, the Hornets were able to drive to the Rockets' 26. The drive stalled there and Denker came on to try a field goal from 43 yards. He had enough leg but his kick stayed left of the upright, no good.
Catholic responded with an 80-yard drive, again benefitting from a pass interference penalty which got them to the 14. From there, Conque wove his way into the end zone, tying the game at 14.
Bryant answered right back with a 67 yard march that featured the running of Ben Clark and Dismuke along with a pair of completions from Lessenberry to Daniel. On a first down at the Rockets' 15, a pass interference penalty moved the Hornets closer. On the next play, using their new diamond formation with three backs behind Lessenberry, Clark got the call and scored his first varsity touchdown.
Catholic, however, responded once again with a 75-yard scoring drive that picked up yardage on a roughing the passer penalty but lost it too with a pair of holding penalties. Conque's pass to Scruggs for 16 yards overcame some of that. The rest came on Thomas' 11-yard touchdown run which tied the game at 21 with 1:46 left in the half.
On the ensuing kickoff, Bell fielded the ball at the 5 and tore up the seam. He out-sprinted the last defender and just moments after Catholic was celebrating a tying touchdown, the Hornets had answered.
And the Bryant defense made a bid to add to the 28-21 lead. On the kickoff, Barth Onyekwelu bobbled the ball and only got out of the 9. On first down, Conque dropped back to pass but his first option was covered. Tim Kelly descended up on him and got the sack. The Hornets wanted a safety as Conque dropped into the end zone but the officials marked the ball at the 1.
The Rockets decided to keep it on the ground for the last play of the half.
On the heels of that fine defensive effort, the Hornets had another good series to start the second half. Thomas slashed for 14 yards and, moments later, another pass interference penalty moved the Rockets to midfield. Two plays later, they faced a third-and-9.
The large Catholic offensive line continued to struggle against Bryant's smaller, quicker front throughout the game. This time, Kelly and Jacob Powell got through to sack Conque and force a punt.
Highlighted by a 26-yard burst by Dismuke and a 34-yard strike from Lessenberry to Winfrey, who made a sprawling catch at the 6, the Hornets extended their lead. It took a fourth-down play, however. Lessenberry snuck it in barely and, with Denker's extra point, Bryant enjoyed a 35-21 lead with 6:47 left in the third quarter.
And again the defense stepped up. The next three Catholic plays lost yardage as Michael Smith and Austin Dunahoo made plays, along with Parker Dunn.
Hartnedy boomed a 56-yard punt to turn the field over and, three plays later, Bryant's Dalton Griesmer came on to return the favor.
"We've just got to get more consistent," Griffith stated. "We had some very good plays. We even had a couple of series back to back where we made good plays. We got a couple of stops on third and fourth and I thought we had it under control but they ended up with a couple of big plays. That's what they've got the ability to do."
The Rockets started their comeback with perseverance. They had to overcome penalties for an illegal block, holding and unsportsmanlike conduct. The latter two negated most of Thomas' 45 yard run to the Bryant 4.
Moments later, Catholic was ready to punt on a fourth-and-8 near midfield but the Hornets incurred a substitution penalty that made it fourth-and-3 and the Rockets decided to go for it. Thomas smashed for 10 yards to keep the drive alive. And when the Hornets were called for interference again, the Rockets reached the 22. They faced a fourth-and-6 at the 18 and disdaining a field goal attempt, went for the bundle and got it on an 18-yard pass from Conque to Weston Holloway.
"We can't hurt ourselves," Griffith asserted. "We had situations where we gave them new life by lining up offsides, another where we had too many men on the field which was my fault. We had a situation where we had a roughing the passer call. Those are things you can't do against a good football team. But those are correctible things."
When the Hornets, hampered by a holding penalty, had to punt it back, the Rockets had their chance to tie the game. A 56-yard completion from Conque to Temple did just that with Jacob Morehart's PAT tying the game at 35.
That set up the crucial series in which Catholic came a play away from forcing another punt only to have Lessenberry and Daniel hook up for the go-ahead score.
On the ensuing possession, the Rockets pushed out to the 30 where, on third-and-2, Thomas was spilled on a fine open-field tackle by Winfrey up from corner. On fourth down, the Rockets set up for a punt but Hartnedy took the snap and tried to run around left end only to have Winfrey, once again, cut him down short of the first.
"I thought we had a great effort," Griffith said of the defense. "The kids were playing hard and fighting hard. We rolled a lot of guys in and out. And it seemed like everybody that came in and out was giving us effort. Even there at the end, we were going with a three-man rush in a prevent situation and those guys were fighting their tails off and got pressure."
With 3:47 left, Bryant drove to the 8, using up clock. A sparkling, tackle-breaking run by Dismuke for 17 yards on a third-and-7 from the 26 was the key play of the drive as the Hornets had to overcome a holding penalty.
Eventually, Denker came on to put the finishing touches on the win with a clinching field goal from 36 yards out.
Now 3-1 overall and 1-0 in conference, the Hornets travel to Van Buren this Friday.