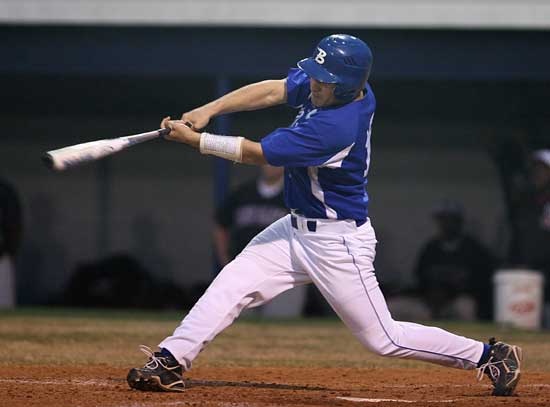 By Rob Patrick
On Thursday, Dec. 30, Bryant senior Hunter Mayall will undergo surgery to repair a damaged labrum, the latest in a series of[more] shoulder problems that have plagued him throughout his high school career.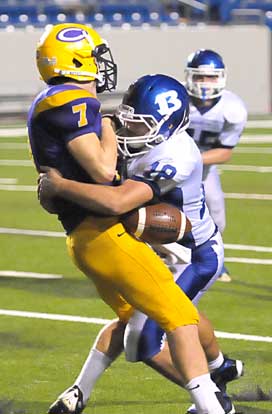 An all-conference performer at linebacker for the Hornets football team, Mayall, the son of Ronnie and Gail Mayall, is one of the finest hitters the Bryant baseball program has produced. And, though the shoulder problems kept him out of the field during his junior season, he was still able to hit. He led the Hornets and the American Legion Black Sox in hitting the last two seasons and was one of the leaders of the BHS team that captured the program's first State championship last spring.
Unfortunately, the surgery will prevent him from playing his senior season for the diamond Hornets. Still, on the merits of his play to this point, he gained lots of attention from college coaches, enough that he accepted an offer to continue his education and baseball career under scholarship at Henderson State University in Arkadelphia.
A .388 hitter in his two years of high school ball (76 of 196) and a .475 hitter in two summers of Legion ball, Mayall has been called by Hornets coach Kirk Bock "one of the best hitters I've ever had in 21 years."
He's shown an uncanny ability to make solid contact, using his quick hands which allowed him to wait on the ball, to give himself a chance to get a better look at the location, speed and break of a pitch.
As Bock put it, "He just has that ability to let the ball get deep."
And he almost always made contact. Consider: While batting 356 times with 152 hits (a .429 average) over two years (high school and Legion combined), Mayall struck out, incredibly, just 13 times.
"Henderson State is going to get one of the best hitters that they could possibly find," Bock added. "They're going to have a tremendous player who's certainly going to make a difference in their lineup."
"I wanted to sign early," Mayall said on his decision to go with the Reddies. "The only two that were really talking about me signing early was Henderson and UA-Monticello. So I decided that Henderson was a better option for me, closer to home and whatnot.
"UCA was talking to me," he related. "A-State sent some stuff to me, SAU, UA-Fort Smith and Crowder Community College."
Of Henderson, Mayall said, "It was kind of like Bryant. It was like they're hard working but they're going to have fun while they're doing it. I like that aspect of it. And, during games, they're going to take risks and I like that too. They steal bases and they like to take the extra base."
The left-handed swinger is slated to be in the lineup from the start.
"They said, my first year, I'd either start at first base or start DH'ing for them, then we'll go on from there," he revealed. "They want me in the lineup first year is what I was told."
Having the surgery now will make that possible.
"It's what he needs to do," Bock stated. "He needs to go ahead and have that surgery now and get prepared for the second part of his baseball career."
Said Ronnie Mayall, "It has been a tough time for all of us, but we think it was best to get it fixed as soon as possible to allow him time to heal and, hopefully, be able to play college baseball this fall. We will miss everyone and the baseball atmosphere. It will not be the same to us with Hunter not playing."
"It's very, very, very disappointing," Hunter added. "I really wish I could be out there with my team, my friends, playing baseball with them.
"I just have to get my labrum anchored down to my right shoulder and my ligament tightened a little bit," he explained. "I've hurt it a few times with dislocations and stuff but I'm not really sure which one did the damage. I've had an AC separation, I broke a growth plate and now my labrum. It's been pretty difficult, more difficult in baseball than football because I can't throw. It's been hard not to be out in the field."
"He's a hard-nosed kid," Bock asserted. "He's played through a lot of pain in baseball and in football."
As a sophomore in 2009, Mayall led the 7A-Central Conference champion Hornets with a .429 batting average (39-of-91). He scored a team-high 24 runs, knocked in 18, walked 14 times and stroked seven doubles while striking out just five times.
That summer, he set a Bryant Black Sox AAA Legion record with a .506 batting average (43-of-85) and a .651 on-base percentage, scoring 28 runs and driving in 20. He walked 24 times and struck out just twice.
During his junior season at BHS, Mayall led the team with a .352 average (37-of-105) despite the team's extended slump. He scored 22 times, drove in 21 runs, hit nine doubles and a triple. He walked 22 times and struck out on just three occasions.
Last summer, he finished batting a team-best .440 (33-of-75) with 19 runs scored, 21 driven-in (to lead the Sox team) with 12 doubles, a triple and a homer. He drew 21 free passes while striking out only three times.
Asked about his development as a hitter, Hunter said, ""When I was young, I played baseball a whole lot. My dad would always take me to places to hit and try to find the best hitting coach. I finally started going to coach Pat Harrison, who's over at Diamond (Sports) now. He helped me a lot as a kid to get me where I am now. Then, I got with Coach Bock and he helped me the rest of the way."
As for his approach at the plate, he added, "I get up there and all I'm trying to do is beat the pitcher. I'm trying to do better than the pitcher does. It's a battle. I'm trying to win the battle every time I get to the plate."
As it turns out, Mayall's final high school baseball game was the 2010 Class 7A State championship game when he led off for the Hornets against the Van Buren Pointers, went 2 for 3 with an RBI and four runs scored.
"The State championship meant a lot to me and my dad," Mayall said. "It was my dad's birthday and all he said he wanted for his birthday was for us to win a State championship. That's what happened. It makes it great because that was my last high school baseball game. It was amazing."
Bock acknowledged Mayall's leadership.
"He was an example guy," said the coach. "He had some rah-rah in him if he felt like things were going the wrong way. But he certainly led by example because he worked extremely hard. The thing about Hunter is, it hurt him to fail. And he failed just like everybody else but you could see he didn't like it. Things like that say more to your younger kids and your peers than just always the rah-rah. You could tell, he takes things to heart, just a very intense player."
Mayall, who was limited to the role of designated hitter all season, recalled, "We went through that losing streak (seven losses in eight games during conference play) and it took a lot — it took Coach Bock a lot to understand what was wrong. And it took us awhile. We finally realized that our confidence wasn't where it was. We were winning all those games but then we just started losing and we didn't know what to do. We lost confidence in ourselves, in our team and in each other. We finally got it down that that's what it was. Once we talked about it and got it through our heads that we could win baseball games, we started winning again. That's all it really was, confidence."
"He was huge," Bock concluded, "and it's certainly going to be a big blow to us offensively not to have him. We're just going to have to rally the troops and get it done."