By Diane Winiecki
Take a shy guy, and ask him to do the unthinkable, stand before thousands of people, dancing, jumping, yelling, entertaining in every way he can think of, and he would probably say "no way." But, put him in a blue suit, blue tights, with bulging eyes, long antennas and a stinger of all stingers, along with the desire to be all he can be for his school, and he will become explosive.
Kyle Douglass is that guy; he is the Hornet mascot, 'Buzz" at least until the end of this year, his senior year at Bryant High School.[more]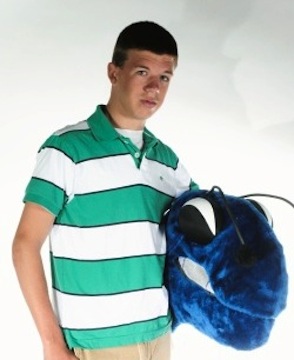 Tryouts were held last week for his replacement, in his voice you could hear the cheerlessness, after all Kyle has been the Hornet mascot for three years. When asked what the best part of the job is, his voice changed with enthusiasm, "The kids, they ask me for my autograph, want high fives and pictures, it's a blast."
And the worst part, he snickered, "smelling like a pig when you get out of the costume."
The qualifications required to be the Hornet mascot are pretty simple, be yourself, the inner self that comes out and wants to be a different person than that shy guy you feel you are. Get excited, get people excited, and support your school, fans, and team.
Douglass said he loved being a role model to the kids and his community; he especially enjoyed doing the commercials with the Benton Panther promoting Saline County. He explained that Buzz is just as important as the player and the cheerleader, buts it depends on the person wearing the suit. They have to love being crazy, he said, just going all out, doing what it takes, having fun, always be in character, always. You have to be in the zone, the spirit zone, he added.
What's next for you Douglass?
"I will be attending Henderson State where I hope to be a walk-on for their swim team," he answered. "I am majoring in communications. I surrendered my life to Christ so I plan on taking Biblical studies at OBU as well. I just want to go where God wants me, grabbing the reigns and holding on."
The new Hornet mascot for 2010-11 was decided, his name is Trevor Holloway.