By Rob Patrick
Photos by Kevin Nagle
When their preseason scrimmage got series during a 16-minute half, the Bryant Hornets freshman[more] team ran 20 offensive plays and the Pine Bluff Robey Junior Zebras ran 22.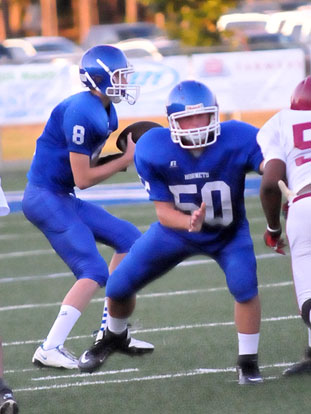 Bryant rushed for 65 yards and passed for 63. Though Pine Bluff accumulated 166 yards of total offense, 113 of that came on two plays. A 63-yard touchdown run by Romar Reades was the first of them. Later, Bryant had the Zebras pushed back to the point that they were facing a third-and-31 but a 50-yard pass not only converted the third down but set up a 3-yard touchdown run by Ladarius Skelton.
"I thought we executed okay offensively," commented Junior Hornets head coach Kenny Horn. "I thought we played pretty good defense. Just a couple of mistakes got us beat. We tripped up on the long run. Two guys fell. The long pass, that happens every now and then.
"I think we're okay," he emphasized. "I know we need to shore ourselves up a little bit offensively but I think, defensive, we played well. We didn't miss a lot of tackles. We missed a few. But I saw a lot of things I liked. We're actually a little farther along than I thought we were. I'm excited."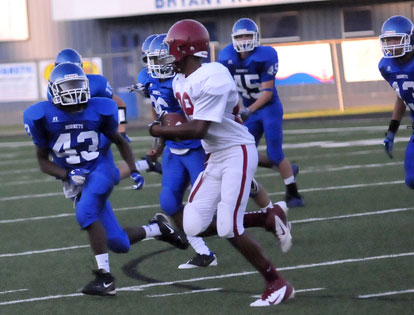 The Hornets had two quarterbacks throw touchdown passes. In the series of 10-play possessions prior to the 16-minute half, Jaret Jacobs went 4 for 4 in the air for 46 yards including a 17-yard TD strike to Pierce Finney. He would complete 2 of 5 passes for 32 yards in the second half.
On Bryant's last possession of the second half, Gunnar Burks capped off an 80-yard drive with a 10-yard touchdown throw to Quinton Royal. Burks was 4 of 5 for 38 yards in that half, after hitting 1 of 3 for 7 yards in the possession series.
Drew Alpe led Bryant's ground game with 38 yards on five carries. Burks added 24 yards on five tries.
"We weren't as physical as I'd like them to have been," Horn mentioned. "We need to be more physical everywhere, especially offensive line-wise. We've just got a few things, correctible mistakes, that'll make us better. I don't think there's anything we can't fix."
Bryant opens the season on Thursday, Oct. 30, at home against Hot Springs Lakeside.