For more photos from this event by Kevin Nagle, go here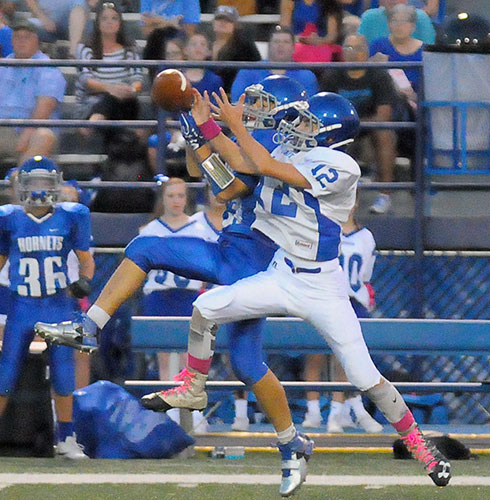 A couple of fumbles made for a thrilling finish the annual Hornet Bowl Thursday night.
The first came when it appeared that the Bryant Blue Hornets eighth grade team of Bethel Middle School was about to score a clinching touchdown. Leading 16-8, Blue had marched to the 3-yard line of the Bryant White Hornets of Bryant Middle School. With 1:30 left in the game, Bryant White recovered the fumble and, on the very next play, quarterback Pierce Kinley broke a 97-yard touchdown run to make it 16-14.
With a chance to tie it with a two-point conversion, Bryant White appeared to have a hole to reach the end zone only to have a fumble occur that Bryant Blue recovered.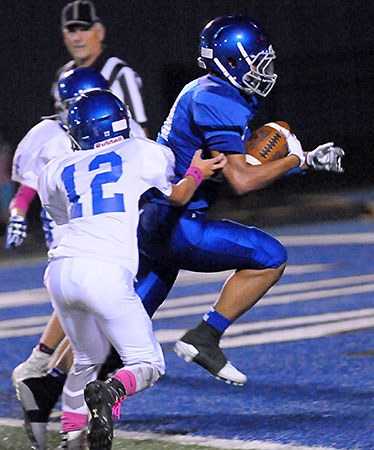 On the ensuing kickoff, Bryant White tried an onside kick.
"We seemed to have recovered it but the officials gave the ball to Bethel," mentioned Bryant White coach Josh Fonville.
Bryant Blue ran out the clock to secure the win and the Hornet Bowl trophy for the second year in a row and the fourth in the last five years.
"As I said earlier in the week the team that wins the fourth quarter wins this ball game," said Bethel coach Josh Akers. "I have to give a lot of credit to our defense for keeping us in the ballgame all night. Coach (Colton) Bond did a great job of getting our guys in position to be successful.
"I thought offensively we moved the ball pretty well in our run game," he added. "We knew Bryant Middle would try to stop the run so we really emphasized throwing the ball this week. We just had some trouble catching the ball. Luckily the two scores we had on the ground were enough to win this game."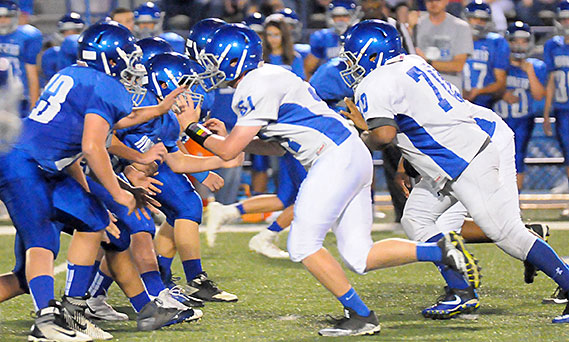 Bryant White scored first on a 40-yard touchdown pass from Kinley to Robert Hendrix on a bubble screen. Hendrix added the run for a two-point conversion.
Bryant Blue countered with a 38-yard touchdown run by Andrew Stueve. Fabian Torres ran in the conversion.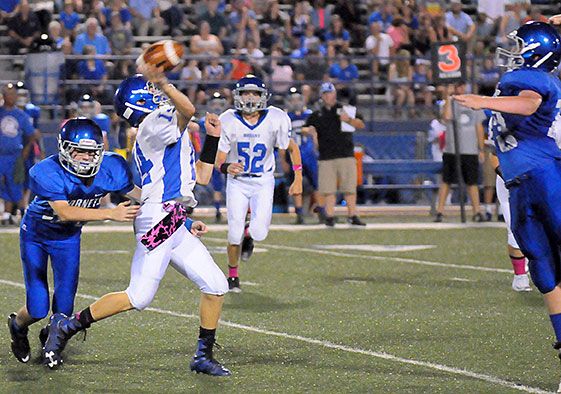 Quarterback Carson Burnett would give Bryant Blue the lead with a 3-yard touchdown run. Torres ran for the all-important conversion to make it 16-8.
"With about 30 secnds left in the first half, on a fourth down, Kinley made a great throw to Cameron Booth in the end zone," noted Fonville. But Booth couldn't hang on.
"My hats off to Bryant Middle," said Akers. "Those guys were coached up and ready to play. They gave us a battle all night long and were really tough. This was a very exciting game for us and hopefully the fans enjoyed it as well."
Of course, the next time the two teams take the gridiron on the same night, they'll be teammates as freshmen.