Hornet gridders selected for post-season honors
EDITOR'S NOTE: Because the look back at each day in Bryant athletic history has been so favorably received during the time when there was no sports during the COVID-19 shutdown, BryantDaily.com will continueposting past stories of Bryant athletics either posted on BryantDaily.com (from 2009 to the present) or published in the Bryant Times (from 1998 to 2008).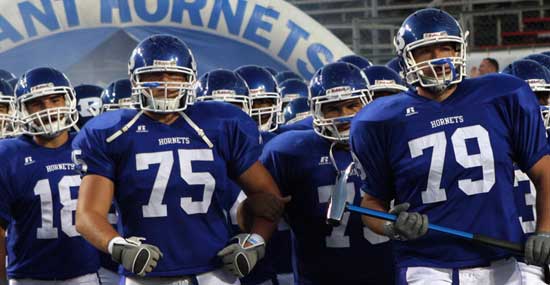 By Rob Patrick
Photos by Rick Nation
Versatility marked the play of the Bryant Hornets' Josh Hampton, Dillon Winfrey and Tanner Tolbert in 2010 and, earlier this week, it was announced that that trio, along with Justin Rausch, a two-year starter at center, had been selected to[more] the Class 7A all-State squad by the coaches in the 7A-Central Conference.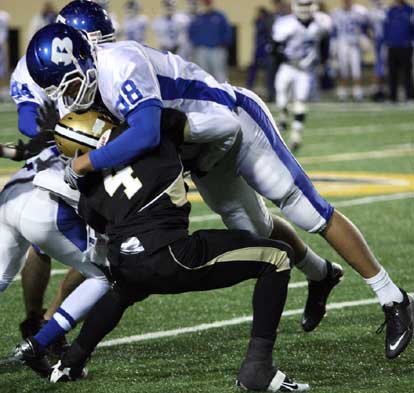 Hampton, a senior, played defensive end as well as tight end and fullback on offense. Winfrey, a junior, wound up being the lead cover corner on defense, a deep threat as a receiver and a leader on punt coverage. Tolbert, a senior, was the team's punter and a threat to run on every punt. After starting at corner, he played mostly at safety this season. He also worked in as a receiver at times. He and Winfrey also returned kicks. And, late in the season, Rausch, also a senior, got in on the versatility as well. Along with anchoring the offensive line, he played some on the defensive line to shore up the run defense.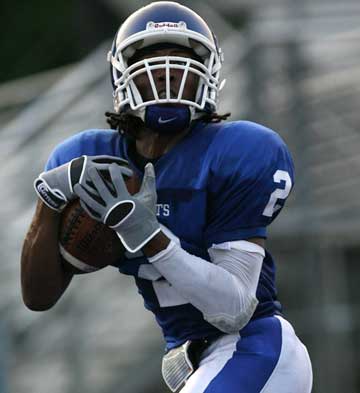 The Hornets' all-conference selections included linebacker Hunter Mayall, running back Stephen Clark and offensive tackle Austin Johnson, all seniors.
Junior wide receiver Sawyer Nichols, junior running back Karon Dismuke, senior safety Holden Chavis, senior defensive lineman James Kidd, and senior offensive tackle Colby Maness garnered honorable mention honors.
Bryant went 9-3 on the season, the most wins by a Hornets team since 2004. They captured a share of the Central Conference championship, tying Cabot and Conway.
Hampton, a finalist for the annual Class 7A/6A State Farm Award which honors the top defensive player in each classification, not only starred at defensive end, he played tight end and fullback much of the season for the Hornets. He was also named all-State as a junior and is currently weighing offers to play in college under scholarship from Harding University, Henderson State, Ouachita Baptist, Southern Arkansas and, most recently, from Missouri State.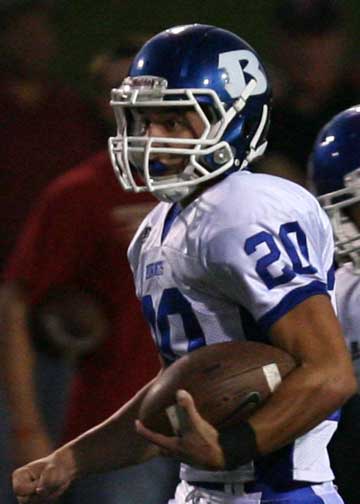 He led the team in tackles with 101 including 11 for losses and three sacks. He also returned a fumble for a touchdown. On offense, Hampton rushed for 13 yards and four touchdowns on five carries and caught a pass for 14 yards. Mostly, though, he was devastating blocker.
Winfrey finished with 52 tackles while breaking up six passes and intercepting two. On offense, he caught 21 passes for 287 yards (both second on the team) and three touchdowns. His punt coverage was often remarkable, getting to the return man as soon as the ball. He made five special teams tackles but disrupted many more returns. Winfrey returned six punts for a 15-yard average and brought back six kickoffs for an average of 35.2 yards with a memorable touchdown return in Bryant's win over previously unbeaten Conway.
Tolbert, who missed some playing time with a neck injury, returned 13 kickoffs for a 34.9 yard average. As the team's punter, he average 41.5 yards a kick on 26 punts. He was also in on seven special teams tackles. In all, he was in on 67 tackles. He broke up four passes and intercepted two. As the punter, Tolbert took off three times and picked up 63 yards and a touchdown. As a receiver, he caught two passes, both for scores.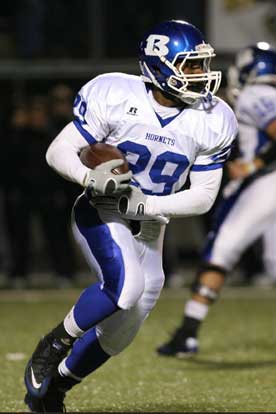 Along with Hampton, Rausch, Johnson and Maness helped the Hornets rush for 2,157 yards and accumulate over 3,600 yards of offense. Johnson is receiving interest from college programs including Henderson State.
Mayall finished with 90 tackles including six for losses as an outside linebacker. He intercepted two passes and returned one of them for a touchdown.
Clark was the Hornets' top rusher with 780 yards on 135 attempts. He led the team in scoring with 66 points on 10 rushing TD's and one pass reception. He had 12 receptions on the season for 135 yards. He also helped out at corner at times for the Hornets and got in on 10 tackles.
Nichols was the team's top receiver with 33 catches for 586 yards and three touchdowns.
Dismuke, despite missing time due to a fracture in his wrist, rushed for 640 yards on 84 attempts, scoring five touchdowns on the ground.
Chavis got in on 95 tackles for the Hornets including seven on special teams. He broke up three passes, recovered two fumbles and made an interception.
Kidd, who started at defensive end before moving inside to tackle and thriving, got in on 70 tackles including a pair of sacks and four tackles for losses.