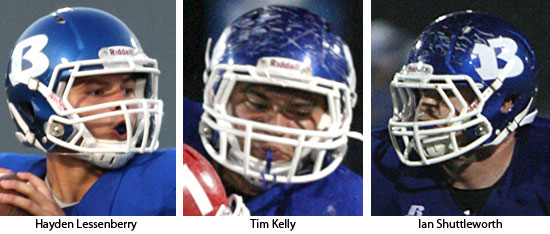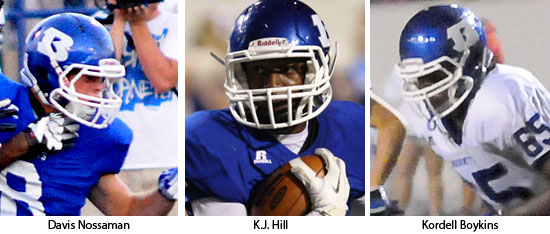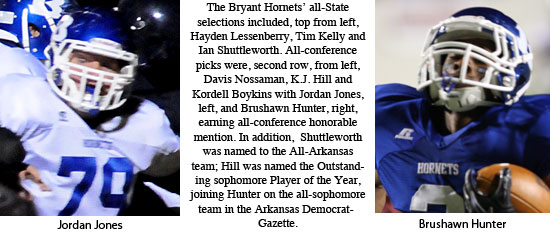 The Bryant Hornets' 2012 season was celebrated and reviewed Tuesday night at[more] the annual football banquet held at Geyer Springs Baptist Church.
Post-season honors were announced with senior offensive tackle Ian Shuttleworth, three-year starting quarterback Hayden Lessenberry and senior defensive end Tim Kelly earning all-State honors in Class 7A.
Head coach Paul Calley called Shuttleworth the most dominant blocker in the 7A/6A-South Conference. The senior, who overcame cancer when he was a sophomore, was a two-year starter and, according to Calley, appears to be headed to Henderson State University to continue his career on the gridiron and in the classroom. He was also named to the Arkansas Democrat-Gazette's All-Arkansas team.
Lessenberry became the all-time leading passer at Bryant, setting new career marks in yardage with 5,717 yards, eclipsing the previous mark of 5,379 set by his offensive coordinator Lance Parker in 2000-02, and completions with 435 (in 682 attempts) breaking the record of 414 set by Anthony Mask 2003-05. He threw for 44 touchdowns, one short of Parker's career mark.
As a senior, Lessenberry was 174 of 285 for 2,423 yards and 22 touchdowns.
Kelly, another two-year starter, was the team's leading pass rusher. Of his 63 tackles in 2012, he has seven for lost yardage and four sacks. He also blocked a kick.
First-team all-conference selections included sophomore wide receiver/running back/kickoff returner K.J. Hill, senior defensive lineman Kordell Boykins and junior safety Davis Nossaman.
Hill finished the season as the team's top receiver with 48 catchers for 845 yards and 11 touchdowns. He also led the team with 233 yards rushing in 27 carries with three touchdowns. On 16 kickoff returns, he averaged accumulated 245 yards. He also threw a touchdown pass.
Hill was named the Arkansas Democrat-Gazette Sophomore co-offensive player of the year and joined fellow Hornets receiver Brushawn Hunter on the paper's Super Soph Team.
Boykins, who moved from the being a starter on the offensive line to being a starter on the defensive front as a senior, was in on 39 tackles including seven for losses with two sacks.
Nossaman was the team's leading tackler with 98 stops, two for losses, two interceptions, one he returned for a touchdown against Texarkana and two fumbles recoveries including a scoop and score against Pine Bluff. He also had a team-high 10 special team tackles.
Second-team all-conference selections were Hunter and offensive tackle Jordan Jones. Hunter finished with 42 receptions for 715 yards and six touchdowns. He also rushed 16 times for 95 yards.
Along with those post-season honors, the Hornets' Tyree Reese, who was plagued by injury much of the season, was named to the Hooten's Arkansas Football Pre-season All-Arkansas team. In addition, cornerback Aaron Bell and running back Jalen Bell, who also battled injuries much of the season, had been named to the All 501 Area Code team.
Permanent team captains, Shuttleworth, Kelly, Lessenberry and Aaron Bell, were recognized at the banquet and team awards were distributed. Kicker Josh Lowery was voted Special Team Player of the Year. Senior Austin Powell earned the Mr. Hustle Award.
Two players were noted for outstanding work on the scout team. On offense, Kaleb Squires was honored and, on defense, it was Ryan Hall.
The Mr. Hornet Award was shared by Jalen Bell and Shuttleworth and the annual 12th Man Award, given to a top supporter, went to Robbie Rutherford.
Also recognized were the members of the team that made the 7A/6A-South Conference Academic Honor Roll. They included senior Jalen Bell, Brandon Caple, Lowery, Powell, Nate Rutherford, Devon Sears and Jacob Stringer; juniors Wesley Akers, Hunter Barksdale, Kurt Calley, Bryce Denker, Tanner Gullett, Zach Hite, Seth Hoffmans, Jacob Irby, Drew Martin, Austin May, Nossaman, Tanner Rich, Squires, Jacob Thomas, Austin Vail, Noah Varner, and Jacob Ward.