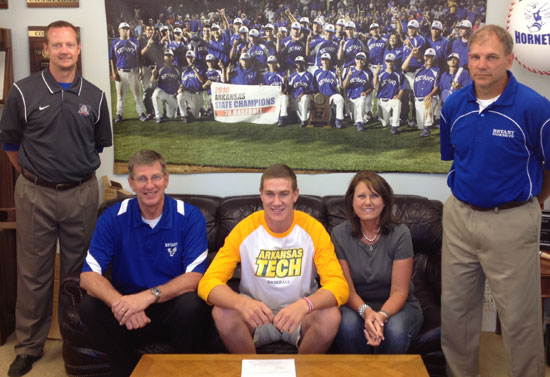 By Rob Patrick
Going into the 2012 season for the Bryant Hornets baseball team, head coach Kirk Bock was[more] talking about the depth and experience of his pitching staff. He had senior guys like Tyler Nelson, Jordan Taylor, Dylan Cross and Tryce Schalchlin, who each wound up earning scholarships to continue their diamond careers in college. Each had played a roll in getting Bryant to the Class 7A State championship game for the second year in a row in 2011.
But the hurler Bock talked about most was one that hadn't even played the previous season, a tall, junior right-hander named Nathan Rutherford.
"He looks like a different guy from three weeks ago to today," Bock stated in that preseason interview. "Nate is a guy that, you can tell, has bought in. We set him down, broke down his throwing mechanics. We gave him things to do and we explained to him, 'You're not going to be as good as you can be just by practicing. You've got to take it home and do it.'
"And from the first day on, you can see an immediate change, so you know that he has been taking it home and has been working on it on his own," the coach continued. "He looks like a totally different guy. It's going to take him a little while to get everything figured out but he's coming along real strong right now and we're expecting some good things from him if he keeps progressing."
"I put in a bunch of work my junior year," Rutherford acknowledges. "I came in thinking I was going to pitch in occasional JV games. Coach Bock gave me a shot in the second varsity game of the year. After that, I wasn't really confident in myself because I hadn't thrown on that kind of a stage before."
Bock kept throwing him out there, not as a conference starter but in non-conference games and, sure enough, he kept progressing. He wound up finishing the regular season by shutting down Lake Hamilton on two hits over five innings as his earned run average plummeted below 1.50.
At the State Tournament, the Hornets needed all three of their ace pitchers to eke out a win over Fayetteville in the quarterfinals and, even though rain pushed the semifinals back a day, Bock handed the ball to Rutherford against the West champion Bentonville Tigers.
"It was a turning point in my season and in my career, I guess," Rutherford recalls now.
Indeed, he went out and stopped the mighty Tigers, tossing a five-hit shutout to send the Hornets to their third straight State final. And, three innings into the championship game with the Hornets holding a slim 3-2 edge over Rogers Heritage, Rutherford relieved Nelson on the mound and worked four innings, surrendering no runs, no hits and walking just one.
Suddenly, the kid who thought he might get in some innings on the JV team at the start of the season and hadn't even pitched in a regular-season conference game, was the Most Valuable Player of the Class 7A State Tournament as Bryant won its second title in three years.
Rutherford continued his success as a senior this spring. He was the ace of the staff and wound up leading the Hornets to the semifinals, pitching his team to a State tourney win over Cabot in the quarterfinals.
He earned all-State honors and, on Thursday, signed a letter of intent to continue his education and his baseball career with the Wonder Boys of Arkansas Tech University.
"I've gained confidence in myself," said Nate, the son of Randy and Robbie Rutherford. "Right now, I feel like I can throw against anybody in the country and do well."
After finishing 6-1 with an 0.95 ERA in 37 innings as a junior, the right-hander posted a 9-3 mark with two saves and a 1:13 ERA in 74 1/3 innings as a senior.
"Nate is certainly the most consistent pitcher we've had in the last five years since I've been here," Bock said at the signing ceremony. "His deal is, you send him out there, have him throw nine to 13 pitches an inning and try not to strike anybody out because that gets your pitch count up, and let's go."
That resulted in complete game victories in which he, phenomenally, would average fewer than 10 pitches an inning.
"When he has a good defense behind him, he's really unbeatable," Bock stated. "He always gives you a chance. When you lose a guy like that — I mean, he's almost a guaranteed win every time you stick him out there — it's going to be huge for us. Somebody's going to have to step up and fill his shoes."
"I have a lot of depth on my baseball," Rutherford explained. "I was blessed with a lot of movement on my ball and I'm able to control my pitches well. I'm not going to blow it by anybody. It's more that I can hit my spots and get a lot of groundballs."
That's called having "command of your pitches" and "pitching to contract."
He throws a fastball, slider and change-up and called his fastball his out pitch.
Asked about his choice of Arkansas Tech in Russellville, Rutherford said, "When I visited, I knew it was the place I wanted to be. It's a very nice campus, very nice field — I played there just the other day. It was the first time I've been able to play there and I fell in love with it."
He said he didn't seriously look anywhere else.
"Not hard," he asserted. "I thought about walking on at a couple of places but it was more that (ATU) wanted me there and I wanted to be there.
"I plan on being a starter in the rotation," Rutherford added. "That's my goal. I want to start in the weekend rotation for conference games. That's what I'm going to strive for, to be one of those guys that can help them win a conference championship and make it to a regional tournament then as far as we can get there."
The Wonder Boys will have two former Hornets on the team. Bryant outfielder Marcus Wilson signed with ATU earlier this year.
"He'll be my roommate there and I'm excited to be playing with him," Rutherford said. "He's a heck of a ball player. He's good in the outfield and he's swinging the stick really well. And it really helps when you've got somebody you know. He's got that bat and he's also just an outstanding leader. He's somebody I love playing with."
And Rutherford is the kind of pitcher defenders love to play behind. He keeps the game moving, throws a lot of outs, keeps his teammates busy in the field and, best of all, wins.