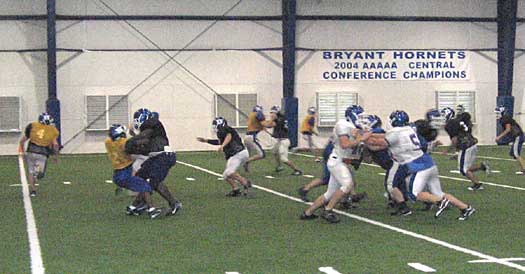 The Bryant Hornets football team donned pads today for the first time this fall and it just happened to be the hottest, most humid day of the month so far. The combination had its effect on practice.
"We picked up the pace quite a bit today," noted Hornets head coach Paul Calley. "You can tell, there's a little lull. It's hot and we're not in football shape yet. We've done a lot but we have to practice our way into shape. And right now, I can tell, we've got a long way to go.[more]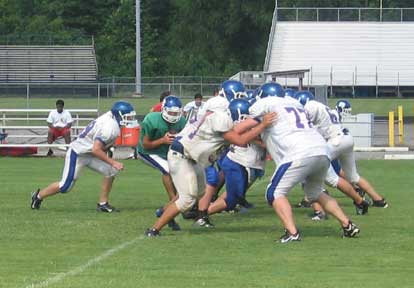 "We're executing," he continued, "but there's not a lot of excitement, not a lot of intensity. We're just kind of going through the motions.
"It's a little different carry the pads, plus we have a lot less talking and a lot more group time, a lot more actual live stuff and it's taking a toll today. But we're going to get that fixed."
Morning practices were set to continue on Friday with afternoon workouts beginning Monday, Aug. 10.