Tonight's Bryant-Bentonville game will be broadcast at 93.7 FM and 690 AM Fox Sports Arkansas with pre-game at 6:30 p.m., and live streamed by Fidelity Local 6 here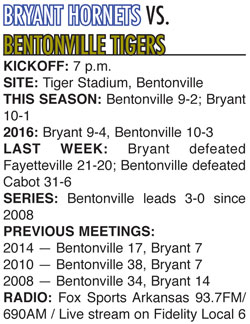 In a season full of firsts, the Bryant Hornets can add two more tonight when they travel to Bentonville to play the Tigers in the Class 7A semifinals. With a win, they would beat Bentonville for the first time — just like they did Fayetteville and Fort Smith Northside during the regular season.
They would also advance, for the first time, to a State championship game.
"These are things that we're asking our team to believe that they can do," said Hornets head coach Buck James. "To believe in themselves and the preparation they've put into this season, to go out and compete and play football and have fun and see what happens."
Three times, the Tigers have ended a season for Bryant: 2008, 2010 and 2014. And, though the current Hornets were too young to have experienced the 2014 loss, it was excruciating. Bryant led until about halfway through the fourth quarter and wound up losing 17-7.
It kind of left those Hornets feeling like the Fayetteville Bulldogs did last week when Bryant rallied from a 20-0 deficit at halftime to win in the final minute, 21-20.
"That was a great win for our football team," acknowledged James. "I'm really proud of the way the kids came back and competed. Our crowd was awesome. Our band, they were loud. It was a magic moment at Bryant Stadium Friday night."
Here's the thing, however, James is still looking for a complete game from his team.
"It's true but, the thing is, we've found a way to win 10 games and I think that's the main point," he asserted. "The guys have the will to win and I think that's special."
Bentonville, of course, has great tradition. This year, they are the last hope of the 7A-West Conference continuing a 13-year run on the 7A title. The situation was the same in 2013, with three teams from the Central and Bentonville, the lone remaining West team, and the Tigers won it.
This year, the Hornets have the chance to end that run. The last Central team to win a State title was in 2004 and, if Bryant can knock Bentonville out, it would guarantee a Central champion with North Little Rock and Conway playing in the other semifinal.
"They're a very talented football team," James said. "They wouldn't be here if they weren't. They're very strong, very physical, very good at what they do with great athletes. They're a very well-coached football team that expects to be practicing during Thanksgiving week.
"It's a banner program," he asserted. "This is one of those kinds of games where our team can make their mark, set the precedent that we're here and we've earned the right to be in this game and have a chance to play for a championship."
It's just Bryant's second trip to the semifinals. They did it last year before being knocked out by State runner-up North Little Rock, one of three losses to the Charging Wildcats in the last 19 games — the only losses during that stretch that the Hornets have suffered.
They'd like another shot.
"It's a mindset," James said. "It takes hard work. It's big-boy football now. You're not playing anybody but the best. You have to go out and play at a high level."
Bentonville won the 7A-West with a week 10 victory over rival Bentonville West. They also defeated Fayetteville early in the season 32-27. Since a 35-16 loss to Conway in Week 3, the Tigers have won eight in a row, including a 31-6 victory over Cabot last week.
They're led by quarterback Nathan Lyons who has completed 147 passes in 231 attempts for 2,157 yards and 27 touchdowns. He also runs the ball well, picking up a season-high 176 yards on the ground against Cabot. Easton Miller is their top running back, picking up 831 yards on 152 carries with 11 TDs.
The Tigers' top receiver, Kam'ron Mays-Hunt caught 59 passes for 942 yards and 13 touchdowns. He will also help out on defense and return kicks. Harrison Campbell had 30 receptions for 501 yards.
Bentonville averages 38 points per game while giving up 21 points. They've allowed 1,313 yards rushing (119 per game) and 1,995 passing (181 per game). In turn, they rushed for 2,017 yards (183 per game) and passed for 2,489 (226 per game).
The Hornets, meanwhile, welcomed back junior quarterback Ren Hefley last week after he missed four-and-a-half games with a broken collarbone. Both he and sophomore Jake Meaders have passed for over 1,000 yards this season, totaling 2,678 between them. No one on the team has more than Ja'Kalon Pittman's 43 receptions but they have five in double figures.
Latavion Scott is the top rusher with 1,341 yards (122 per game). Kris King gave the Hornets some valuable minutes in the win over Fayetteville.
Defensively, the Hornets have allowed 1,597 yards passing (145 per game) and 1,393 rushing (127 per outing). Top tacklers are middle linebacker Jakob Neel, safety Rondale Messer and defensive end Johnny Wallace.
Last week, the Bryant secondary, led by corners Andrew Hayes and Antonio Rice restricted Fayetteville's big play receiving tandem of Kris Mullinga and Cody Gray to four and three receptions, respectively, for a total of 77 yards.
The Hornets average 35 points scored while giving up an average of 22.
"They're a very tough team to move the ball on," James mentioned of Bentonville. "We've got to take care of the football. We've got to be sound on defense and keep their playmakers from making big plays.
"Our kids have worked hard," he stated. "We've got a chance to be able to win this ballgame. But our guys have got to play hard and they've got to play fast and they've got to play with great discipline for four quarters."