Photos courtesy of Julie Shelby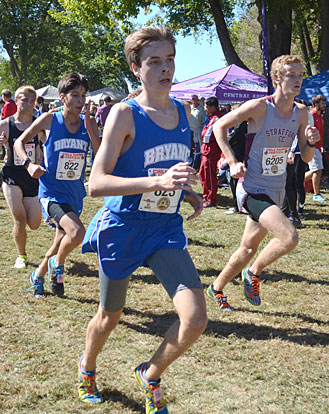 FAYETTEVILLE — The Bryant Hornets competed in the largest Chile Pepper Cross Country Festival in the meet's long history on Saturday, placing 34th out of 84 teams. A total of 658 runners completed the Invitational division, in which only each team's top eight runners compete. The Hornets placed eighth among Arkansas teams.
John Carder was the top Bryant finisher, placing 147th in a time of 17:05. Freshman Chris Barrientos, running in his first senior high 5k race, was the second Hornet runner, placing 166th in a time of 17:12.
The rest of the the Bryant top seven were Eric Stewart (268th in 17:49), Travis Cumming (278th in 17:51), Cole Watson (290th in 17:54), Derek Vos (299th in 17:56), and Eathan Devine (412th in 18:37).
"I'm proud of how well these boys competed, especially since our top runner, Charlie Terry, is a little banged up and did not compete," commented Bryant coach Steve Oury. "John Carder and Chris Barrientos didn't get off to the best start, so I think they were trapped in traffic for a good part of the race, but they fought all the way. Travis Cumming, Cole Watson, and Derek Vos all broke 18 minutes for the first time, so that was great to see."
Junior High
The Junior Hornets competed Saturday in the junior high boys division of the Chile Pepper, placing 14th out of 40 teams. The Junior Hornets were running without the services of top runners Chris Barrientos, who has moved up to the senior high team, and Luis Lara, who did not make the trip.
Chris Morgan led the way for the Junior Hornets with a 59th place finish in a time of 19:23. The rest of the Bryant competitors were Matthew O'Gary (81st in 19:47), Ben Sellers (103rd in 20:05), Logan New (109th in 20:10), Dylan White (112th in 20:14), Blake Wilson (158th in 20:52), Christian Brack (164th in 20:57), Kakada Av (173rd in 21:09), and Jake Dreher (232nd in 21:50).
"This was the first competitive 5k for most of the boys on the team, so I thought they handled the extra distance well," Oury said. "This was a good experience for them to compete in such a big meet. Hopefully they will be inspired to work hard and make more trips to this meet in the future."
Up next for the Hornets will be the annual Bryant Invitational at Bishop Park on Saturday, Oct. 10.