Photo by Rick Nation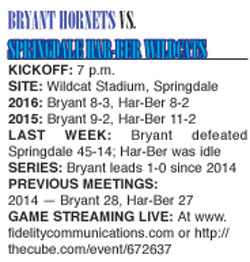 Tonight, the Bryant Hornets have a chance to do something that no other Hornets team in history has done:
Win a second playoff game and advance to the semifinals; to play in the rarified air of a Thanksgiving Friday football game.
Considering how many quality teams the Hornets have fielded over the last 17 years, the fact that it's never been done clearly indicates how difficult it is. By the time a team gets to the quarterfinals, what's left are the eight best teams and they're all good. At least one of them goes on to be great, a state champion.
"We've really worked hard with our kids on that," said Bryant head coach Buck James, who has had lots of experience taking teams deep into the playoffs at other schools, "trying to get them to understand what it takes, the mentality it takes — I call it the 'man-tality' — the approach you've got to have because you play teams that are very, very well coached. They're very disciplined and they're obviously pretty good.
"It's a big challenge for our football team," he added. "It's a lot easier to make the playoffs. It's a lot easier to win the first game and bow out the second game then you say you have a long holiday. We want our kids and our community to think different."
Bryant's assignment tonight is the Har-Ber Wildcats at Springdale. The Wildcats had a bye last week while the Hornets were dismissing the other team from Springdale, the Bulldogs. Har-Ber earned that bye as the No. 2 seeded team from the 7A-West Conference, tying Fayetteville and Bentonville for first place. Each was 6-1 and wound up beating each other. Har-Ber beat Bentonville, Bentonville beat Fayetteville and Fayettevelle beat Har-Ber.
The last of those was a rematch of the 2015 State title game. The Wildcats lost that one to the Purple 'Dogs too, 28-7, finishing the season 11-2.
This year, Har-Ber is 8-2 with its lone losses to Fayetteville and to one of the top teams in Oklahoma, Jenks. It's an indication of where the Wildcats' strength lies that those two losses were the only games this season in which they surrendered more than 15 points in a game.
The Wildcats' approach is: Run the ball on offense and stop the run on defense. They have three running backs with over 500 yards rushing led by Payton Copher with 867 yards and 10 touchdowns in 116 carries. As team, they've accumulated over 2,500 yards rushing.
They average around 12 passes a game but when they do throw, they like to go deep. Trey Smith is the top receiver with 40 catches for 734 yards and 11 TDs. That's over 18 yards a catch.
After the loss to Fayetteville, they switched quarterbacks from Copher to Grant Allen, who has shown more accuracy. In two games, Allen is 19 of 23 for 331 yards and five scores without an interception.
Defensively, Har-Ber has allowed less than 1,000 yards rushing this season, if not the only Class 7A team to do that, it's one of the very few.
Bryant, which has been very good against the run, has given up 1,231 yards rushing, admittedly with one more game in the books than Har-Ber.
The Hornets are 8-3, riding a wave of six wins in the last seventh games. Bryant's losses have been to Fayetteville, North Little Rock and Fort Smith Northside, the other three teams (besides Har-Ber) that received first-round byes. Whereas Fayetteville defeated Har-Ber 28-0 in week seven, the Hornets fell to the Bulldogs 43-10 in week two before the Bryant team had really gelled.
Bryant has been more balanced offensively, rushing for 1,494 yards and passing for 1,908. The ground game has been spread out among several different backs, led by Cameron Coleman with 418 yards on 80 carries. Jeremiah Long has 385 yards on 63 tries.
Sophomore Ren Hefley has passed for 1,343 yards and 10 touchdowns with senior Beaux Bonvillain in relief throwing for 544 yards and two scores.
Bryant's top receivers are Reece Coates with 40 catches for 565 yards. Landon Smith has 34 receptions for 413 yards.
The Hornets have a big asset in kicker Hayden Ray, who drilled three field goals last week to set a school record with 14 in a season. He's also averaging over 35 yards a punt. Ray leads the team in scoring with 74 points.
"It's going to be a big challenge," James stated. "They out-weigh us anywhere from 30 to 100 pounds a man up front.
"But, if we'll go play and we impose our will on those guys, we've got a chance," he asserted. "We've got to play good against good teams. That's probably been the Achilles heel for Bryant football for many, many years. When you get to the playoffs and you see good teams and you bow out. It's lack of concentration, fundamentals, discipline and being able to want to stay alive a little bit longer and continue in the playoffs.
"That's a mindset as much as it is having the ability. You've got to have the attitude that them being bigger than me, faster than me, stronger than me is not going to matter. Win a game you're not supposed to win."
In the history of the program, Bryant teams are 7-17 in the playoffs. That includes the 1985 season and all but one year (2000) since 1999.
The West had been dominant in the past but this year, Central teams won three of the four first-round games and No. 6 seeded Little Rock Catholic went to the wire against the West's third seed, Bentonville, on the road.
"This conference was very, very difficult," James noted. "A lot of times, in the West, they've played hard every week. They were always prepared for this game. Now that we've been in a tough conference, we've had to battle each week, it evens the playing field.
"I hope people can come up and get to support our team," James stated. "The crowd makes a big difference on the road. Our football team has prepared hard. Hopefully a lot of folks will be there to support them."