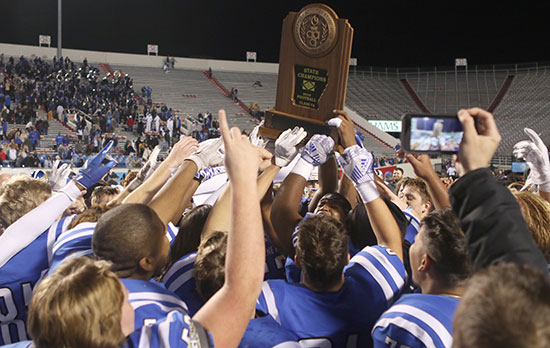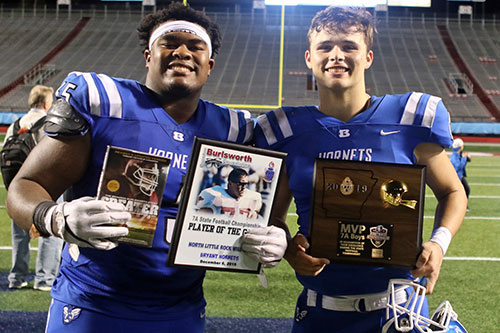 Hornets close out unbeaten season with second State crown
For more photos of this event by Rick Nation, go here; photos also courtesy of Andrew Schroeder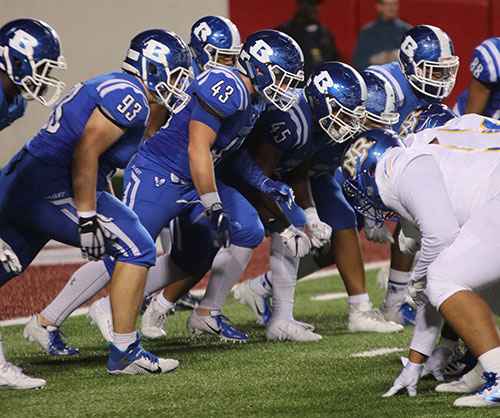 EDITOR'S NOTE: Because the look back at each day in Bryant athletic history has been so favorably received during the time when there was no sports during the COVID-19 shutdown, BryantDaily.com will continueposting past stories of Bryant athletics either posted on BryantDaily.com (from 2009 to the present) or published in the Bryant Times (from 1998 to 2008).
LITTLE ROCK — Over the 70-year history of Bryant High School football, starting with the venerable 49ers, there's been a lot of pretty dang bad football and, particularly over the last 20 years, some pretty dang good football.
In 2018, the Hornets reached the promised land for the first time, not only reaching the State championship game but winning it in convincing fashion 27-7.
They enjoyed it so much, they did it again.
Not to make light of all the work they put in since that first 7A State title. There was plenty of it, starting not long after that 2018 title. They took every opponents' best shot and won 10 of their 13 games by mercy-rule. The only team that managed to keep it somewhat close during the regular season was North Little Rock. But Bryant beat them by 14.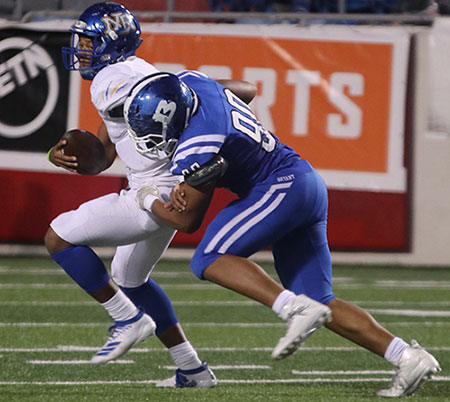 They did that again in the championship game as they made it back-to-back crowns with a 21-7 victory at War Memorial Stadium.
It was Bryant's third win in a row against North Little Rock. The two teams, rivals in the 7A-Central Conference, have played seven times in the last three seasons.
The Hornets finished 13-0, the most wins in a season in Bryant history and the only undefeated season in those 70 years.
For all those guys that labored through 2-8 seasons all those years; for all those guys that got so close over the last 20 — they all helped pave the way to these two remarkable seasons.
"We lost a lot of seniors last year," stated the Hornets head coach Buck James. "We only returned one guy on the offensive and defensive lines. To be able to do what we did is a testament to our program and the process our kids go through.
"We had a lot of first-year starters out there," he mentioned. "We had 38 seniors. Those guys led. They did the things it took for our football team to improve each and every week.
"We just filled in holes with guys who have been waiting their turn," the coach noted. "We have a lot of guys who waited their turn to play. They didn't play until this year. That's unheard of in this day and age where kids won't wait because they can't start as a sophomore. These kids kept enduring. They hung in there and understood the process."
Not only did the Hornets carry home the big trophy, individual honors came their way.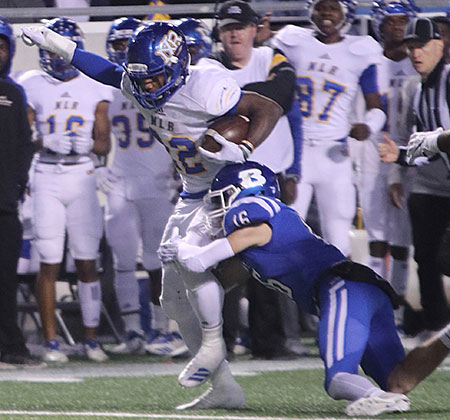 Junior quarterback Austin Ledbetter was voted the MVP of the game. He completed 16-of-29 passes for 203 yards and three touchdowns. Senior Jake Meaders could've been co-MVP with six receptions for 97 yards and two of the TDs. He set a new school mark with 18 touchdown receptions this season.
The Hornets compiled 309 yards of total offense, well under their average point total and their average yardage total. Credit the North Little Rock defense, who, as James put it, "had some dudes."
But it was Bryant's splendid defense that proved to be the difference. Playing 67 snaps with North Little Rock controlling the clock, 30 of the 48 minutes of the game, they held the Charging Wildcats splendid tailback Brandan Thomas to just 68 yards rushing and the team to only 203 yards of offense.
Senior defensive tackle Austin Bailey led the way with 12 tackles. He earned the Brandon Burlsworth award for his line play.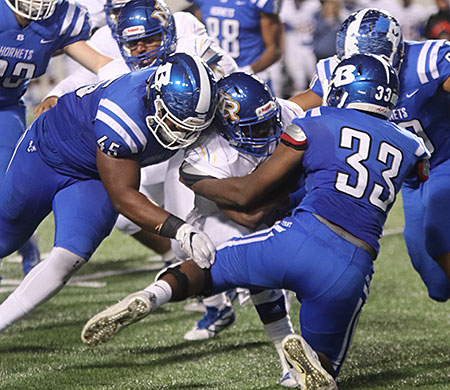 Plus, they forced four turnovers. Coupled with the regular-season game against the Cats, the Hornets forced them into a whopping nine turnovers.
This time, Darrick Rose, Austin Schroeder and Kyle Knox had interceptions and Tamaurian Wilson recovered a fumble.
Asked what the plan was, Hornets' defensive coordinator Quad Sanders was unequivocal.
"Stop Brandan Thomas," he said. "That kid is phenomenal. He's by far the toughest kid in the state of Arkansas, probably the whole southeastern region. The reason he doesn't have any SEC offers, I can't tell you. If I'm any coach anywhere in the country, I'm offering that kid.
"There's one other kid I've seen run like he does," he continued. "He plays for the (Los Angeles) Chargers right now. He played Division II football and Western Colorado (University). His name is Austin Ekeler. Brandan Thomas is two times bigger and just as fast."
So, how did the Hornets bottle him up so well?
"Gang tackling is the only way you can tackle that guy," Sanders said. "That was it. Rally to the ball, know where he's at all the time then everything else is secondary. Know the counter plays."
That put the onus on the Hornets' secondary, often playing man-to-man press coverage. The Charging Wildcats quarterback duo of Kareame Cotton and Damon Bell combined for only seven completions in 21 tries for 80 yards. Cotton played most of the game and went 4 of 17 for 50 yards with all three interceptions. He was able to throw a 21-yard touchdown pass to Bralin Battles in the third quarter.
"I'm super proud," said Sanders of his secondary. "It's the one thing we wanted to protect, over the top, and we were able to do it. We know they've got some phenomenal athletes. They're going to make a play here and there.
"The goal was to not let them score," he added. "They got one and that's mine. The goal was to hold them to zero. When they scored, it was hold them to seven. They score again? We hold them to 14. At the end of the day, we just want to be in front and hold them. That's been our goal all year."
"I think it was confidence," James said of the defense's work. "I think we had confidence the whole year. This team only gave up like 60 points because two of (the oppositions' scores) were defensive touchdowns and we had about 35 that were after the mercy rule was invoked and we had our second and third team guys in there.
"So, our defense played well all year long," he asserted. "We really held them to about the average we've been able to do. You know, championship teams have championship-caliber defenses."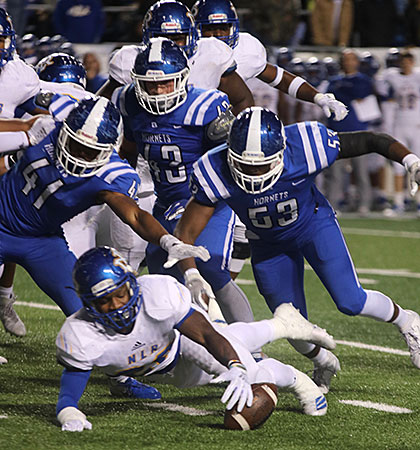 Offensively, the Hornets did better running the ball, themselves. Tanner Anderson finished with 78 yards on eight carries. Ahmad Adams added 36 yards on six tries, enough to put him over the 1,000-yard mark for the season (1,032 yards).
The first time the two teams met this season, the Hornets were limited to a total of just 56 yards on the ground.
"We thought we could run it at them, and we did at times," said Hornets offensive coordinator Kirk Bock. "We just tried to keep them off balance and we were able to do that three or four times and it worked out good for us.
"Austin (Ledbetter) had a big game, just made some things happen for us, just like he's done all year," he asserted. "Meaders made a couple of great grabs. You know, those two have hooked up all year. It's sad that this is Jake's last game with us because he's been doing that for three years and, obviously, he's been a mainstay in our offense."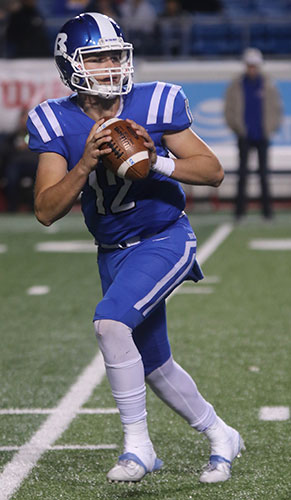 The secret to a more effective ground game?
"We came in with a little bit different mentality that we did last time," Bock said. "Our offensive line did a lot better than they did about four weeks ago."
The Hornets bent but did not break on defense early in the game. North Little Rock took the opening kickoff and drove from its own 19 to the Bryant 21. But the Cats' false start penalty turned a third-and-3 at the 21 into a third-and-8 at the 26. On the next play, Bryant's David Shifflet and Kennedy Miller met at the quarterback and brought him down for a loss.
That set up a 45-yard field goal attempt by North Little Rock's Liam Selhorst. But it was wide left and short.
On the Cats' second drive, they were given a short field thanks to a good return of Ledbetter's punt by Devion Larff. They drove to the Bryant 11 with the help of a defensive holding penalty which negated Miller's 11-yard sack. Miller and Bailey combined to throttle Thomas for a loss and, after a snap infraction moved them back further, Cotton threw a pass that Rose picked off at the 1 and returned to the 29.
Again, however, the Hornets went three-and-out and Ledbetter punted it back. But the Hornets' defense was starting to figure the Wildcats out. On first down, Bailey stopped Thomas for a loss of 6. The next play, Schroeder came up with his interception.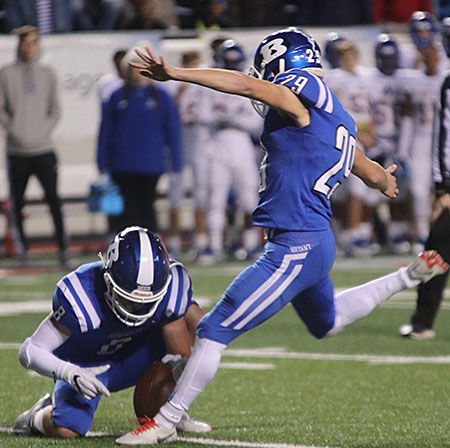 It took only 19 seconds for the Hornets to run three plays to the end zone. Adams dashed for 25 yards then Anderson scooted for 21. That set up Ledbetter's 6-yard touchdown pass to Tre'Vun Herron.
After all the time that the Charging Wildcats had used on offense, coming up short of scoring, the Hornets blitzed down the field.
After trading punts, the Hornets drove for another score. Ledbetter was sacked by Tanner Leonard and William Marshall. But, on the next snap, the Bryant quarterback found Austin Schrader for 27 yards. Meaders caught a pass for 8 yards then, a play later, hauled in Ledbetter's beautifully thrown 26-yard toss, making a sprawling grab in the end zone.
Brock Funk added the extra point and it was 14-0 with 6:02 left in the half.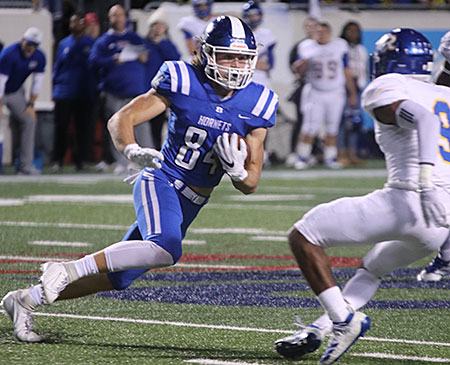 The interception by Knox ended the Charging Wildcats' next foray and had the Hornets thinking of adding points before the half. Though they were just 51 yards away, their drive went south when North Little Rock's Ethan Clegg intercepted a Ledbetter pass.
But sacks by Kyle Green then Andy Scott and Bailey forced a Wildcats' punt.
In turn, the Hornets stalled out and had to punt from their own 36 with less than a minute left in the half.
Bryant went three-and-out to start the second and North Little Rock put together it's lone scoring drive. Covering 55 yards in six plays, the Wildcats converted a third-and-8 for the touchdown, a 21-yard pass from Cotton to Battles.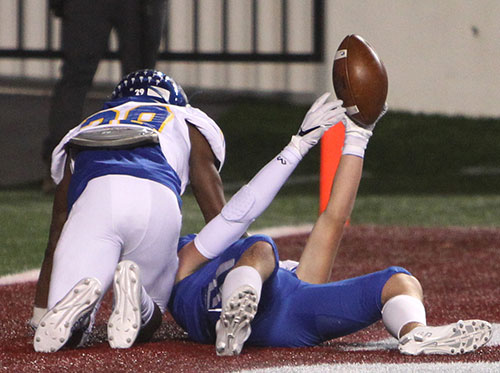 Leading 14-7, the Hornets responded with an impressive march to push the lead back to 14. Anderson got the drive going with a 9-yard run. A play later, Ledbetter, back to pass but in danger of being sacked, flipped a pass forward to Anderson. He turned it into a 22-yard gain.
Set up by a 20-yard completion from Ledbetter to Meaders, the duo combined for the TD from 17 yards out. Funk made it 21-7 with 9:20 to play.
Gamely, the Charging Wildcats scrapped their way to the Bryant 14. The drive was spurred by Cotton escaping the pass rush for good gains. But, at the 14, the ball came out of Thomas' grasp and Wilson recovered at the 11.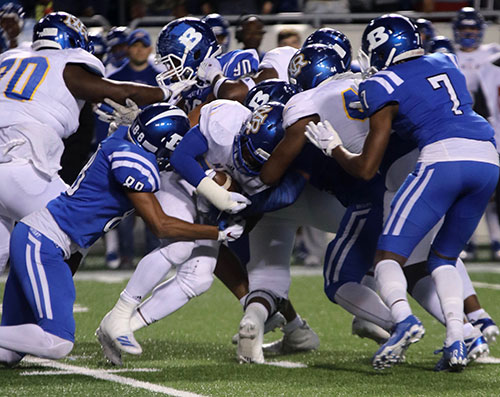 Bryant picked up a couple of first downs then punted the Charging Wildcats back at their own 18.
Thanks to defensive stops by Daylon Land and Miller, the Cats punted it right back. On the first play of the new drive, the Hornets didn't get a smooth mesh on a handoff. The ball came out and North Little Rock recovered.
The two teams traded punts as the game got deeper into the second half. Once the Charging Wildcats, seemingly in no hurry, made it to the Bryant 44, the defense stepped up. Rodricho Martin sacked Bell for a loss of 14 after a less-than-smooth snap. Bailey tackled Bell for no gain when he tried to bail out on a pass play. On third down a bad snap cost the Wildcats 17 yards.
Left with a fourth-and-41 with just over a minute left to play, Bell tried to throw a swing pass to Thomas but missed the mark.
The Hornets took a knee on the last two plays of the game.